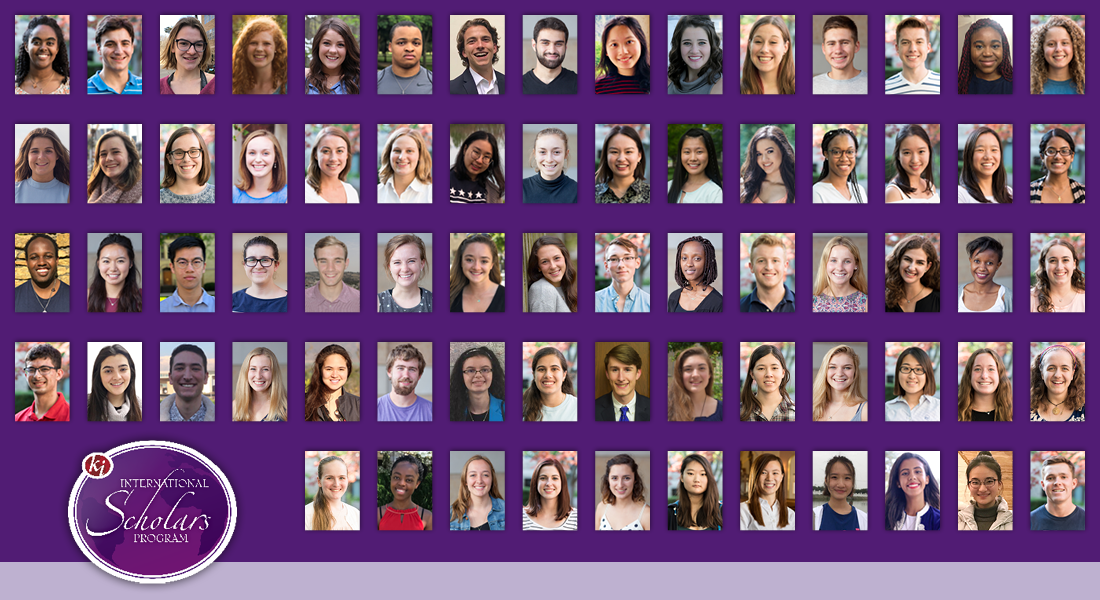 The Kellogg Institute for International Studies is welcoming its largest-ever cohort of Kellogg International Scholars to campus this semester, following record interest in the Institute's signature program for undergraduates. 
The 30 sophomores were selected from the largest pool of applicants in the Kellogg International Scholars Program's (ISP) history, according to Associate Director Holly Rivers. Meanwhile, a growing number of faculty also expressed interest in taking part in the program, in which scholars are paired with a professor to assist in his or her research.
"The popularity of the Kellogg ISP demonstrates the strength of the work students are doing for faculty, how much faculty believe in the program, and the academic ability of the students in the program," she said. "We had incredible applicants this year." 
Kellogg ISP was the first program of its kind at the University of Notre Dame and has served as a model for other student-faculty partnership programs on campus. Through ISP, students develop an apprentice-like relationship with their faculty mentor that often lasts for the duration of their time at Notre Dame. 
Seventy-one Notre Dame students are now in the program. Rivers noted that the newest ISP scholars come from a range of cultures and backgrounds. 
New to ISP this year is something students have long asked for, Rivers said: a place to gather. For the first time, ISP scholars have a dedicated area to meet and study with the opening of the new Kellogg Commons in the Hesburgh Center. The space gives them the chance to talk informally with faculty, graduate students, and visiting fellows. 
"Making these connections is something they can't get in a classroom," she said. 
ISP started in 2003 with nine undergraduates. Nearly 150 students have graduated from and 100 faculty fellows have participated in ISP since its inception.
The new ISP students and their advisers are: 
Kate Bailey – Steve Reifenberg
Elsa Barron – Rev. Robert Dowd, CSC
Marie Bond – Alexandros Taflanidis
Timothy Burley – Ernesto Verdeja
Samuel Cannova – Ernest Morrell
Yanlin Chen – A. James McAdams
Kaitlyn Cox – Vania Smith-Oka
Cindy Emenalo – Andrew Gould
Mary Regan Fitzgerald – Andrew Gould
Madeline Foley – Atalia Omer
Sarah Galbenski – Susan Blum
Yuanmeng He – Susan Blum
Lisa Huang – Nitesh Chawla
Rachel Ingal – Ilaria Schnyder
Vincent Karanja – Ilaria Schnyder
James Luk – Michel Hockx
Patrick McCabe – Jaimie Bleck
Emily Meara – Steve Reifenberg
Courtney Mitchell – Terence McDonnell
Maria Paul Rangel – Michael Coppedge
David Phillips – Paolo Carozza
Ellen Pil – Natalie Porter
Marissa Plante – Guillermo Trejo
Matthew Riss – Lionel Jensen
Lillian Rodriguez – Alexandros Taflanidis
Aimee Gladys Umunyana – Laura Miller-Graff
Natalie Ying – Victoria Hui
Jingjing Yu – Victoria Hui
Hind Zahour – Nitesh Chawla
Xueheng Zhang – Susan Blum