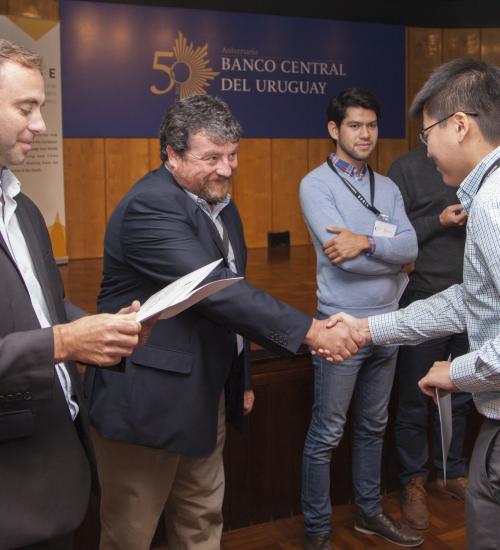 Graduate Student Opportunities
Professionalization Grants
The Kellogg Institute offers financial support for professional training that helps our doctoral student affiliates become better prepared to enter the academic workplace. Kellogg created this opportunity in 2011 to provide support that is not otherwise available through departments or other campus sources.*
Deadlines
Applications will be reviewed on a rolling basis and should be submitted at least 3 weeks prior to the start of the program.
Levels of Support
Individual grants will not normally exceed $1,500. Applicants are required to notify the Kellogg Institute of any funding received from another source; in some cases the Institute may adjust the award.
Applications for language study are not eligible. We suggest visiting the Center for the Study of Languages and Cultures (CSLC) for funding opportunities related to language study.
Procedure to Apply
A complete application consists of the following submitted to our online application system.
Professionalization Application Form
A narrative summary: A narrative summary that describes how the program proposed will support your overall research goals and how those goals relate to the research themes of the Kellogg Institute
An up-to-date Graduate CV
A budget: With supporting documentation, of the expenses to be incurred, including information on other sources of funding. The Kellogg Institute will support per diems for food up to 50% of the domestic and international rates available on the State Department website at www.GSA.gov.
A letter of support from the student's principal advisor: You will be asked to provide the name and email address for your principal advisor who will receive notification from the system to upload a letter of recommendation
An official Notre Dame transcript (e-transcripts will be accepted)
Criteria for Evaluating Proposals
Relevance of proposed program to student's overall research goals and how those goals relate to the research themes of the Kellogg Institute
Academic standing
We highly recommend that applicants read the article "On the Art of Writing Proposals: Some Candid Suggestions for Applicants to JCLAS Competitions" by Adam Przeworski and Frank Salomon. Copies are available in the office of the Program Coordinator and online.
If you have any questions, please contact:
Denise Wright

Program Manager

Kellogg Institute, 1130D Jenkins Nanovic Halls
574-631-8523

Email: dwright1@nd.edu
*Similar sources of funding: 
ISLA - Graduate Student Professional Development Awards 
Graduate School Professional Development Grants
Eligibility
Applicants must be enrolled in a PhD program or the JSD program at the University of Notre Dame, be in good academic standing, and be a Kellogg Institute Doctoral Student Affiliate.
Students cannot combine applications for this award with any other award offered by the Kellogg Institute.
Recipients
Professionalization Grants