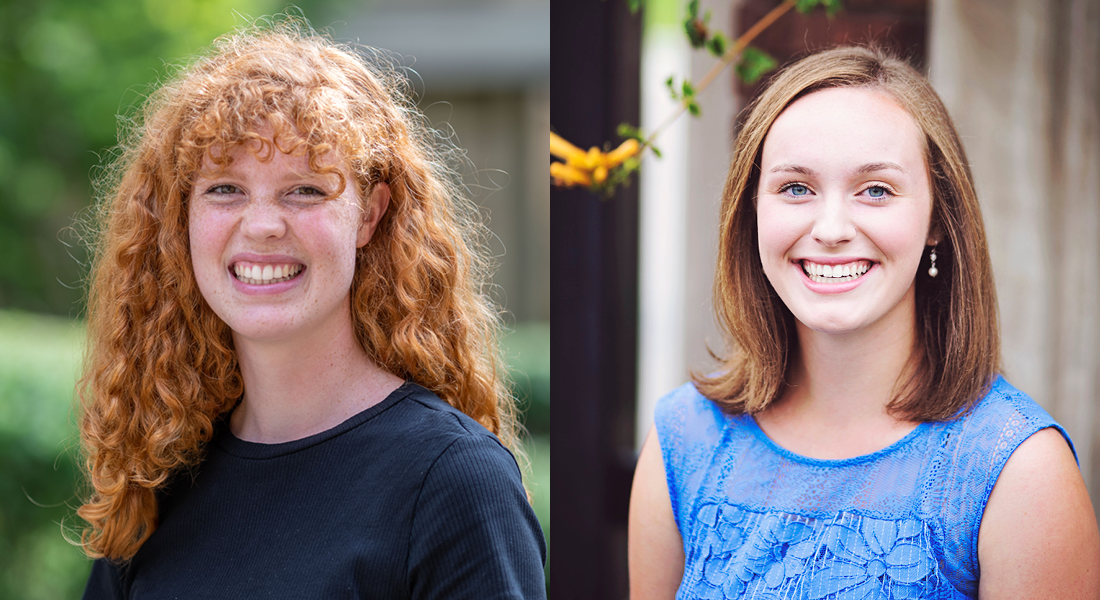 Two recent alumnae of the Kellogg International Scholars Program (ISP) have been awarded prestigious international grants for study and research abroad.
Elsa Barron '21 received a Fulbright Research Grant to India. A biology major with a supplemental major in peace studies, she also received the Boren Scholarship in 2020 and plans to travel to India to learn Hindi and Urdu while interning at an institute for sustainable and indigenous agriculture.
Under the direction of her Kellogg ISP advisor, Rev. Robert Dowd, CSC, Barron studied the migrant crisis in Europe, with an emphasis on the experience of Muslim migrants. She has also received a Kellogg postgraduate fellowship to work with Tent of Nations in Palestine.
Sarah Galbenski '21, a Spanish and global affairs major, received a Fulbright Study Grant to Spain. Galbenski worked with Faculty Fellow Laura Miller-Graff, her ISP advisor, on projects that addressed sexual and gender-based violence. She has also studied transitional justice in Latin America and international mediation in Venezuela, and plans to intern with the Organization of American States this summer. She plans to pursue a master's degree in international relations.
Barron and Galbenski are among approximately 30 members of this year's graduating class affiliated with the Kellogg Institute for International Studies through ISP or the International Development Studies minor. A number of them are entering competitive graduate programs or have received internships or job offers at well-known companies.
Kellogg Associate Director Holly Rivers noted that, unlike previous graduating classes, the class of 2021 spent a year of their undergraduate careers coping with challenges posed by the coronavirus pandemic: social distancing, remote learning, and having to come up with creative ways to conduct international and development research at a time when most travel was banned.
Some seniors responded by developing new research projects within a matter of months, and many took part in Kellogg's first winter term program.
"This was already an exceptional group of students, and the fact they persevered and succeeded despite the challenges of COVID shows how remarkable they truly are," Rivers said. "They demonstrated levels of adaptability and maturity far beyond their years, and the lessons they learned in the past year – in addition to the research and leadership skills they gained through the ISP and IDS programs – will serve them well in their careers."

Several 2021 graduates are entering graduate school, including:
Others have accepted internships or job placements, including:
Two 2019 graduates have also received national fellowships. Annelise Gill-Wiehl (ISP, IDS) has been awarded a National Science Foundation Graduate Research Fellowship, while Caroline Murtagh (IDS) has been named a 2021 Knight-Hennessy Scholar.