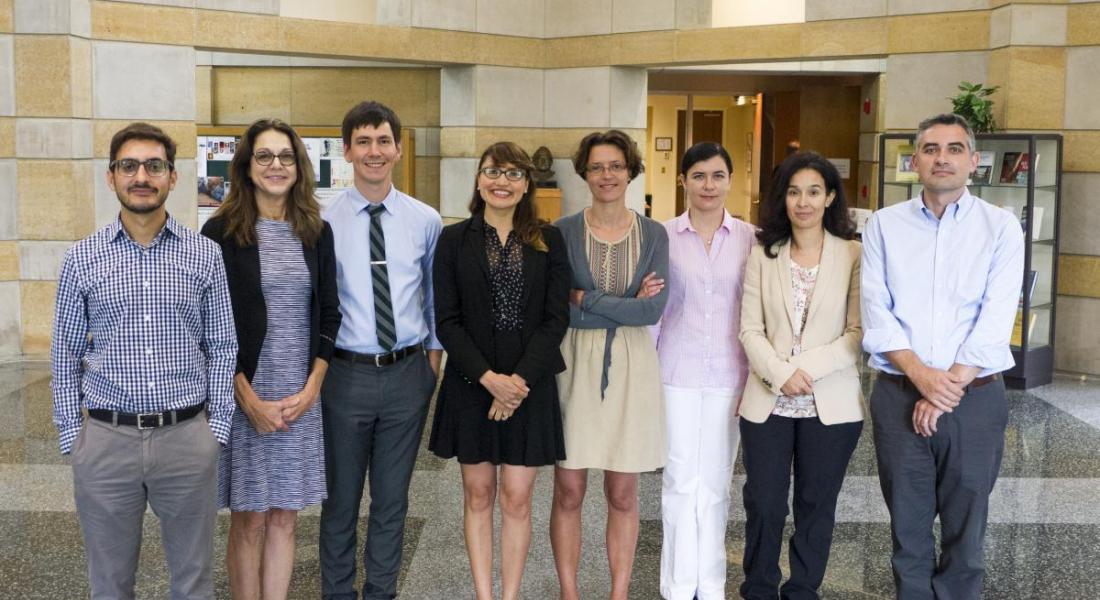 Ten visiting fellows have settled into their offices at the Kellogg Institute for International Studies, where they will conduct research on topics such as democratic accountability, migration, press freedoms, and the engagement of human development with religion in countries across Africa, Europe and Latin America.
With specializations spanning six disciplines, the nine scholars and one practitioner are based at academic institutions in Brazil, Great Britain, Portugal, and the United States.
"We've been blessed by an exceptional cohort of visiting fellows this year," said Institute Director Paolo Carozza. "In inviting visiting fellows to join our intellectual community, we aspire to motivate and generate first-rate scholarship. This group's work promises to do exactly that."
Internationally recognized for research excellence, the Kellogg Visiting Fellow Program boasts a long list of distinguished former fellows. With the majority of fellowships for the academic year, the new visiting fellows will conduct independent research related to core Kellogg themes of democracy and human development.
See the complete list of 2017–18 Kellogg visiting fellows here. In the spring, Pedro Floriano Ribeiro of the Universidade Federal de Sao Carlos will hold the Brazilian Fulbright Distinguished Chair in Democracy and Human Development.
Research Spotlight Luncheon Coming Up
On Tuesday, September 26, scholars and doctoral students from around the University will have the opportunity to learn about the new visiting fellows' projects in person at the Institute's fall Research Spotlight Luncheon. Beginning at 12:30 p.m., each will give a two-minute overview of their research, and then be available individually in the Great Hall of the Hesburgh Center for International Studies with their project posters for more conversation.
Guest Scholars
Also in residence at the Institute are two guest scholars, who bring their own funding to their work in the Kellogg community.
Tina Lee, a sociologist from Princeton University who is a former Kellogg visiting fellow, will spend the academic year working on a book project that explores the legacy of authoritarian governance on collusion between Chinese entrepreneurs and bureaucrats.
Jorge Martínez Barrera, a philosopher from Pontificia Universidad Católica de Chile, will be in residence in November 2017 to study the philosophical, ethical, political, and social facets of solidarity. He also hopes to develop a joint project with Faculty Fellow Peter Casarella.
The Kellogg Institute for International Studies, part of the University of Notre Dame's new Keough School of Global Affairs, is an interdisciplinary community of scholars and students from across the University and around the world that promotes research, provides educational opportunities, and builds linkages related to two topics critical to our world—democracy and human development.