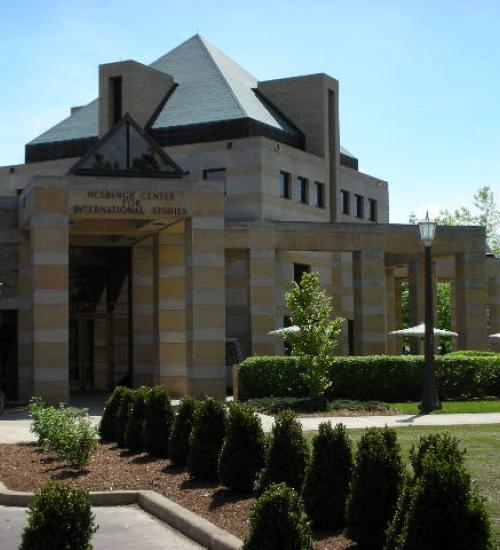 GRANTS FOR NOTRE DAME FACULTY
Intramural
The Institute offers funding for educational activities and events related to Kellogg research themes organized by Notre Dame faculty and/or staff members and by students.
The Kellogg Institute makes available small grants to Notre Dame faculty or staff members, student groups, or units within the ND community for educational activities and events pertaining to international studies.  Preference is given to proposals that relate specifically to Kellogg Institute research themes of democracy and human development and those that involve Kellogg faculty fellows or student affiliates.
These intramural grants are intended primarily (though not exclusively) for on-campus activities and events.  The grants are intended to support projects of an institutional or group nature rather than an individual's project or research.  
Please use the tabs below to find more information on Kellogg intramural grants.
You can sign in to the online application system by clicking on "Sign in with Google" and use your Notre Dame credentials
Submission deadlines for A/Y 2023-24:
Tuesday, September 5, 2023
Tuesday, October 24, 2023
Tuesday, February 20, 2024
Tuesday, April 23, 2024
Proposals for cosponsorship up to $1,000 will be evaluated on a rolling basis by the leadership team of the Institute and may be submitted at any time, at least three weeks in advance of the proposed activity or event.
Proposals for funding greater than $1,000 will be evaluated four times per academic year by a faculty grants committee.
The complete application will require:  
A brief abstract (150 words).
A description of the activity or event that clearly identifies:
- the international dimension and international educational goals;
- its relation to the thematic priorities of the Kellogg Institute; and
- the target audience or intended participants, including Kellogg-affiliated faculty or students who will be involved.
Specifics about the proposed activity (who? what? when? where? why?).
A tentative agenda/schedule and logistical information. Note, any dates must be coordinated with Kellogg's Program Manager of Events in advance of the proposal submission.
An abbreviated (1-2 page) CV or link to a biography of any proposed external guests/speakers.  (Please specify any additional objectives for a guest's visit beyond the proposed activity/event.)
A detailed line-item budget (see budget template below).
A narrative budget justification that provides an explanation of the need for each line item in the budget. (Please indicate whether Kellogg support is being requested for specific line items.)
A list of other sources from which the applicant is or will be requesting funding.
Budget Template for Conferences and Workshops
Funding Amount
Kellogg considers intramural grant proposals for up to $5,000.  In all cases, final determination of the amount awarded is at the discretion of the grants committee and will depend on their assessment of the needs identified in the proposal, budget, and justification, as well as how well the proposal meets the criteria specified in the previous tab.
Requests for cosponsorship must include the overall (total) budget for the activity as well as the amount requested from Kellogg.
Applicants must notify the Kellogg Institute of any funding received from another source; the Institute may adjust the award accordingly. No duplicate funding (that is, funding for the same purpose) is allowed.  
It is Kellogg Institute policy to transfer funds only after a final accounting of expenses and revenues (total funds contributed by other cosponsors) is provided.
Allowable Expenses
Proposals will be accepted for most expenses with justified relevance and importance to the activity.
Funding is available for a variety of costs, including but not limited to the following:
TRAVEL -  Includes airfare, ground transportation, and lodging.
FOOD - Includes meals with presenters, receptions, and banquets.
PUBLICITY- Includes ad space, poster design, and printing.
FEES - Includes motion picture screening fees, venue rental fees, and performance group fees.
HONORARIA - Honoraria may be included for lectures and keynote addresses.  Please note that the Kellogg Institute typically does not provide honoraria for conference participants/panelists.  
An interdisciplinary committee of Kellogg faculty fellows reviews intramural grant proposals. Accordingly, applicants should make sure that the significance of the activity to the their field of study is clear to someone outside the applicant's discipline.
Proposals will be evaluated based on the following criteria:
Relation to Kellogg core research theme(s) of democracy and/or human development
Connection between the proposed activity and academic work or educational goals
Involvement of Kellogg faculty fellows or student affiliates
Potential for engagement of the broader Notre Dame community
Overall quality of the proposal including presentation (e.g., spelling, grammar, and accurate budgeting)
Budgetary appropriateness (i.e., the requested expenses are justified as necessary to the actualization of the activity).
Kellogg intramural grants are restricted to the University of Notre Dame academic community: Notre Dame faculty or staff members, student groups, or academic units within the University.  All proposals must have a designated faculty or staff sponsor.  
The proposed activity must be within the field of international studies or have a clear international dimension.  Proposals must clearly indicate the international educational goals of the activity and specify the relationship to Kellogg themes.
Requests to support student activities must make explicit the connection between the proposed activity and academic work or educational goals.  (Requests to fund service projects without clearly defined academic objectives will not be considered.)  Grantees will be expected to submit a report detailing how the activity achieved the educational goals outlined in the proposal.  
Events may include conferences, workshops, lectures, seminars, film series, and cultural events.   The Institute will not typically sponsor activities that conflict with Kellogg events already on the Institute calendar.  (Events Program Manager Therese Hanlon can provide information on availability of specific dates.  Applicants are encouraged to contact Therese before scheduling at 574-631-4150 or at therese.hanlon@nd.edu.)
The Institute generally prefers to give grants to other units or groups within the University as seed money for start-up expenses. It will not usually fund an ongoing project for multiple years. Continual funding will normally be reserved for programs in which Kellogg is directly involved.
Opportunities
Intramural Grant Recipients