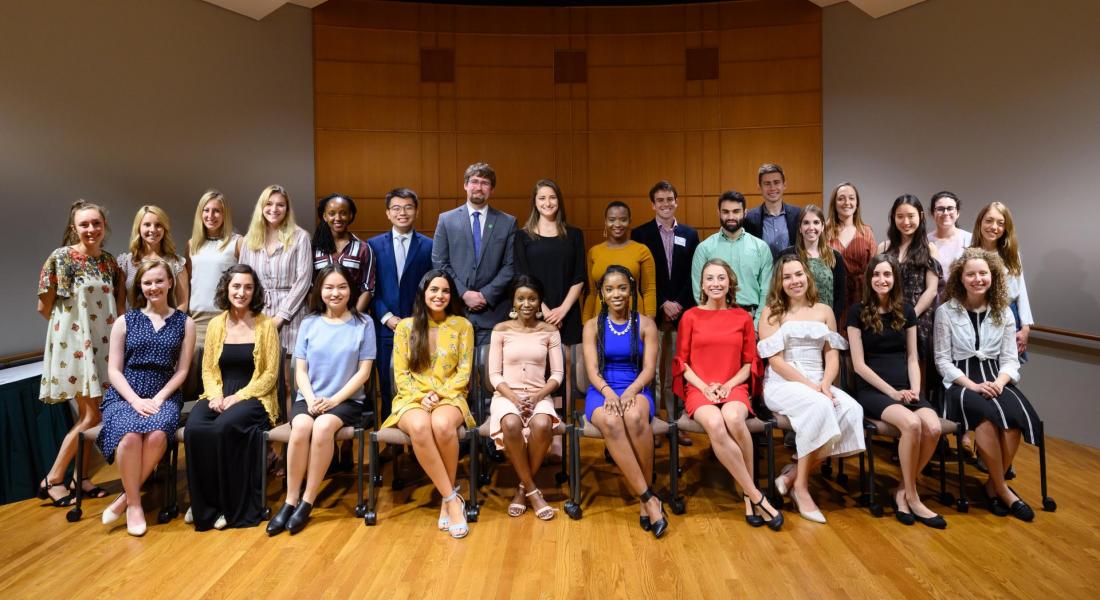 A number of graduating seniors affiliated with the Kellogg Institute for International Studies have received prestigious research grants or awards, while others are entering competitive graduate programs. 
Among them are several Kellogg International Scholars, including the University of Notre Dame's Class of 2019 Salutatorian Annelise Gill-Wiehl. The environmental engineering major and International Development Studies (IDS) minor developed a pilot project in Tanzania that aims to improve respiratory health in the developing world, and, in the fall, plans to pursue a doctorate in energy and resources at the University of California, Berkeley. 
Gill-Wiehl is also receiving the annual John W. Gardner Student Leadership Award which recognizes a student who exemplifies Notre Dame's ideals throughoutstanding volunteer service beyond the University community.
She and the 17 other graduating International Scholars have benefitted from Kellogg programs that teach research skills and expose them to a range of global and development issues. 
"These seniors were already exceptional students, and now they're going on to jobs and graduate schools that showcase the breadth of their interests and abilities," said Holly Rivers, associate director at the Kellogg Institute. "They also show that the academic knowledge and skills students learn through the International Scholars Program are applicable to a number of career paths."
Others International Scholars receiving notable honors or placements are: 
Dante Domenella, an economics and mathematics major who will enter Stanford University's doctorate program in economics.
Victoria Erdel Garcia, a sociology major who has researched anti-trafficking efforts. She has accepted a position in Beijing as an education research developer at the Starfish Project, a jewelry company that employs previously exploited women.
Allison Hidalgo, an international economics major who has received a Fulbright Study Grant. She will enter the master's program in international relations at the Instituto de Empresa in Madrid. 
Stephanie Mastorakos, an economics and finance major, who will work as an investment banking analyst at UBS in New York City. 
Nora McGreevy, a history and Spanish major, who will intern with The Boston Globe. She worked as editor of the arts and culture section of The Observer, Notre Dame's student newspaper. 
Natalie Vellutini, a neuroscience and behavior major, is one of three Notre Dame students to receive an Orr Fellowship. Through the fellowship, she will work as a client success team manager at Sharpen Technologies in Indianapolis. 
Several other International Scholars have accepted consulting and analyst positions at international business, accounting, or law firms, including McKinsey & Company, Pricewaterhouse Coopers, Prescient, Axiom Law, Dalberg Advisors, and Huron Consulting Group. 
Also, Joshua Pine will continue working on a master's degree in global affairs from Notre Dame's Keough School of Global Affairs. He will receive his undergraduate degree this month with a major in Chinese and political science.
The International Scholars Program allows select undergraduates to learn how to do research through a mentorship with a Kellogg faculty fellow.
Meanwhile, three IDS minors have received honors.
Political science major Nicole Waddick has received a Princeton in Latin America Fellowship in Cabarte, Puerto Plata, Dominican Republic, where she has previously researched how legal reforms have impacted access in the country's education system. 
Political science major Deborah Bineza, who studied women's legislative effectiveness in Rwanda, is receiving the annual Rev. Theodore M. Hesburgh, CSC Award, which honors a graduating senior whose contributions have significantly advanced the climate of welcome and inclusion within or beyond the Notre Dame community.
Biological sciences major Caroline Murtagh has received a Fulbright study and research grant to Uganda. 
Other IDS minors will work at companies including Deloitte LLP and Accenture, and one, biological sciences major Eunice Agyapong, who plans to pursue a career in global health, will attend medical school at the University of Cincinnati. 
Fourteen seniors are graduating with IDS minors.