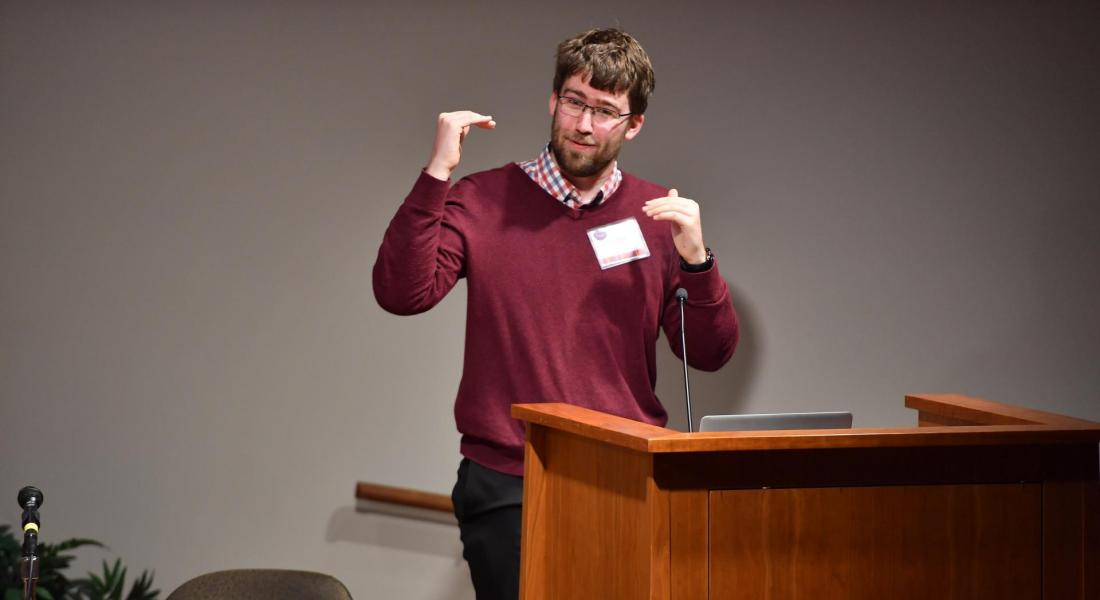 "Building on what Kellogg has been able to foster in terms of a scholarly community among students, I think I found a similar sense of that within the Keough master's program. I think Keough has taken that to the next level."
Before Joshua Pine '19 came to the University of Notre Dame, he had never lived in the United States – or seen things that someone raised here might take for granted, like watching a marching band perform at halftime during a football game. 
But that didn't stop Pine – who was born and raised in China, and taught himself to play the trumpet when he was in middle school – from trying out for, and making, the Band of the Fighting Irish. 
"I was attracted to the community dimension of band and being able to take part in something bigger than myself and join in the tradition of Notre Dame," he said.
That same initiative and drive brought Pine to the Kellogg Institute for International Studies, where he's found another community – this time, of like-minded students who share his passion for research, international development, and political science. He's now a Kellogg International Scholar and is working on his master's degree even as he completes a double major. 
Pine was drawn to the Institute because of its focus on research: As a high school student, he enjoyed studying policy issues for Model United Nations debates, and because of the experience, was considering an academic career in political science. 
"Getting into a research program was a big priority for me," the 2016 Gilman Scholar said. 
Pine, the son of American educators and intercultural specialists, is a political science and Chinese double major with a minor in Catholic social teaching. And he's combined his unusual background – as a US citizen and a lifelong China resident who speaks both English and Mandarin fluently – in his studies through Kellogg programs including ISP, which pairs top undergraduates with a faculty mentor. 
Through the program, he assisted Faculty Fellow and China expert Karrie Koesel in her research on trends in Chinese political education. 
Koesel, an associate professor of political science who described Pine as "entrepreneurial," said the program is an eye opener for undergraduates like Pine who are contemplating a future in academia. 
"It's a great opportunity for the students to get a sense of what real academic research is like, and it's not the glamorous side of research," she said. "It's hard work, and rejection is the norm." 
Kellogg has been part of Pine's undergraduate career in other ways. Through an Experiencing the World Fellowship, Pine spent a summer in rural Guizhou province conducting research at a tourism development center that sells ethnic minority handicrafts. The organization was established to promote the region's cultural heritage and provide job opportunities for minority women and young college graduates.
He wanted to know: Could the program be used as a model for creating more jobs in a part of the country where many young people were shunning traditional agricultural work and migrating to cities? 
The center in Guizhou province had received significant government investment, pointing to the positive role governments can play in initiating such ventures. Pine identified potential concerns, including whether a business model that relied on government support was sustainable elsewhere. 
He said he expects China to be part of his future, but for now, he's working on a master of global affairs through the Keough School of Global Affairs, Kellogg's home institution at Notre Dame. 
Steve Reifenberg, the senior strategic advisor for Kellogg who has taught Pine in several international development classes, described him as mature, creative, and a leader and community builder. He added that Pine's background gives him a unique viewpoint on international issues. 
"It's really just in his DNA to have this interest in and empathy for different places and different cultures, different ways of looking at the world," Reifenberg said. "I think he's completely at ease in both US and Chinese cultures, and he brings those perspectives to think about people in other parts of the world."