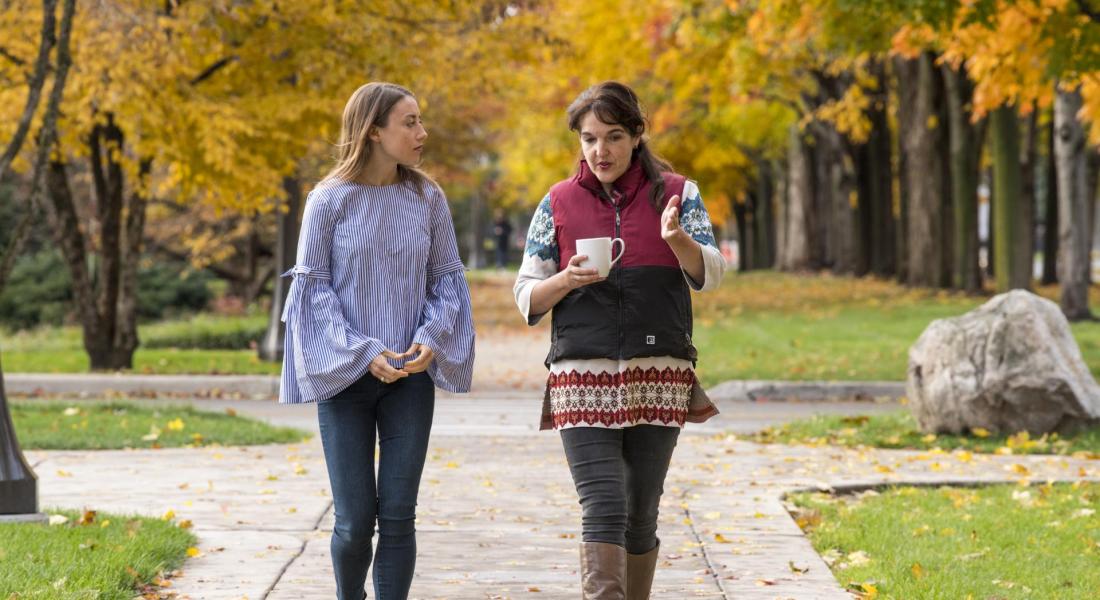 The summer after her freshman year at the University of Notre Dame, Annelise Gill-Wiehl '19 spent nine weeks working for a nonprofit in rural Uganda, living with a host family that spoke no English.  
To bond with them, she did something that didn't take words: She helped the women of the family cook meals over their small, smoky charcoal stove. 
"I found that it didn't matter what language you speak. If you help out with dinner, you're immediately welcomed," said Gill-Wiehl, now a senior and a Kellogg International Scholar. 
The experience introduced her to the dire health risks that millions of peoplein the developing world face as they cook on charcoal stoves and breathe pollutants that can cause everything from lung cancer to bronchitis. 
It also inspired what would eventually become her capstone project – a plan to introduce cleaner gas stoves to villagers in neighboring Tanzania, and, with the help of local employees, teach them how to use the new appliances.
"It's one of those things where you go, 'of course, that's the answer," said her advisor, Faculty Fellow Sara Sievers (global affairs). "You can't figure out why someone didn't think of it before." 
She said Gill-Wiehl came up with a seemingly obvious solution to a problem that has perplexed development workers for years: how to get to people to make a major behavior change – in this case, abandoning their traditional cooking methods in favor of unfamiliar gas stoves – that can drastically reduce respiratory illnesses.
"This is the smoking of the developing world, essentially," she said. "This is a big deal." 
A native of St. Louis who grew up in a family of Notre Dame graduates, Gill-Wiehl came to the Kellogg Institute because it gave her a chance to pursue her interests in infrastructure development and alleviating poverty. She's done that by combining a major in environmental engineering with an International Development Studies minor. 
Through a Kellogg Institute-funded internship in 2016, she worked with the Foundation for Sustainable Development in Masaka, Uganda, teaching farming skills to rural villagers.  
That internship, she said, represented the Institute's investment in her as a scholar and future development practitioner: "It gave me a chance to see what development looks like on the ground." 
While in Uganda, she began to ask what could be done to help villagers move away from cooking with charcoal. 
That question became the basis of her research project the following summer in Shirati, Tanzania, where, through an Experiencing The World Fellowship, she surveyed 200 village households on their current and preferred cooking methods. 
Most, she found, wanted to use gas stoves because of their ease of use and reliability. 
It's also a method that, for many in the developing world, remains the cleanest – and healthiest – way of cooking. 
According to the World Health Organization, air pollution from indoor charcoal stoves kills four million people per year, more than malaria or tuberculosis combined. 
The health risks are particularly dire for women, who in Tanzania spend an average of three hours a day cooking – a task that is both a way to care for their families and a social activity. 
"Having to provide for their families is literally killing them," Gill-Wiehl said. Children, who are often present when their mothers are cooking, are particularly vulnerable to pneumonia linked to breathing particulates from indoor fires.  
But at about $25 each, the gas stoves were financially out of reach for many families. And many were afraid to use gas stoves, because the gas cylinders that power them can essentially turn into pressurized bombs if misused. 
Gill-Wiehl returned to Shirati in the summer of 2018 on a Kellogg/Kroc Undergraduate Research Grant to launch a pilot program to distribute and train families to use the gas stoves. An NGO purchased the stove and first cylinder for each family, and two trained community technology workers then taught participants how to use them. 
They continue to visit the families every week to document how frequently they're using the stoves and troubleshoot problems.
"We stress with the families that we're not here to take the stove away or yell at them if they don't use gas. We're here to find out what the barriers are to using gas to better help them and others," Gill-Wiehl explained. 
Her program borrows from the community health worker concept, in which trained locals provide basic health services and education to rural patients in developing countries.
Key to the success of both the community health and tech workers is their ability to establish relationships with participants, according to Sievers.
"It works because you need to build a foundation of trust with others in the community," she said.  
She added that it's unusual for an undergrad to pursue a pilot project with such a significant potential health impact, but Gill-Wiehl has shown an unusual amount of diligence and responsibility in her research.
"She strikes a wonderful balance between taking guidance and taking initiative," Sievers added. "There's a maturity associated with that that's largely responsible for her success."
Since returning to South Bend for the fall semester, Gill-Wiehl – who described Sievers as "the best mentor I've had at Notre Dame" – has continued to manage the project through texts and phone calls with the community tech workers.
While it's still too early to draw conclusions from initial data, early results show the pilot has been extraordinarily successful in promoting long-term behavior change. Three months after its launch, 70 percent of meals were being cooked on gas stoves. 
The pilot will run through at least December and Gill-Wiehl is working to secure funding to allow it to continue through the next calendar year.