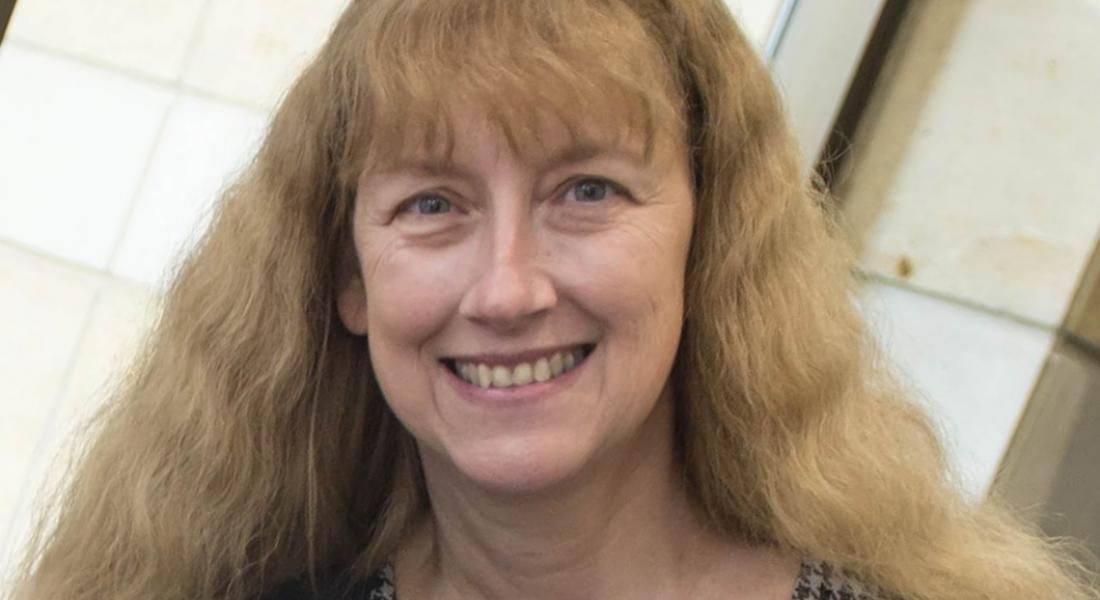 Sharon Schierling, the longtime managing director of the Kellogg Institute for International Studies, has been awarded the prestigious 2020 President's Award by the University of Notre Dame in recognition of her role as the Institute's "unsung hero."
The award recognizes distinguished service to the university over an extended period of time and comes with a cash stipend. She was one of two administrators on campus to receive the honor this year.
Kellogg Institute Director Paolo Carozza said Schierling, who is retiring in August, brought her background as a Latin Americanist and her experience as an administrator in the public and private sectors to her role at Kellogg. As managing director, she is responsible for much of the Institute's day-to-day operations and supervises most of its staff.
"The President's Award is the highest honor a staff or faculty member can receive at Notre Dame, and Sharon is one of few women and even fewer administrators to be honored with it," he said. "The Kellogg Institute would not be the same without her, and we are especially proud that she has received this well-deserved recognition."
The award citation noted Schierling's more than 20 years of service to Kellogg, which helped build the Institute's unique scholarly programs and raised "virtually every aspect of the institute to new levels of excellence.
"Thanks to her, Kellogg directors past and present have had a true partner in leading the institute, one they have called upon to help shape and manage a number of the core offerings that today give Kellogg its distinctive profile."
"Colleagues from both Notre Dame and elsewhere laud her as the Kellogg Institute's heart, its institutional memory, and its unsung hero," it concluded.
Schierling was one of more than a dozen members of the Kellogg community recognized by Notre Dame this spring for faculty promotions, milestone anniversaries, and campus-wide awards. Fifteen faculty members received promotions and Faculty Fellow Eva Dziadula (economics) received the Rev. Edmund P. Joyce, CSC, Award for Excellence in Undergraduate Teaching. Faculty Fellows Mariana Candido (history) and Alexandros Taflanidis (civil and environmental engineering and earth sciences) were co-recipients of the Kellogg Institute Undergraduate Mentorship Award this year.
"The large number of Kellogg faculty fellows that have earned promotions this year shows the caliber of our scholars and their research, and we are proud to have been able to support their scholarly advancement and success with the resources and the intellectual community of the Kellogg Institute," Carozza said.
Both Schierling and Faculty Fellow Georges Enderle (marketing), who is also retiring, were promoted to emeritus status within University's faculty.
Meanwhile, five Kellogg faculty fellows were promoted to associate professor with tenure: Wyatt Brooks (economics), Katie Jarvis (history), Erin Metz McDonnell (sociology), Laura Miller-Graff (psychology), and Susanne Wengle (political science).
Four Kellogg faculty fellows were promoted to full professor: Elisabeth Köll (history, department chair), Rev. Paulinus I. Odozor, CSSp (theology), Atalia Omer (global affairs), and Alexandros Taflanidis (civil and environmental engineering and earth sciences).
Faculty Fellow Michael Pries (economics) was named associate dean of the College of Arts & Letters, and Faculty Fellow Mahan Mirza (global affairs) was named executive director of the Ansari Institute for Global Engagement with Religion within the Keough School of Global Affairs.
Additionally, Faculty Fellow Michael Coppedge (political science) was recognized for 25 years of service as a faculty member of the University.
Two faculty fellows received notable promotions earlier in the academic year.
Faculty Fellow Rev. Daniel G. Groody, CSC, was named a Fellow and Trustee of the University and, at the beginning of the 2019-2020 academic year, was appointed vice president and associate provost. In these roles, he assists the provost in internationalization and lifelong learning, as well as external department and program reviews and other academy-related responsibilities. He is a member of the President's Leadership Council and participates in Deans' Council meetings.
In the spring, Faculty Fellow Rev. Robert Dowd, CSC, founding director of the Ford Program in Human Development Studies and Solidarity, was appointed assistant provost for internationalization for Notre Dame. In this role, he leads the Dublin Global Gateway, Kylemore Abbey Global Centre, and the São Paulo Global Center and oversees the University's academic engagement in Africa. In July, he will step down from the Ford directorship to serve full time in his new role.