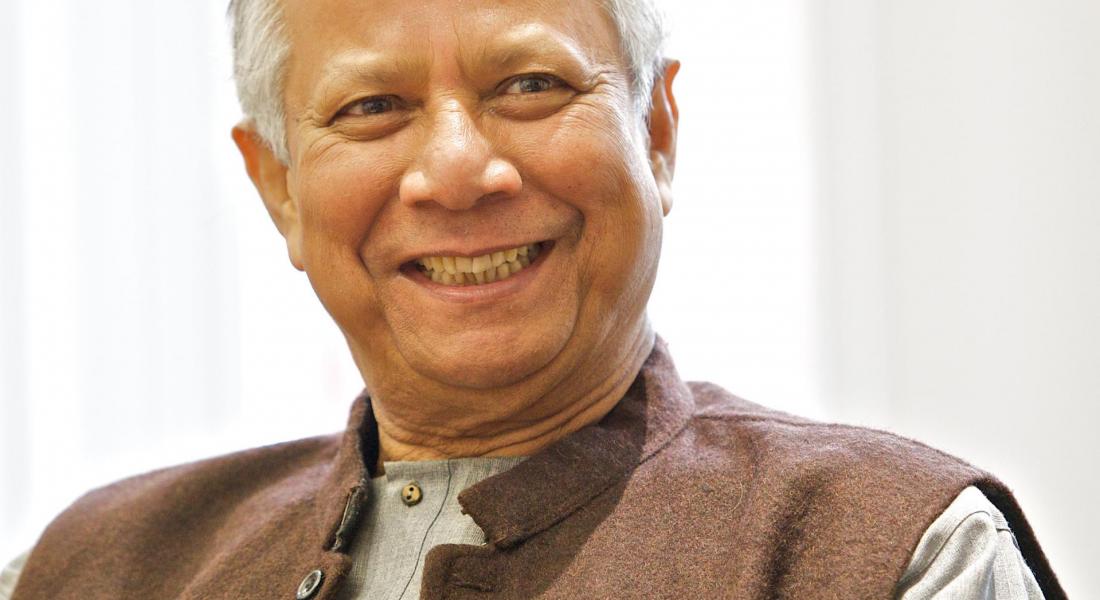 Nobel Laureate Muhammad Yunus to Receive 2018 Ford Family Notre Dame Award for International Development and Solidarity
Nobel Peace Prize laureate and social business pioneer Muhammad Yunus will receive the Ford Family Notre Dame Award for International Development and Solidarity at a ceremony on April 12 at the University of Notre Dame.
Following the award presentation, Yunus will discuss his pioneering work in the fields of poverty alleviation and sustainability in an armchair discussion with Kellogg Advisory Board member and Faculty Fellow Ray Offenheiser (global affairs) titled "Global Citizenship and Solidarity with the Vulnerable:  A Conversation with Muhammed Yunus." The event is part of the 2017–18 Notre Dame Forum, a series that explores the challenges and opportunities posed by globalization.  Both the ceremony and the talk are free and open to the public.
The Ford Family Award will recognize Yunus for his lifelong contributions toward ending poverty, from his groundbreaking innovations in microcredit to his more recent work on human development focused on social entrepreneurship and sustainability.
"Muhammad Yunus has devoted a lifetime to developing innovative approaches to poverty alleviation that are informed by the struggles of the vulnerable and marginalized," says Rev. Robert Dowd, CSC, director of the Ford Program in Human Development Studies and Solidarity, which bestows the award.
"His efforts have been instrumental in helping people to take control of their own lives. He has helped provide a spark that has given people a way to become protagonists of their own development and that of their communities."
"Each person has tremendous potential," Yunus writes in his recent book A World of Three Zeros: The New Economics of Zero Poverty, Zero Unemployment, and Zero Net Carbon Emissions (PublicAffairs, 2017), which will be the subject of student reading and discussion groups organized by the Kellogg Institute prior to the Forum event. "She or he alone can influence the lives of others within the communities, nations, within and beyond her or his own time."
The Ford Family Notre Dame Award for International Human Development and Solidarity recognizes substantial contributions to human development through research, practice, public service, or philanthropy. Recipients are honored for standing in solidarity with those in deepest need. The award is named in honor of University Trustee Emeritus Doug Ford '66 and his wife Kathy, whose generosity helped establish the Ford Program.
Past recipients of the award include:
The Kellogg Institute for International Studies, part of the University of Notre Dame's new Keough School of Global Affairs, is an interdisciplinary community of scholars and students from across the University and around the world that promotes research, provides educational opportunities, and builds linkages related to two topics critical to our world—democracy and human development.
Contact: Karen Clay, Kellogg Institute communications manager, 574-631-7118, kclay@nd.edu.