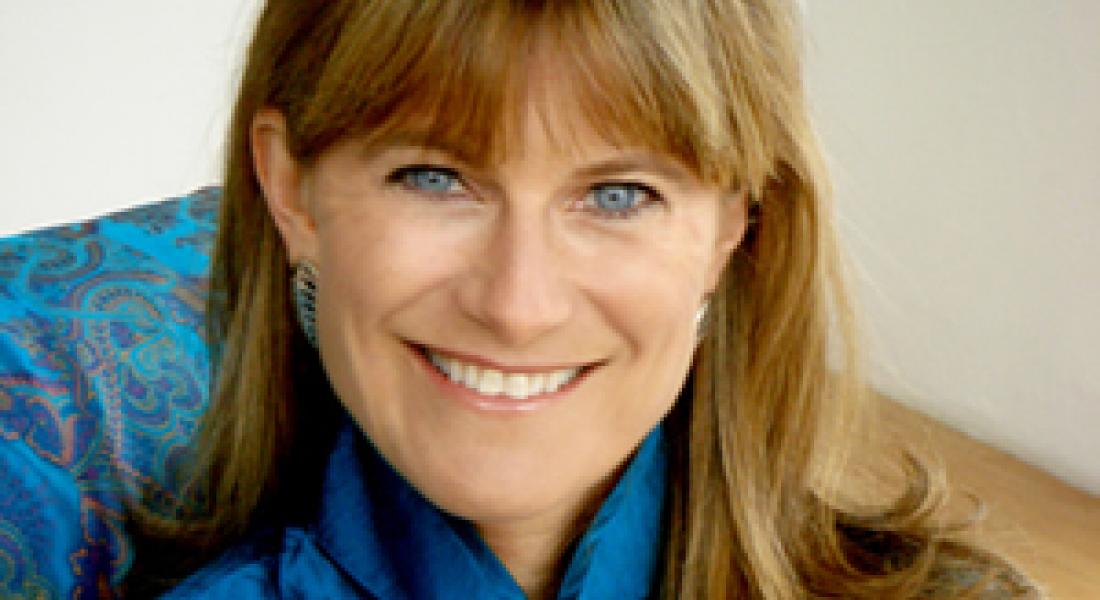 Social entrepreneur Jacqueline Novogratz has received the 2013 Ford Family Notre Dame Award for International Development and Solidarity in recognition of her pioneering work to combine best practices from the worlds of business, aid, and charity in the service of human development.
"Her work is a genuine work of love," said University President Rev. John I. Jenkins, CSC, who presented the award in a campus ceremony on October 31.
"Jacqueline Novogratz has consistently endeavored to understand and illuminate the true causes of poverty and has sought the most effective ways to unleash human creativity and potential," Jenkins said. "Her work and achievements in the service of others resonate deeply with the values that are at the heart of the mission of the University of Notre Dame."
The founder and CEO of Acumen, a nonprofit global venture fund, Novogratz has brought together free markets and philanthropy, investing charitable donations in businesses that provide essential services to the world's poor while creating thousands of jobs. Acumen takes pride in being mindful of both financial and social returns on its investments.
"The most radical thing we can do in a cynical world is create hope," Novogratz said in her remarks. She views people living in poverty not as passive victims in need of charity but as individuals with inherent dignity and the right to make choices for themselves.
Acumen's work requires both "soft" people skills and "hard" business skills, she said. What is needed to make change in the world, she told students, is a commitment to "doing what is right, not what is easy."
"Novogratz's focus on empowering the people she serves and on practical problem-solving that combines elements from diverse fields reflects the kind of innovative approach towards human development that is at the core of our work," said Paolo Carozza, director of the Kellogg Institute for International Studies, whose Ford Family Program in Human Development Studies and Solidarity presents the annual Notre Dame Award.
Acumen tackles poverty by investing philanthropic capital—in the form of equity or loans, not grants—in ventures that yield both financial and social returns. Since its founding in 2001, the fund has invested over $80 million in Africa and South Asia in companies focused on delivering affordable healthcare, water, housing, and energy to the poor. These companies have created over 58,000 jobs and provided services to approximately 100 million people.
A graduate of Stanford Business School, Novogratz left a budding career on Wall Street to promote microfinance for poor women in the developing world. Her bestselling memoir, The Blue Sweater: Bridging the Gap Between the Rich and the Poor in an Interconnected World, tells the story of the journey that inspired her to found Acumen.
Presented by the Kellogg Institute's Ford Family Program in Human Development Studies and Solidarity, the Notre Dame Award recognizes substantial contributions to international human development through research, practice, public service, or philanthropy. Recipients are honored for standing in solidarity with those in deepest need, supporting them to become agents of their own change.
Past recipients of the Notre Dame Award include Amartya Sen, development economist and Nobel laureate; Paul Farmer and Ophelia Dahl on behalf of Partners In Health, a nonprofit providing a preferential healthcare option for the poor; and Patti and Ray Chambers, the United Nations Secretary General's Special Envoy for Malaria. 
This year's award ceremony was part of the 2013 Notre Dame Forum on "Women in Leadership." While on campus, Novogratz spoke on "Human Capital and Human-Centered Development in an Interconnected World," cosponsored by the Building Bridges Mentoring Program of the Office of Multicultural Students and Services; the Kellogg Institute for International Studies; and the Burgess Lecture series of the Mendoza College of Business.