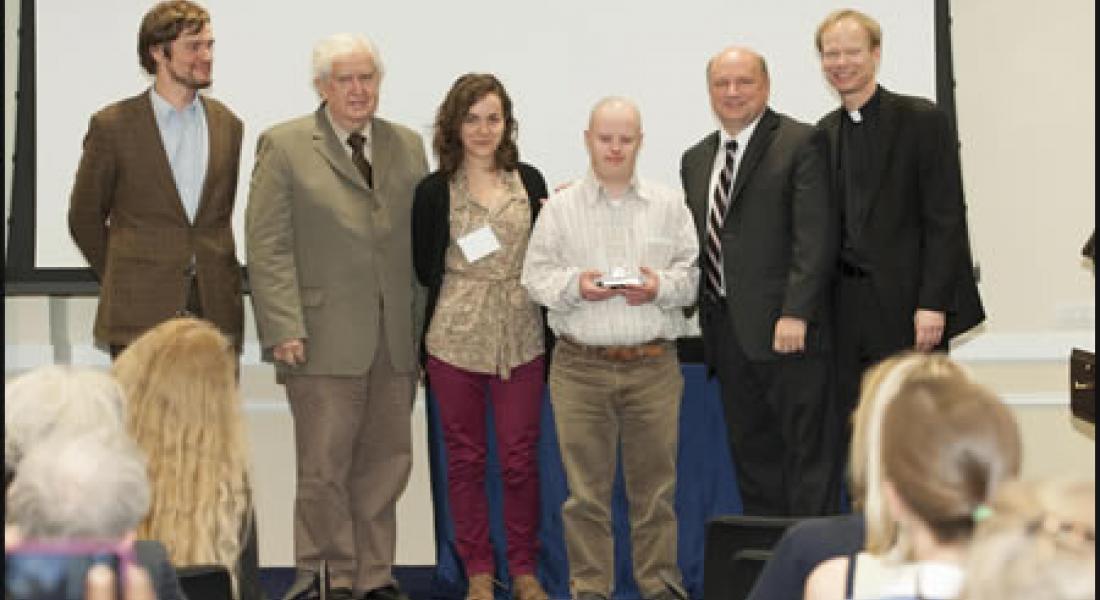 Update Feb. 23, 2019: The Kellogg Institute's Ford Program in Human Development Studies and Solidarity has rescinded the portion of the 2014 Ford Family Notre Dame Award for International Development and Solidarity that recognized Jean Vanier, issuing a statement emphasizing that the original co-recipient of the award, L'Arche International, retains the honor. Kellogg Institute website news articles have been edited to reflect this change.
L'Arche has received the 2014 Ford Family Notre Dame Award for International Development and Solidarity in recognition of the organization's groundbreaking work in service of the poor and vulnerable around the world. L'Arche is an international federation of communities for people with disabilities that promotes their human dignity while celebrating the power of positivity and friendship.
The award was formally presented on October 23 during the Kellogg Institute's Conference on Human Dignity and Human Development at the University's Rome Global Gateway in Italy.
 
In making the presentation, Faculty Fellow R. Scott Appleby, dean of Notre Dame's new Keough School of Global Affairs, cited L'Arche afor promoting a deeper awareness of the inherent dignity of every human being, showing how human beings flourish when they are embraced and loved as they are, demonstrating that all human beings are capable in different and complementary ways, and establishing communities that value the capabilities of each member and bring out the best in all.
"In L'Arche communities, something extremely simple yet very powerful takes place," said Rev. Robert Dowd, CSC, director of the Institute's Ford Family Program in Human Development Studies and Solidarity, which presents the Award.
"The so-called disabled and those with whom they live and work grow in awareness of their God-given value. This awareness encourages people to develop and share their talents and leads to authentic human development."
View "I Am Musa," a video about a member of the L'Arche community in Kenya made by Notre Dame alumnus Michael McDonald.
The Notre Dame Award for International Human Development and Solidarity recognizes substantial contributions to human development through research, practice, public service, or philanthropy. Recipients are honored for standing in solidarity with those in deepest need, supporting them to become agents of their own change.
Past recipients of the Notre Dame Award include social entrepreneur Jacqueline Novogratz, CEO and Founder of Acumen; development economist and Nobel laureate Amartya Sen; Partners In Health, whose cofounders Paul Farmer and Ophelia Dahl accepted the award on its behalf; and Patti and Ray Chambers, the United Nations Secretary Generals Special Envoy for Malaria.