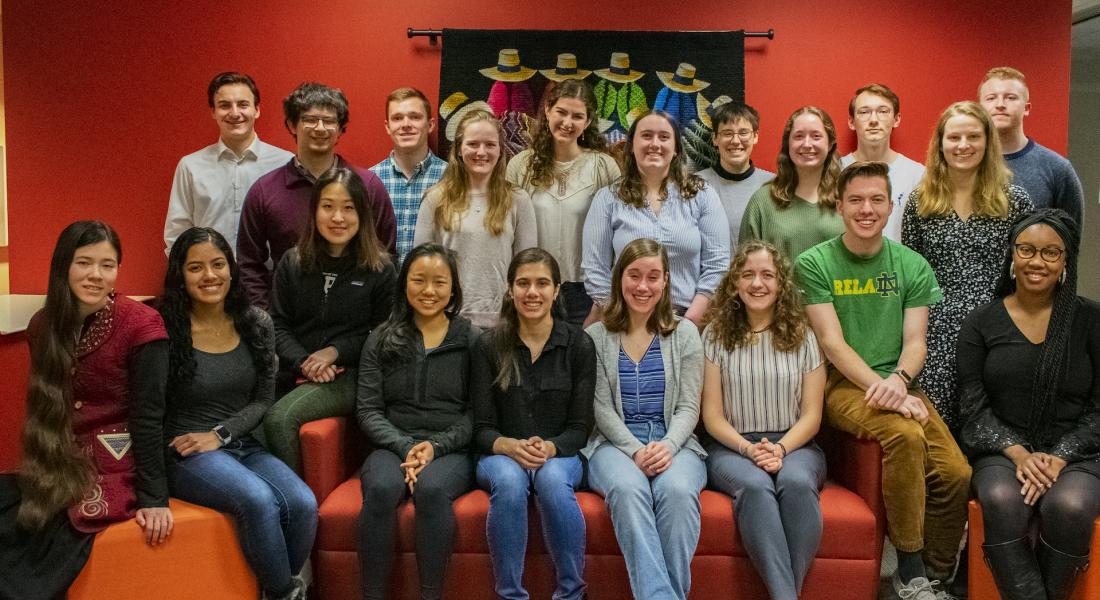 Three graduating seniors affiliated with the Kellogg Institute for International Studies have received prestigious international fellowships, while a fourth has been honored by the University of Notre Dame for leadership.  
Kyersten Siebenaler, an international economics major, has received a Fulbright Fellowship to Chile, while American studies major Irla Atanda has received a Boren Fellowship to Brazil. Both are minors in Kellogg's International Development Studies (IDS) program.
Kellogg International Scholar Lauren Jhin, a psychology major, has received a Princeton in Latin America research fellowship to the Dominican Republic, where she will teach English and psychology at a STEM high school and research how mental health is affected by domestic abuse.
Meanwhile, International Scholar Christian Abraham Arega, a biochemistry major, was awarded the Division of Student Affairs' Rev. Theodore Hesburgh, CSC, Award, which recognizes a graduating senior whose leadership has significantly advanced the climate of welcome and inclusion within or beyond campus. Arega was vice president of the Notre Dame African Student Association and served on the advisory board for the Fighting Irish Scholars Program, among other activities. She will begin working on a masters of public health and health policy at Yale University after graduation.
Kellogg Associate Director Holly Rivers, who heads the Institute's undergraduate programming, said members of this year's senior class are among the most accomplished on campus. Several have credited their experiences through Kellogg with helping them enter competitive graduate programs and land desirable job placements.
"The international perspective and leadership and research skills students gain through the IDS minor and the Kellogg International Scholars Program give them an edge after graduation," she said.
Several International Scholars are entering graduate school:
Nicholas Ottone has received a fellowship to Yale University, where he will pursue a PhD in political science. Ottone is majoring in political science and applied and computational mathematics and statistics.
Economics and philosophy major Mita Ramani will attend the University of Virginia School of Law;
Beth Steiner, a political science and pre-health studies major, will attend medical school, specializing in pediatrics, at the University of Cincinnati.
Environmental engineering major Mary Solokas will work on a master's degree in freshwater and marine sciences at the University of Wisconsin-Madison;
Maria Ventura, an anthropology major and IDS minor, will begin working on a master's degree in human rights at the University of Denver.
A number of graduating seniors have already accepted jobs, including three International Scholars who will enter multi-year leadership training programs intended to prepare young professionals for higher-level positions within major corporations. Kevin Angell, who is triple majoring in economics, political science, and theology, will become a Leadership Program Associate at Discover Financial Services. The company's two-year rotational program trains individuals for leadership positions within the company.
Mechanical engineering major Hannah Gillespie will work in Seattle for Boeing's two-year Engineering Rotation Program, which engages participants with different business units and elements of the product lifecycle.
Electrical engineering major Bridget Taylor will work for Wabtec Corporation in Erie, Pa., as a LEAD Program member. Through the program, she will rotate through four engineering roles, working on locomotives, marine engines, and/or off-highway vehicles.
Other International Scholars who have accepted jobs are:
Economics and peace studies major Godsee Joy, who will work as a consultant for Deloitte in Washington, DC, conducting cyber analysis for government agencies;
Claire O'Brien, an economics and applied and computational mathematics and statistics major, will work as a research assistant for the Urban Institute in Washington, DC, where she will conduct health policy research using quantitative research methods;
Economics major Kyle Murphy will continue working as CEO of EnSpice Inc., the social enterprise company he co-founded that manufactures seasonings and spices enhanced with plant-based vitamins and minerals.
Patrick Zimmer will work as an analyst for the Analysis Group in Denver, Colo., where he will conduct economic analysis for legal cases. Zimmer is an economics and statistics major.