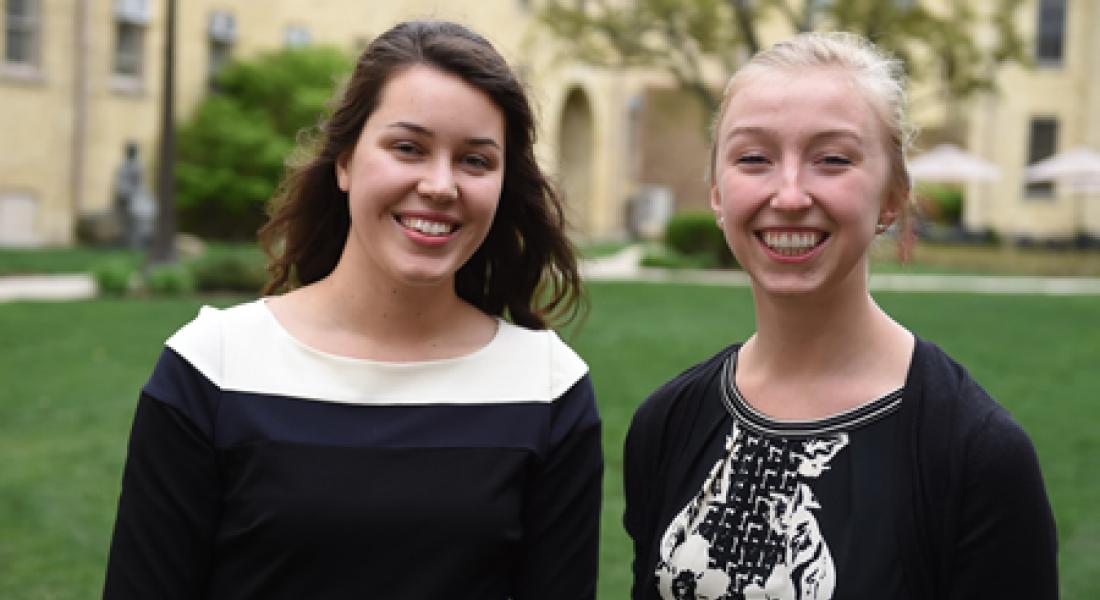 The Kellogg Institute for International Studies has named Evelyn Bauman and Rebecca Wornhoff of the Notre Dame Class of 2016 as recipients of the Institute's International Development Fellowships (IDF) for the coming year.
Two long-time Kellogg partner organizations, the Association of Volunteers in International Service (AVSI) and Partners In Health, will serve as hosts for the postgraduate fellowships.
"We are proud to be sending these fantastic graduates out to new, important experiences in the field of international development," said Kellogg Director Paolo Carozza in making the announcement.
"This is a unique opportunity for Kellogg and Notre Dame to reach out into the world, to deepen relationships with partners that embody the approach to development that we wish to study and encourage," he said. "We are able through these fellowships to extend what we do in our educational and scholarly community in a very real way."
The competitive one-year awards place the recipients as full-time professionals within internationally recognized development organizations, says Assistant Director Holly Rivers, who directs the Institute's undergraduate programs and was instrumental in creating the IDF program in 2014.
"With Kellogg funding, the fellowships give new graduates a year of work experience in a hard-to-break-into field," says Rivers.
Previous IDF recipients have taken or will take their experience onward to medical school, to new development positions, or to the study of development issues in graduate school. As International Development Fellows, Emmie Mediate '15 was named a Rhodes Scholar and Chris Newton '15 won a USAID Research and Innovation Fellowship.
The International Development Fellows and Their Placements
The two new fellows, both Indiana natives, bring deep commitment to international development, exceptional academic records, and substantial experience in the developing world to their posts in Haiti and Mexico.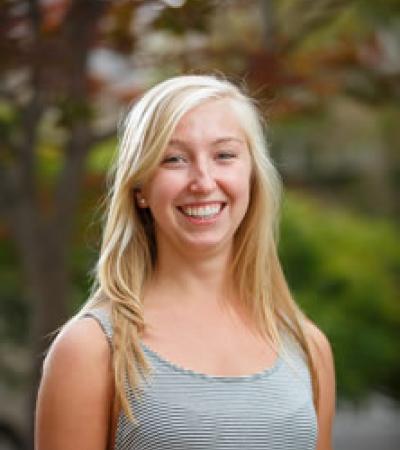 Evelyn Bauman, who will work with AVSI in Port-au-Prince, Haiti, is an international economics major and Kellogg International Scholar who was Faculty Fellow Catherine Bolten's research assistant for three years. Fluent in French, Bauman wrote a senior thesis on the dual education system in Senegal and how Islamic schools impact student achievement, based on independent research begun on an Experiencing the World Fellowship in that country.
AVSI supports human development in developing countries with special attention to education and the promotion of the dignity of every human person, according to Catholic social teaching. Previous IDF fellows have worked with AVSI in Uganda and in South Sudan.
In Haiti, Bauman will work as a project assistant on new AVSI educational projects that focus on youth development. One aims to train teachers and another concentrates on youth job creation to inhibit gang membership and violence.
"What matters to me most is working where I can promote child development," she says. "Furthering its 'putting people first' approach, AVSI considers the whole person. I am eager to see how this holistic approach to development is put into practice."
After her fellowship, Bauman plans to attend graduate school and focus her career on "people-centered" education and development.
Rebecca Wornhoff, who will work with the Partners In Health affiliate Compañeros En Salud in Chiapas, Mexico, is an anthropology and Arts & Letters pre-health studies major who has worked for two years as Faculty Fellow Vania Smith-Oka's research assistant on projects centering on health in Mexico.
The mission of Compañeros En Salud (CES) is to build a primary health care model of excellence in rural Mexico. Wornhoff, who aspires to become a medical doctor, has had substantial preparation for the fellowship.
Following a semester abroad in Puebla, Mexico, where she shadowed hospital doctors, she returned to the region on a Kellogg internship with the Foundation for the International Medical Relief of Children in rural Nicaragua. She assisted in a clinic, accompanied health workers on home visits, and developed exercise and cooking classes for diabetics.
Wornhoff will serve as a community health programs assistant for CES, supervising and managing the Acompañante program, which seeks to achieve better outcomes among people living with chronic disease by training community members to "accompany" patients in their ongoing care.
"I've been inspired by the ideals of Partners In Health," she says. "I want to take that 'reckless optimism' Paul Farmer spoke of recently here at Kellogg with me next year to Mexico."