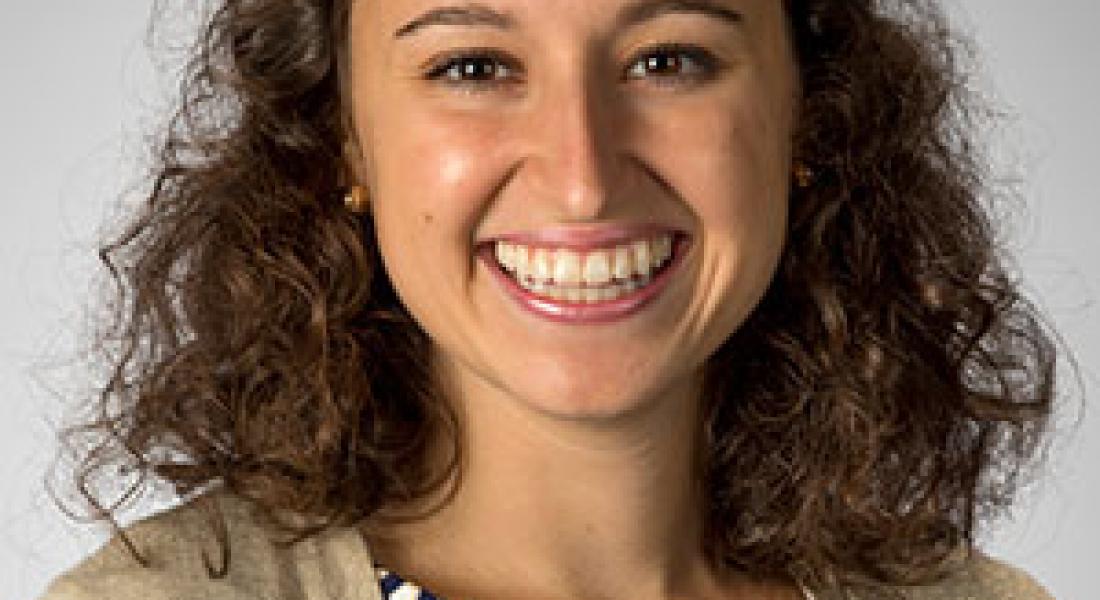 Kellogg International Scholar Emily Mediate '15 has been selected to the American Rhodes Scholar Class of 2016. A native of Colorado Springs, Colorado, Mediate was one of 32 Rhodes Scholars selected from a pool of 869 candidates endorsed by their colleges and universities.
She is Notre Dame's 17th Rhodes Scholar and the University's second in two years. Last year's winner, Alex Coccia '14, was also a Kellogg International Scholar, as was another of this year's three Notre Dame finalists, Kelly McGee '16.
"I am thrilled to be named as a 2016 Rhodes Scholar," Mediate said. "I am especially grateful to my peers and faculty advisers who supported my personal and academic growth along the way. While studying in the UK, I can only hope to live up to Notre Dame's mission of applying scholarly activity to the pursuit of the common good and with concern for the poverty and injustice that plagues our world today."
Passionate about global health issues, particularly in the sub-Saharan region of Africa, Mediate majored in Africana studies and Arts and Letters pre-health, and minored in International Development Studies. She is currently a Kellogg postgraduate International Development Fellow with the Association of Volunteers in International Service (AVSI) in Kampala, Uganda, where she is evaluating a USAID-funded program that aims to improve the well-being of children in HIV-affected families.
"The news that Emmie has won a Rhodes Scholarship comes as no surprise," said Faculty Fellow Terence McDonnell, her thesis advisor and International Scholars Program mentor. "A spirit of service and global citizenship fueled her studies and personal growth here at Notre Dame. She was an exceptional student, with a commitment to service and independent research. I expect big things from Emmie, and I'm excited to see what she comes up with next."
Mediate will commence her studies at Oxford University in October 2016, pursuing a master's degree in evidence-based social intervention and policy evaluation. Following her graduate work, she hopes to pursue a career as a foreign service officer with the US State Department.
Kellogg support and community
"The Kellogg Institute has been the critical foundation behind my experiences at Notre Dame," said Mediate. "The financial support for research abroad allowed me the opportunity to explore and learn in ways that otherwise would not have been possible. The intellectual environment, propagated by the various events, faculty fellows, and student programs, offered a space for scholastic maturity that contributed significantly to my achievements.
"I am beyond grateful to Kellogg for their four-year investment into both my personal and academic growth."
Mediate developed an interest in global health early in her Notre Dame career and began taking advantage of opportunities at the University—and particularly at Kellogg—to further those interests. As an International Scholar, she assisted McDonnell with research on HIV/AIDS prevention campaigns for three years.
At the end of her first year, she received a grant from the Undergraduate Research Opportunity Program to travel to Uganda to research international aid. The following summer, on a Kellogg Summer Internship, she returned to work with the Palliative Care Association of Uganda, assessing health care facilities across the nation.
The next summer found Mediate in Uganda again, conducting thesis research funded through a Kellogg/Kroc Undergraduate Research Grant. Through archival research and interviews with patients, doctors, and Ministry of Health officials, she analyzed the funding environment around various interventions for HIV/AIDS in Uganda. She followed up with additional research in Sweden and the Netherlands.
Her project, "Disabling Donor Demands: The Coercion of the International HIV/AIDS Agenda," argued that international funding has constrained local efforts in sub-Saharan Africa. She presented preliminary findings of her work at the Notre Dame Human Development Conference (HDC) as well as other universities.
"Now that I'm living in Uganda, I'm taking a lot of the lessons that I've learned from Notre Dame and putting them into action," Mediate said. "I'm doing more quantitative, heavy research and, thanks to my classes and other experiences, I have an understanding of what research should look like. It's definitely influenced and improved my performance in Uganda."
"Emmie is an incredible student and human being and a leader among her peers," said Assistant Director Holly Rivers, who advised Mediate for four years, hired her two years in a row as her student assistant in running Kellogg undergraduate programs, and keeps in close touch during Mediate's International Development Fellowship. "In addition to her academic prowess, she possesses remarkable creativity, maturity, and leadership and problem-solving skills.  All of us at Kellogg are very proud of her."
"In solidarity with others"
During her time at Notre Dame, in addition to her work with McDonnell, Mediate also served as a research assistant to Associate Professor of Chemistry Marya Lieberman on the Paper Analytic Device (PAD) project and to Faculty Fellow Christian Smith on the Science of Generosity project.
She led 55 first-year students in the First Undergraduate Experience in Leadership program, served on the Student Government executive board, and co-led and designed curriculum for the semester-long course "US Healthcare: Policy and Poverty Seminar." She volunteered with Imani Unidad, an AIDS ministry group in South Bend, and co-directed the Dean's Fellows in the College of Arts and Letters. In fall 2013, she studied in London, where she interned with Save the Children UK.
"The most important thing Notre Dame has instilled in me is a sense of concern for others," Mediate said. "A lot of the passion I have for the work I do in Uganda and for my future goals comes from a desire to be in solidarity with others, a concern for the common good, and just a sense that there is something bigger out there to fight for—and I want to be a part of that."
Along with multiple other grants and awards that she earned during her collegiate career, Mediate was chosen as a Public Service Scholar by the B. A. Rudolph Foundation, an honor that supported her State Department internship in the summer of 2015, and received a Scholarship for Service from the Margaret M. Beeler Memorial Foundation.
The Rhodes Scholarship
Mediate advanced through a rigorous multistep selection process for Rhodes Scholarship applicants. This year, approximately 2,000 students sought their institution's endorsement and 869 were endorsed by 316 colleges and universities. Committees in each of 16 US districts then invite the strongest applicants to appear before them for interview. Applicants are chosen on the basis of the criteria set down in the will of Cecil Rhodes.
According to the Rhodes Trust, along with academic excellence, "a Rhodes Scholar should also have great personal energy, ambition for impact and an ability to work with others and to achieve one's goals. In addition, a Rhodes Scholar should be committed to make a strong difference for good in the world, be concerned for the welfare of others and be conscious of inequities. And finally, a Rhodes Scholar should show great promise of leadership."
Rhodes Scholarships have been awarded annually since 1902 and provide all expenses for two or three years of study at the University of Oxford in England, and may allow funding in some instances for four years.
"Emmie Mediate is an exemplar of scholarly engagement," said Jeffrey Thibert, interim director and assistant director of national fellowships at the Center for Undergraduate Scholarly Engagement, which assists students and alumni with fellowship applications.
"With the Rhodes Scholarship, Emmie will join the ranks of an elite group of current and future leaders from around the world who have had the opportunity to use the exceptional resources available at the University of Oxford to fuel their efforts to 'fight the world's fight.'"
Students interested in applying for the Rhodes and other awards are encouraged to visit cuse.nd.edu.  For more on Kellogg undergraduate programs, go to Kellogg's undergraduate student opportunities.