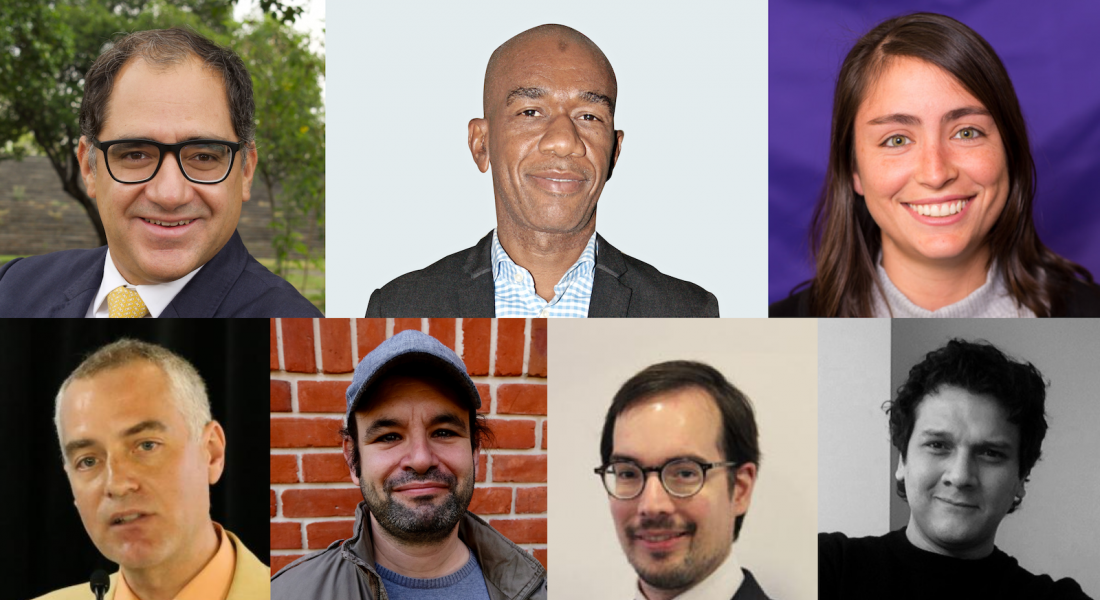 A Malian political scientist who studies development cooperation in fragile states and a Spanish economist who researches the impact of destabilizing forces like COVID-19 are among the members of the Kellogg Institute for International Studies' incoming class of visiting fellows.  

The seven scholars in the 2021-2022 cohort represent a diversity of backgrounds and research interests and are at various stages of their academic careers, according to Kellogg Executive Director Don Stelluto. Much of their work addresses serious institutional disruptions – to political institutions, economic systems, and social hierarchies – and their impact on human flourishing.
"This is an international cohort whose research reflects the scope of global disruption and institutional conflict as well as the human desire to address disruption through change, reconciliation, and recovery," he said. "Their research projects incorporate important normative concepts about the dignity of human beings and questions about shared humanistic aspirations and values. In this sense, they reflect Kellogg's call to link rigorous academic research with questions of human dignity and policy development."
Kellogg Assistant Director Denise Wright, who manages the visiting fellows program, noted that the cohort is unique because many of the incoming scholars will contribute to Kellogg's new or ongoing partnerships with other University of Notre Dame entities, including Notre Dame International (NDI), during their time on campus.
"At Kellogg, we value our partnerships on campus and abroad and this is a way to strengthen those connections," she said. "Meanwhile, we're supporting our faculty fellows in advancing their work and enhancing the experience of our students by bringing in outside scholars who offer new perspectives and insights."
The group includes Julio Juárez Gámiz, an associate professor at the Centre for Interdisciplinary Research in Sciences and Humanities and Notre Dame's inaugural Fulbright-Garcia Robles COMEXUS Mexico Studies Chair. During his fall 2021 fellowship, Juárez Gámiz, who specializes in political psychology and strategic communication, will work on a project that analyzes Mexico's diverse political environment and forces like distrust in government and political polarization that are challenging Mexican democracy.
The position is the product of Kellogg's new partnership with NDI and COMEXUS, the Mexican Fulbright Commission.
"I cannot think of a better place and time to embark on this professional endeavor," Juárez Gámiz said. "For me, this is a unique opportunity to share my work with a very active and vibrant academic community. It is my goal to bring to the fore topics of great relevance and impact on both sides of the border and thus contribute to re-think our shared democratic challenges."
The other 2021-2022 visiting fellows are:
Sebastian Elischer, an associate professor of political science at the University of Florida who analyzes the interplay between identities and institutions. While at Kellogg, Elischer will work on a project that examines two opposing trajectories of post-Cold War military coups and their effects on democracy: military withdrawal from power, in which the junta allows for multiparty elections with civilian politicians, and autocratic resilience, in which the junta intervenes in the electoral process and prolongs its rule through a civilian proxy.
César Estrada, a lecturer at the Department of Sociopolitical and Legal Studies at the Western Institute of Higher Education (ITESO), the Jesuit University of Guadalajara, who studies violent conflict in the context of organized crime and human rights violations in Mexico. Estrada will be hosted jointly with the Kroc Institute for International Peace Studies as the Kroc/Kellogg Visiting Fellow. During his fellowship, Estrada will work on a project entitled "Genocidal Violence Amid Mexico's War on Drugs: A Critical Lens on Police and Criminal Brutality," which examines how the so-called war on drugs in Mexico strongly relies on the construction of social groups deemed as disposable and killable subjects.
Laura García Montoya, a political scientist and former postdoctoral researcher at Princeton University who studies the political economy of inequality and political violence in Latin America. Her fellowship book project, "Trapped by Inequality: The Politics of Redistribution in Latin America," identifies the causes of inequality traps – high and persistent levels of economic inequality – and explains how and why some Latin American countries escape those traps and embark on paths of diminishing inequality.
Jordi Paniagua, an assistant professor of economics at the University of Valencia who studies international economics and business. His fellowship project will examine the economics of disintegration by conducting a comprehensive analysis of foreign direct investment and by deepening the understanding of the role of migration and its interconnection with trade and investment. Paniagua will also work with the Initiative on International Economic Integration, a Kellogg Policy and Practice Research Lab led by Faculty Fellow Jeffrey Bergstrand.
Moumouni Soumano, a professor in the Department of Political Science at Mali's University of Bamako and Kellogg's 2021-2022 Hewlett Visiting Fellow for Public Policy. While at Kellogg, Soumano will work on a book project entitled the "Preservation of Human Rights and the Roles of the State and the International Community in Mali: Weaknesses, Synergies, and Prospects for Development," which examines the impact of human rights violations on Mali's national construction and development, as well as the role of the state and external support organizations in ensuring support for human rights.
Francisco Urbina, a Chilean law professor at Pontificia Universidad Católica de Chile and a former human rights attaché to the Mission of Chile at the Organization of American States. During his spring 2022 fellowship, he will work on a project entitled "The Right to Freedom of Religion During the Bolivarian Revolution" and teach a course on human rights at Notre Dame's law school.