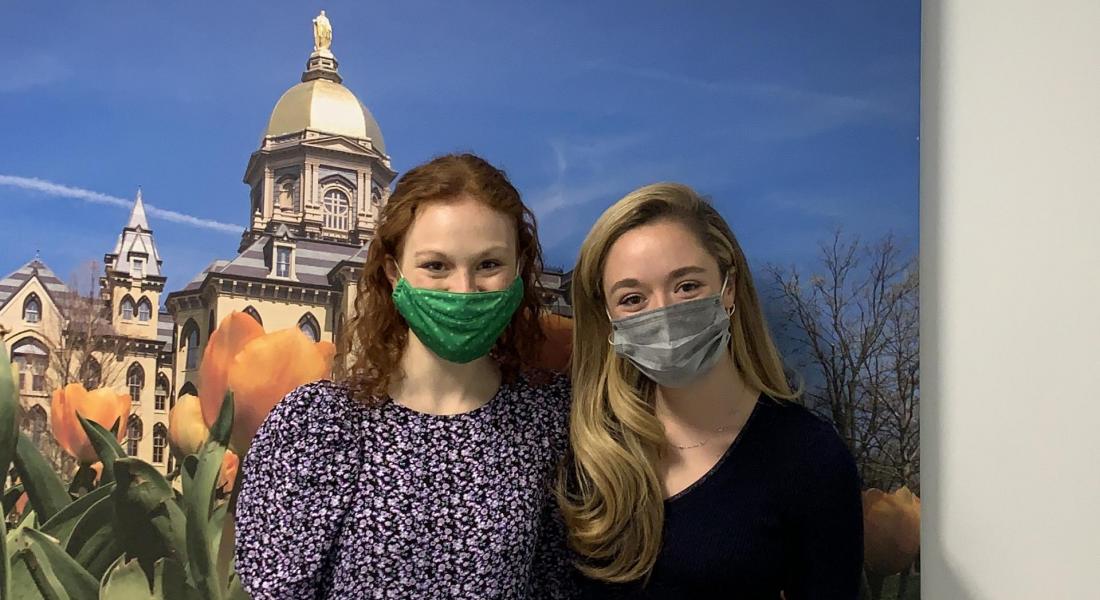 Each February, the Kellogg Institute's Human Development Conference (HDC) showcases some of the best undergraduate research in international development from universities across the nation. This year, the two Kellogg International Scholars tasked with organizing the event faced an extraordinary challenge because of the coronavirus pandemic: how to turn an in-person conference into a virtual event. 
"We initially thought HDC would be in person, but as the months went on, we gradually realized that wasn't going to happen," said Annie Foley '22, co-chair of the 2021 event. "Transitioning to a virtual HDC was definitely our biggest challenge because it had never been done before." 
The annual student-led conference gives undergraduates the opportunity to present their research in a professional academic setting. The event was sponsored by the Ford Program in Human Development Studies and Solidarity, the University of Notre Dame's Center for Social Concerns, and the School for International Training. 
Foley and co-chair Emily Meara '21 began planning for this year's HDC last spring, an undertaking that involved making countless decisions about everything from marketing to logistics, and directing some 50 Kellogg undergrads who served on planning committees for the event. 
"I learned that running a conference means doing everything from big to small. It's drafting a theme and discussing overall goals, and smaller things like answering countless emails and making decisions about colors for graphic designs," Meara said. "I also learned the power of having a strong team. Everyone took on a different role and wanted to make sure the conference ran smoothly."
Leading HDC is one of a number of opportunities the pair have taken advantage of through their affiliation with Kellogg. Both are part of the Kellogg International Scholars Program (ISP), which pairs undergrads with a faculty mentor for a three-year research partnership. 
Foley, an anthropology and global affairs major, has a concentration in International Development Studies and has used her partnership with a civil engineering professor to help her combine her research interests in religion and behavior. Meara, a pre-health studies and Spanish major, went to Mexico through an Experiencing the World Fellowship and has studied the role of accompaniment in international development. 
Both said their Kellogg ISP research and partnerships with the directors of the Keough School of Global Affairs' Integration Lab (i-Lab) inspired their work in development and led to their involvement with HDC. 
"Being part of Kellogg and ISP is one of my favorite things I've done at Notre Dame," Meara said. "It introduces you to so many different fields of study and so many topics of research. It really allows you to work with your advisor on their research as well as mold your own 
research interests in ways that are pretty unique for an undergraduate. It's a unique way to watch yourself grow." 
Turning a barrier into an advantage 

Both Foley and Meara, who have presented at and helped plan previous HDCs, said running this year's conference – with its theme of "The Future is Now: Innovative Responses to Global Adversity" – taught them how to delegate and manage teams of their peers. 
It also taught them to acknowledge the limitations they faced because of COVID-19. 
"HDC is such a special event, and just letting go of the nostalgia for an in-person conference was hard," Foley said. In normal years, the HDC weekend includes a Friday night dinner that gives students a chance to network and talk with faculty fellows. "This year, we tried to think about how the virtual setting could actually be an advantage instead of a barrier, and we really came to embrace it because it allowed us to connect with more people than ever before." 
Meara, who said she "fell in love" with the HDC weekend when she presented research as a sophomore, noted that more people – including students' family members – were able to attend HDC than in previous years because it was virtual.
"It was inspiring to see students so passionate about sharing their work and so flexible about presenting via Zoom," she said. "There was a lot of pivoting to different formats in the months leading up to the conference, but it was rewarding to plan the first virtual HDC conference and see what worked well and what might be used again in the future." 
Meara also learned that "it's easy to be inspired by other people your age." 
"We often think about being inspired by older people, but I was inspired by my friends," she said. "The research students were able to perform was remarkable, especially during COVID, and their enthusiasm was contagious."