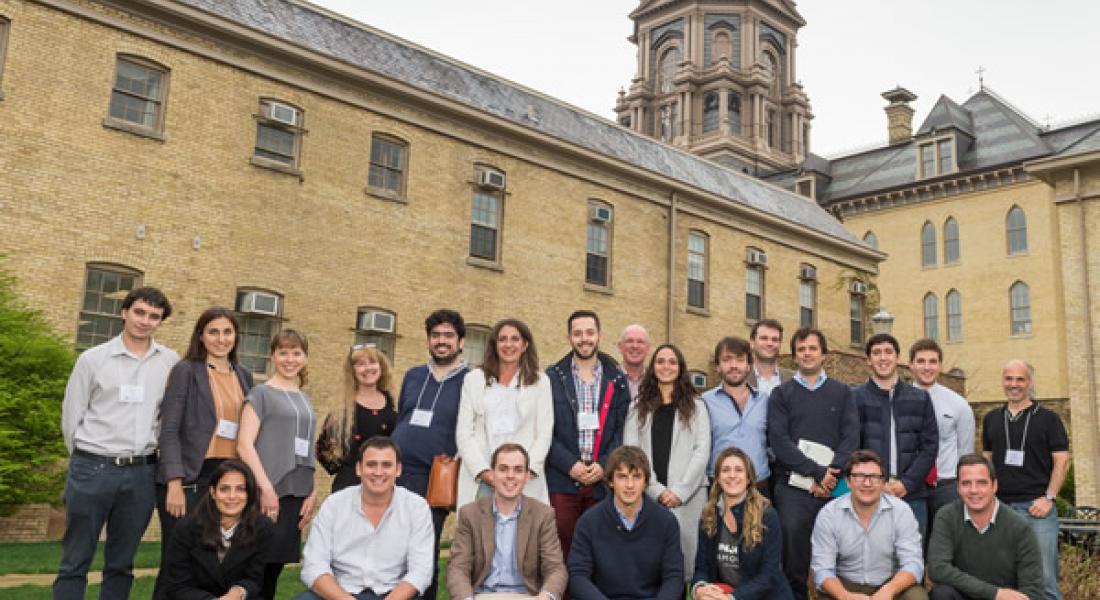 Thirteen of Argentina's most promising young leaders have arrived at Notre Dame to explore with scholars and local community leaders how values and leadership can intersect for the common good.
The visit, the second in a series cosponsored by the Kellogg Institute and Notre Dame's Institute for Educational Initiatives (IEI), was the brainchild of former Visiting Fellow Rodrigo Zarazaga, SJ, a political scientist who directs the Center for Research and Social Action (CIAS), a Jesuit nonprofit in Buenos Aires.
After creating a political leadership institute three years ago that already receives hundreds of applicants for several dozen slots, he was convinced that his best students would benefit immensely from a US immersion experience.
"Argentina has long possessed the potential to become a prosperous nation and a leader within Latin America," he said. "However, this potential has so far gone unfulfilled, due primarily to the lack of capable, ethical leadership and low-quality political institutions.
"This project advances the goal of forming a new generation of political leaders who will lead Argentina toward integral and sustainable human and economic development," he explains.  It is "political" broadly defined—among this year's Kellogg delegation are government and party leaders from across the ideological spectrum.
At the Institute, they are engaging with experts on such topics as political leadership in challenging times, making democracy work, corruption, human rights and human development, and innovation in the public sphere. Presenters include faculty and doctoral students affiliated with Kellogg and several current visiting fellows: Hernán Flom, a political scientist from Argentina, and journalist Katherine Corcoran, who ran the Associated Press bureau for Mexico and Central America.
The delegation will also spend time in the community, talking to local leaders—including South Bend's up-and-coming 35-year-old mayor, Pete Buttigieg—about how they solve problems and manage change.
The hope is that this year's CIAS experience will be as successful as last year's, which followed a similar agenda.
The 2016 young leaders were particularly interested in innovative public-private partnerships being undertaken in South Bend, which are uncommon in Argentina.  Uniformly, whether in the community or on campus, the reaction of those they talked to was: "they asked great questions!"
María Migliore, chief of staff at the International Relations Undersecretary, City of Buenos Aires, explained that delegation members came from different parts of the country.
"Doing this together tightened the bonds between us. It's an important moment in Argentina in opening to the world," she said. "This is a unique initiative that encourages us to work together and find solutions from our differences."
Serendipitously, the 2016 group's downtown visit coincided with primary election day, and several participants accompanied Kellogg Associate Director Sharon Schierling to her polling place.
"The whole experience was great," said Gabriel Mraida, the national director for crime and violence prevention at Argentina's Ministry of National Security. "It combined academic knowledge with real politics and how the private and public sectors work together. It is very helpful for my job and career."
Each of the trips to Notre Dame, which Zarazaga has organized with Faculty Fellow and IEI Director Rev. Timothy Scully, CSC, includes a trip to Chicago and a Georgetown University visit that focuses on the policy world.
Zarazaga said the US initiative is achieving even more than he had expected.
"It really broadens the horizons of these young leaders and what they will talk about in their cities," he said. "Spending time together outside the country is essential to bringing them together as a network."
"Ethical, effective global leadership is one of the great challenges of our time," observed Kellogg Director Paolo Carozza. "This is an exciting pilot project, with very practical implications for democracy in Argentina."
The Kellogg Institute for International Studies, part of the University of Notre Dame's new Keough School of Global Affairs, is an interdisciplinary community of scholars and students from across the University and around the world that promotes research, provides educational opportunities, and builds linkages related to two topics critical to our world—democracy and human development.