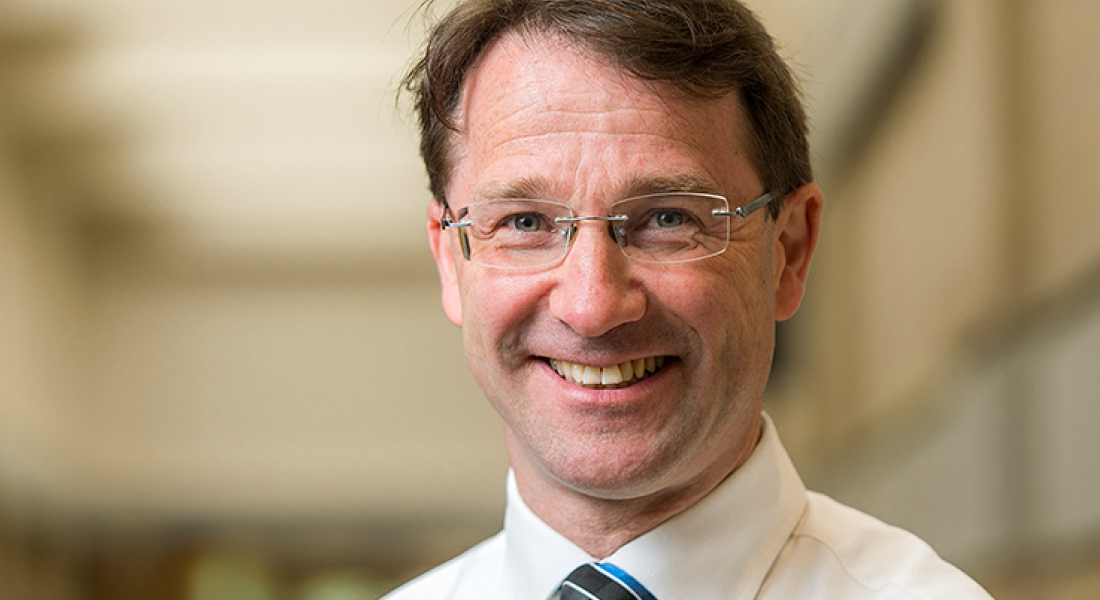 He calls it "the big elephant in the room," something that has ruined civilized political discourse and hastened the shift toward right-wing populism in both Europe and the United States. 
Today, the fight over migration has almost reached a breaking point in the European Union and has fractured the political climate in the US, according to Clemens Sedmak, a faculty fellow at the Kellogg Institute for International Studies. 
And those tensions are only poised to grow.
"Migration is a huge topic that's not going away," said Sedmak, a social ethicist who holds a joint appointment at the Keough School of Global Affairs and the Center for Social Concerns, where he is an advisor in Catholic social tradition. "It's one of these topics that will become huge because of climate change, as more and more people are forced to move." 
Sedmak studies the social side of human existence – essentially, how people get along with one another – in a field that encompasses poverty, justice, solidarity, philosophy, theology, and human dignity. He's currently working on two research projects on migration with the Ford Program in Human Development Studies and Solidarity.
In the spring, he'll serve as the program's acting director while Director Rev. Robert Dowd, CSC, is on sabbatical. 
The Ford Program incorporates Sedmak's research interests as well as his focus on community-centered research and spirituality. 
"It's an ethics-driven program where you try to connect theory with practice. It's not just another program of excellent research at a university," he said. "It's about making a change on the ground, making human dignity more tangible."
Dowd called Sedmak "a natural fit" to lead the Ford Program because of his appreciation for different types of research methods across different disciplines.
"He has an excellent understanding of our work in all its dimensions and he is steeped in Catholic social thought, which is at the core of our mission," he added. Sedmak will work closely with Faculty Fellow Jaimie Bleck, senior research advisor for the program, in his leadership role. 
Sedmak will lead the Ford Program as it continues to expand its traditional geographic focus on East Africa to other areas of the developing world, with eight projects now spanning four continents. He expects to hold a "placeholder" role in Dowd's absence, but hopes to help solidify Ford's international partnerships, possibly moving toward adding a base in Europe because of the program's work on migration. 
A native of Austria, Sedmak spent six months at age 21 doing social work at a family support center in Camden, New Jersey, where he delivered discarded furniture to the poor. As an academic, he has held appointments at universities around the world, most recently at King's College London. 
His involvement with the Kellogg Institute has included co-editing a volume on human dignity with Director Paolo Carozza, and editing a volume on Catholic social tradition and the capability approach with former Visiting Fellow Séverine Deneulin. 
Much of Sedmak's work with Ford to date has centered on migration. In one project, he and Dowd are examining the role religious attitudes, nationalism, and ethnic identity play in migration in Italy, both on the part of migrants and those in their host communities. The project may eventually expand to other countries including Germany. 
"It's good to have a research perspective on migration because there are so many heated emotional debates about it," he said, noting that religion is an important aspect of the project: "Even if you are not religious, 80 percent of world's population is connected to some religious tradition, so you have to take its impact seriously."  
He's also researching the outcome of a "humanitarian corridor" in Italy, in which the government provided safe passage and visas last year to 500 people in refugee camps in Ethiopia, along with housing and resettlement assistance. 
He and co-researcher Ilaria Schnyder von Wartensee will evaluate whether the humanitarian corridor effort could serve as a model for migrant integration and inclusion in Europe.  
"The humanitarian corridor is promising in the sense that it's an alternative to illegal entry and an alternative to dangerous entry to a country," he said. The project will also assess how religious beliefs and institutions affect integration.
Sedmak noted that the migrants participating in the humanitarian corridor were carefully selected in UN refugee camps and, unlike most migrants, were well-prepared for the transition to Italy. 
However, Ford's initial findings show that migrants and hosts often have divergent expectations on everything from entitlements to whether the migrants will integrate or stay in Italy only temporarily. 
"If the expectations don't match, you have a source of tensions and misunderstandings," he said. 
Schnyder, a Kellogg Institute research assistant professor, said Sedmak raises questions that sharpen their research, including on the issue of accompaniment, an approach that seeks to build relationships with refugees in order to understand their needs and better advocate for them. 
"Clemens asks questions about the ethical aspects of accompaniment in integration, such as questions of autonomy and responsibility," she explained.
Sedmak's work on migrants – often refugees who face life-threatening conditions – ties to his past work on resilience, or how people develop and rely on inner strength in times of hardship. In his most recent book, "The Capacity to be Displaced: Resilience, Mission, and Inner Strength" (Brill, 2017), he examines how international workers typically have a sense of displacement but cultivate a source of nourishment from within, not from social sources. He's also published hundreds of articles and books in multiple languages on everything from Pope Francis' vision for the Church to human dignity.
Sedmak said the Ford Program is a leader in research that promotes integral human development, or IHD – a concept at the heart of the mission of both the Kellogg Institute and the Keough School. 
"When we talk about IHD in the Keough School at large, the Ford Program is in a good position to develop this concept and connect it with experiences on the ground," he said. "It helps us understand what it means to take human development seriously."