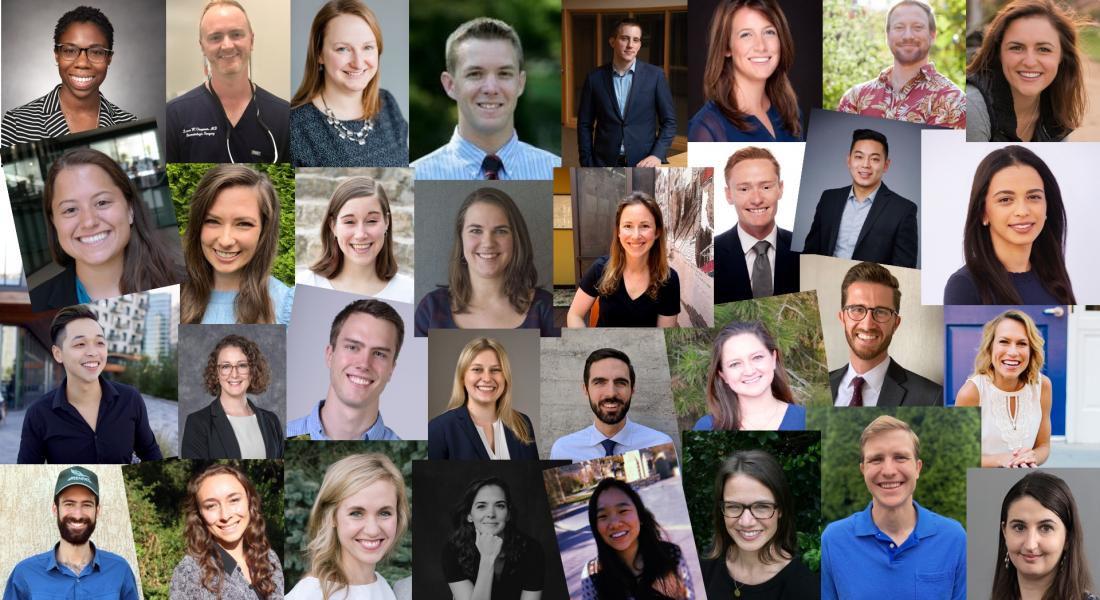 Want to know how being a Kellogg International Scholar can help you? Get the latest updates about what our alumni are doing now – in fellowships, graduate school, the military, and in their professional careers – and connect with others who have similar interests. 
Here are some recent alumni updates:
Rosemary Agwuncha '18 (pre-health, theology) is in her first year of medical school at the University of Houston's College of Medicine, in its inaugural class.
Alisha Anderson '15 (chinese, finance) worked in Washington, D.C. with Avascent before recently starting a two year MBA program at Stanford Graduate School of Business.
Kevin Angell '20 (economics, political science, theology) is a data scientist at Discover Financial Services where he is a part of their Global Portfolio Analytics team. He is a part of Discover's two-year Enterprise Business Leadership program for individuals preparing for management positions within Discover. 
After six years working at Results for Development Institute (R4D) in Washington, DC, Morgan Benson '14 (anthropology, economics) started a Master in Public Policy at the Harvard Kennedy School.
Shannon Bugos '16 (English, spanish) is a research assistant on disarmament and threat reduction at the Arms Control Association, where her work focuses on nuclear disarmament, the defense budget, and U.S.-Russian arms control.
Katie Cessar '12 (french, political science) currently serves as the National Coalitions Manager for the 1st  Amendment Partnership (1AP). In her role, Cessar is responsible for building strategic relationships and strengthening partnerships with allies and community members to promote religious liberty.
After graduation, Caitlin Crahan '20 (mathematics, political science) received a Kellogg Postgraduate Fellowship to pursue an internship with the Wilson Center where she works as a research assistant to Robin Wright. She hopes to find a full-time position in D.C.'s foreign policy network after her current internship.
Stephen Cray '16 (economics), after graduation, began working at J.P. Morgan in Chicago where he spent 3 years as an analyst. Following J.P. Morgan, Cray began working for Kayne Anderson, a large multi-strategy investment firm where he is an associate on their Private Credit team.
Lieutenant Peter A. Devine '09 (economics), US Navy, currently serves as an Instructor of economics at the United States Naval Academy and an STC at the World Bank Group focusing on the Blue Economy.
In 2017, Aidan Dore (arabic studies) joined the Louis Dreyfus Company—a commodity trading firm headquartered in Geneva, Switzerland. Dore is based out of New York City and works out of the North American headquarters in Wilton, Connecticut.
Since graduating, Alexa Fedynsky '17 (anthropology) completed a Fulbright English Teaching Assistantship at the Universidade Estadual do Paraná in Apucarana, Paraná, Brazil. Currently, Fedynsky lives in Washington, DC and works at an international development non-profit, PartnersGlobal.
Allison Hidalgo '19 (international economics) recently graduated from IE University in Madrid, Spain, where she earned a Master in International Relations through a Fulbright Study/Research Award.
Brian Klein '08 (political science) is assistant professor at the University of Michigan, jointly appointed in the Department of Afroamerican and African Studies and the Program in the Environment. He received his PhD in Environmental Science, Policy, and Management from the University of California, Berkeley in 2020.
After graduation in 2018, Luke Maillie (physics in medicine) conducted research on a Fulbright Study/Research Award in Tanzania studying health systems. He is now a medical student at Mount Sinai in NYC where he continues to work on researching access to care for cancer patients in Tanzania.
Laura Meyer '09 (arabic studies) is now an international research analyst at Mathematica, where she works to evaluate the implementation and effectiveness of domestic and international programs and policies in a variety of social sectors including education, infrastructure, and labor.
Emily Normand '20 (program of liberal studies) is currently working as an English language teaching assistant through the Meddeas Fellowship in Teruel, Spain.
 Alexis Palá '15 (anthropology) is currently a Research Associate of Public Services and Social Innovation at Y Lab, a global innovation foundation. Since graduating, Palá served as a US Fulbright Scholar in Chile, completed an MPhil in Public Policy at Cambridge University where she did work placement research in the Australian Centre for Social Innovation (TACSI), and then found herself based in Cardiff, Wales.
After graduation, Sarah (Katie) Seaberg '19 (anthropology) spent time conducting archeological fieldwork in Colorado and working at the Smithsonian Center for Folklife and Cultural Heritage in Washington, D.C. She is currently an MSc candidate at the University of Oxford, studying nature, society, and environmental governance.
Taylor Still '18 (political science) earned her Master of Education in 2020 through Notre Dame's Alliance for Catholic Education and continues to teach middle school students, whose home languages vary from Spanish to Urdu and Tigrinya to Sureth.
Xiao Tang '18 (political science, theology) is a Doctoral Student in Peace Studies & Theology at the University of Notre Dame. Prior to returning to Notre Dame, Tang received her M.T.S. in Religion and Literature from Harvard Divinity School.
Joseph VanderZee '12 (history) teaches 11th grade US History at Mansueto High School, the newest campus of the Noble Network of Charter Schools in Chicago. VanderZee spent the previous five years as the founding coordinator of an English-language immersion center at a K-12 school in Santiago, Chile.
Following graduation, Abigail Veres '18 (accountancy) was offered a University Fellowship from Ohio State where she received a Master of Accounting from Fisher College of Business. Veres now works at PricewaterhouseCoopers in their Private Company Services tax division and became a licensed CPA in 2020.
 Maria Villalta Chacón '18 ( marketing) is currently a Digital Account Strategist at Google, helping Small and Medium Business in Mexico and Central America grow their businesses using Google Ads.
To see where more Kellogg International Scholar alumni are and what they are doing, visit the ISP Alumni webpage.