In Swahili, Pamoja means "together," and that's just what the Pamoja Nairobi Partnership Summit in May set out to do – to bring together the many people, existing partnerships, and scholarly opportunities connected to Africa and the University of Notre Dame. The Kellogg Institute's participation in the summit, support of the Pamoja Initiative at Notre Dame more generally, and other efforts this year in Africa demonstrate the Institute's ongoing commitment to the continent.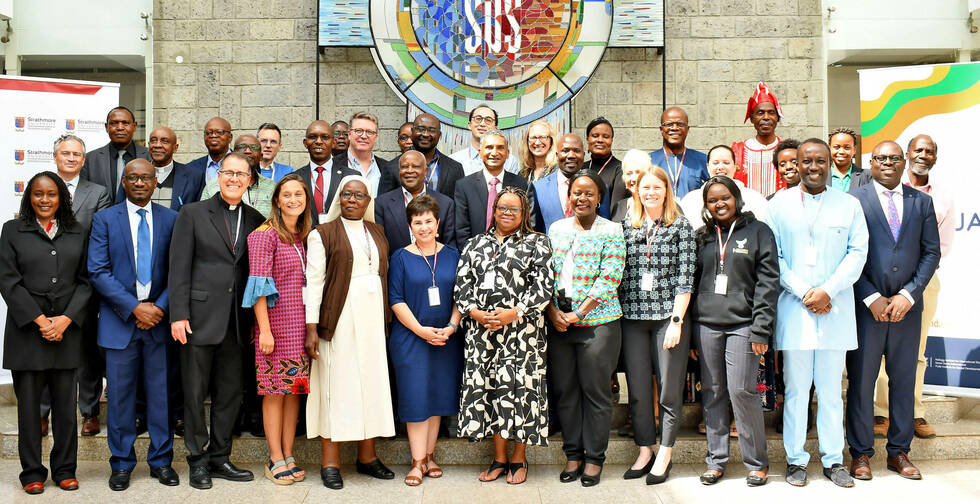 Notre Dame administrators, faculty, and staff from the Kellogg Institute for International Studies, the Keough School of Global Affairs' Pulte Institute for Global Development, and Notre Dame International (NDI) met at Strathmore University in Nairobi, Kenya, with representatives of several African universities and organizations to connect, discuss, collaborate, and build upon existing partnerships in Africa.
"Pamoja, it means together, it means mutual, bidirectional – this is Notre Dame holding hands together with Africa to advance a common goal, rather than Notre Dame going to help Africa," says Kellogg Faculty Fellow and Keough School of Global Affairs Associate Professor of Geography and Environmental Policy Ellis Adjei Adams, who led the US side of the Pamoja initiative along with Jamie Bleck, also a Kellogg Faculty Fellow. "Research, teaching, travel fellowships – there are a lot of ways we can work together. We can prioritize those existing partnerships and find more ways to move this forward."
The idea for Pamoja was born in the Kellogg Africa Working Group in the fall of 2021, expanded through the efforts of many faculty, students, and leaders in the US and in Africa through what became the Pamoja Initiative, and then the summit was made possible through the support of university funding, most notably through the Moment to See, Courage to Act initiative.
"It has been really impressive to see such interdisciplinary goodwill," says Bleck, associate professor of political science whose research includes electoral politics, citizenship, governance, and political behavior in Africa with a focus on Mali. "These conversations need to be happening across institutes if we want to think strategically about how Notre Dame should be engaging with Africa. If we want to tackle the biggest, most pressing problems in the world, we need to be doing that with a team of interdisciplinary collaborators, and we need to be talking to African universities and scholars as early as possible."
In addition to Strathmore University, Great Lakes University of Kisumu, Luigi Giussani Institute, University of Makeni, Kwame Nkrumah University of Science & Technology, Hekima University, Stellenbosch University,  and other universities and educational organizations were represented at the summit.
"Traditionally, the neocolonial way of research done in Africa has been extractionary, but we're looking at a different way to do research," says Nairobi-based Jackline Oluoch-Aridi, NDI sub-Saharan Africa director who provides leadership and guidance to Notre Dame partners in Africa and led efforts to organize the Pamoja Summit in Africa. "This has more impact on policy and helps globalize the university. Having this summit in Africa is meaningful and impactful and helps address the big problems of our time."
One of the staff who represented Kellogg at the Pamoja Summit is Assistant Director Denise Wright, who leads the institute's Visiting Fellows Program. She presented information about the program, which funds fellows to spend one semester or one academic year collaborating with faculty on their research on global democracy or human development.
"The purpose was to highlight what the university is already doing and how we can engage these other universities and institutions," says Wright. "We are fostering stronger collaborations, more research activity, more student exchanges, and more scholarly exchanges."
Other Notre Dame opportunities represented at the summit included human development research funding through the Ford Program in Human Development Studies and Solidarity and policy research around food security, resilience, and education through the Pulte Institute; and fellowship and faculty and student exchanges through NDI, the Pulte Institute, the Kroc Institute for International Peace Studies, the Institute for Advanced Study, and Notre Dame Architecture.
"All of these partnerships and opportunities were already available," says Adams. "Pamoja was a chance to bring these efforts together, a chance to highlight that these things are happening and to generate more interest among faculty, students, and those already doing work in Africa – and those who are thinking about Africa, but haven't yet started work in the region."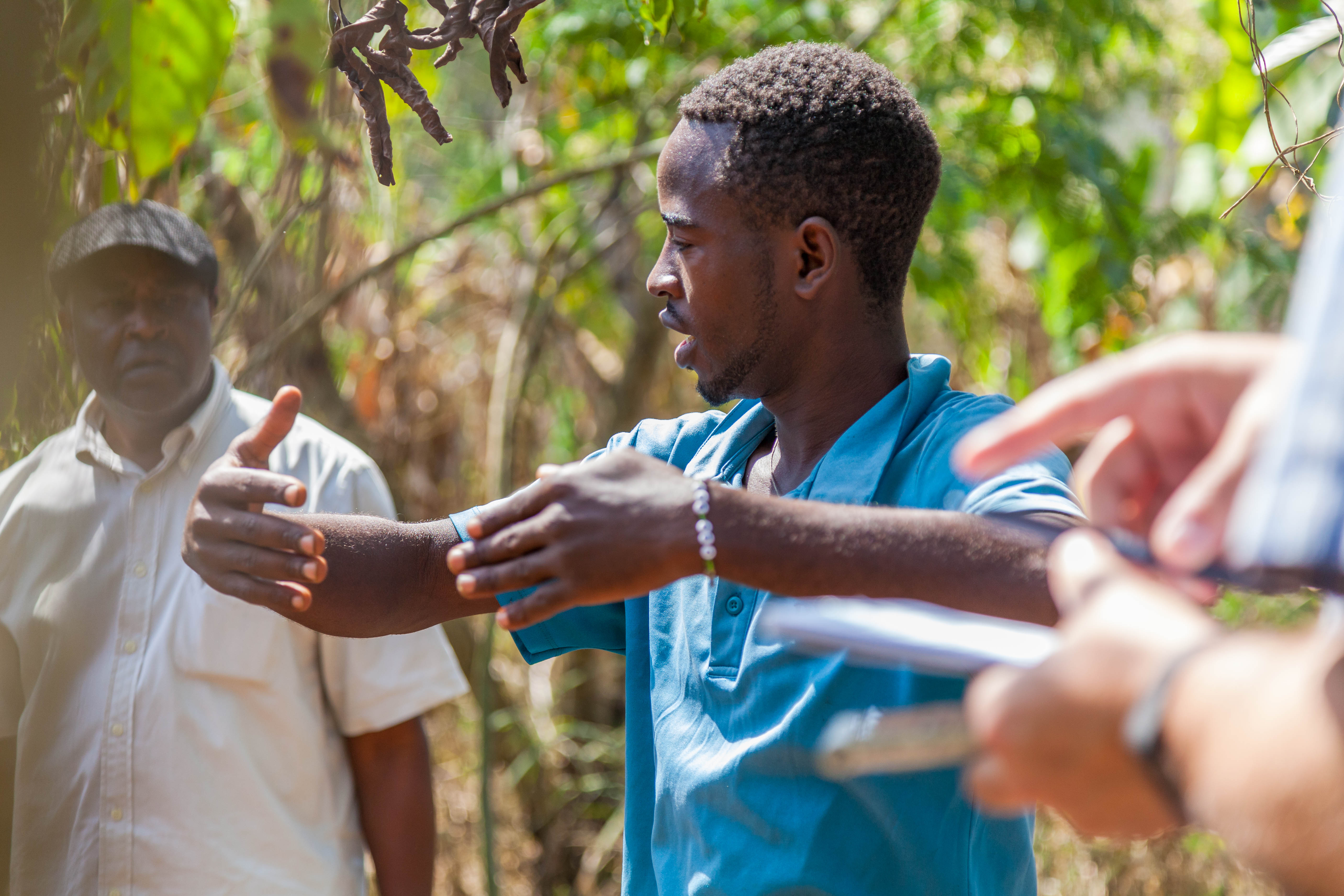 Bethany Land Institute
Pamoja is just one way Notre Dame and Kellogg are investing in Africa. Another way is in partnership with the Bethany Land Institute (BLI), an integrated education program in sustainable land use, economic entrepreneurship, and spiritual formation based in Bombo, Uganda, and one of the organizations that was also represented at the Pamoja Summit.
"The Bethany Land Institute takes on the three main elements of struggle for Africa: youth unemployment challenges, issues of food security, and peacebuilding. It focuses on integral ecology, the connection between the land and humanity," says Maurice Sikenyi, assistant director of the Ford Program and a native of Kenya. "Young people who are selected for the program must already have a piece of land at home, then they can take whatever they've learned at BLI and go implement it in their community, so they become an exemplar of what it looks like to do organic farming, help their communities, sustain themselves, and care for the environment."
The Ford Program has provided funding to Kellogg Faculty Fellow and Professor of Theology and Peace Studies Fr. Emmanuel Katongole to engage with BLI as a case study to explore what integral development, ecology, and sustainable agriculture looks like in practice.
"We can actually generate evidence to show what integral ecology is and how it leads to integral development," says Sikenyi. "In the Keough School, we look at how research can inform policy. We are really interested to see how the outcomes of this study could impact policy, for Uganda and other places, around issues of food security, integral ecology, spirituality, poverty, community environmental care  support, and more."
Several Notre Dame students and faculty have already visited BLI and learned from the work happening there. Notre Dame students can attend classes, teach, and participate in research at BLI on the topics of integral ecology, reforestation, and youth-centered economic entrepreneurship.
Ford Program Research Projects
The Ford Program is also funding several other research projects in Africa focused on health and education issues. One of the projects conducted by Kellogg Faculty Fellow  Yenupini Joyce Adams, concurrent assistant professor of the practice at the Keough School, looks at the impacts of integrated postpartum care in Ghana. Another study led by Patrizio Piraino, Ford Program director and associate professor of global affairs at the Keough School, seeks to measure how poor mental health interferes with daily activities, long-term goal setting, and investments in child development in South Africa.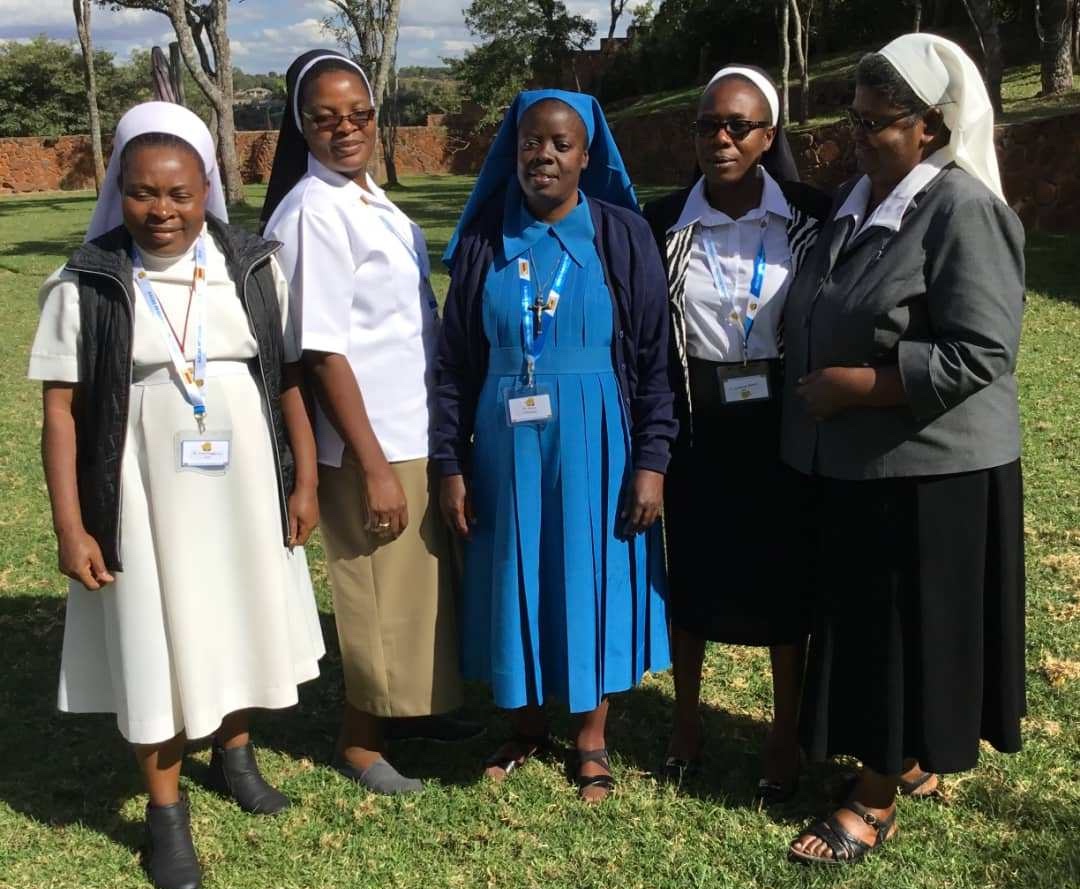 Other healthcare-centered projects include an examination led by faculty fellow and Vice President and Associate Provost and Founding Director of the Ford Program Rev. Bob Dowd of eye health among children and adults through community health workers using a smartphone application in Kenya; and a study led by Associate Professor of Theology and Kellogg Faculty Fellow Maura Ryan, vice president and associate provost for faculty affairs, on the work of an alliance of Catholic sisters in Africa addressing public health crises and building solidarity with communities affected by the dual crisis of HIV/AIDS and the COVID-19 pandemic in Uganda, Malawi, Zimbabwe, Nigeria, Cameroon, and Zambia.
Another study, led by Kellogg Faculty Fellow and David F. and Erin M. Seng Foundation Professor Joseph Kaboski, looks at whether a management intervention targeting school leaders can offer a cost-effective means of improving schooling outcomes in Uganda (that is, increased re-enrollment among dropouts, general enrollment among primary school-aged children, and test scores).
Undergraduate Opportunities
Kellogg also has developed opportunities for undergraduate students to engage with Africa and learn in collaboration with students and communities across the continent, specifically in Côte d'Ivoire and Zambia.
In February, Notre Dame's annual student-led Human Development Conference featured a virtual component that engaged students of Seeka University in Yamoussoukro, Côte d'Ivoire, and the African School of Economics (with campuses in Nigeria, Benin and Côte d'Ivoire) on various topics related to human development. This was made possible by the collaboration of Bleck, who was a Fullbright Scholar during the 2022-2023 academic year in the Ivory Coast, and Holly Rivers, associate director of the Kellogg Institute, who manages the institute's undergraduate programs.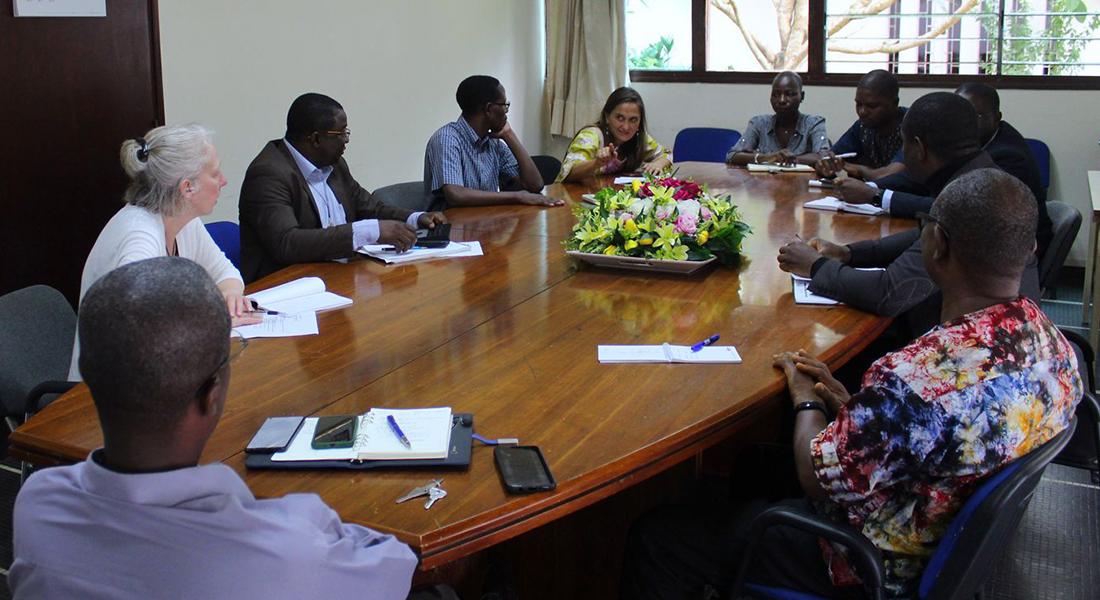 Following this successful collaboration, Rivers traveled to the Ivory Coast sponsored by Kellogg with the support of a Pamoja Capacity Exchange grant to visit with Bleck and representatives from Seeka University, the African School of Economics, and Jesuit University/CERAP to plan more opportunities for African and Notre Dame undergraduates.
From these conversations grew a proposal that Rivers, Bleck, and Rev. Arsène Brice Bado, SJ, the vice president for academic affairs at Jesuit University/CERAP, worked on and submitted to the American embassy in Abidjan, Côte d'Ivoire.
"It lays out ideas on how we might connect students from CERAP and Notre Dame through innovative means, bridging the distance and engaging with one another in meaningful ways," explains Bleck.
The proposal included plans for teaching classes in each location remotely for students in both, connecting students virtually to work on research together, and student exchanges.
Another way Notre Dame's undergraduate students have been able to connect with Africa is through this year's launch of the Pre-Experiencing the World Fellowship Program (Pre-ETW). This program took eight first-generation college students in their freshman and sophomore years to Livingstone, Zambia, for four weeks. These were students who demonstrated an interest in international development, yet had no previous travel experience within the developing world.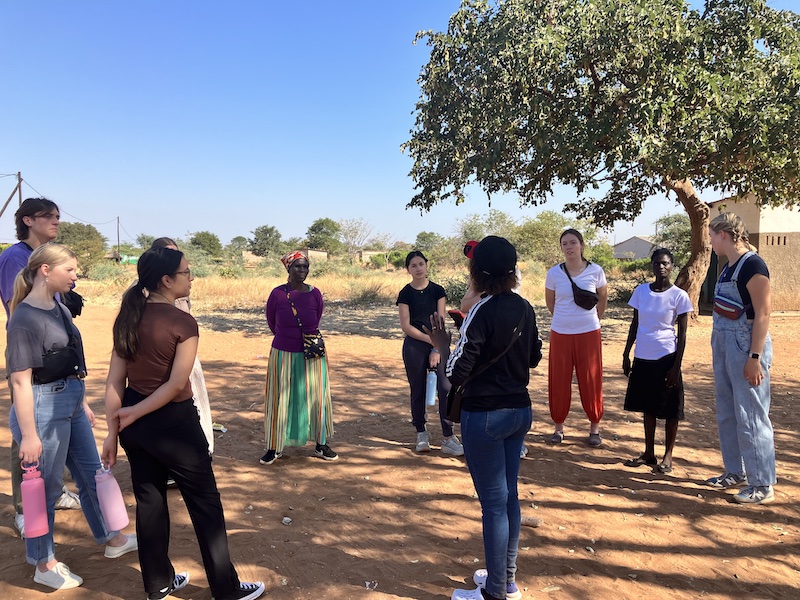 "We noticed that some of the students interested in our longstanding Experiencing the World Fellowships weren't quite ready to develop their own projects and travel by themselves," says Rivers, who traveled to Zambia with the group and developed the program with input from colleagues across campus, alumni, and students. "We created the Pre-ETW program to bridge that gap – to introduce promising students to what it's like to travel and spend time in developing countries, to help them grow an appreciation for international development, and to prepare them to, hopefully, do research in the future."
This group of students, plus one Notre Dame senior mentor with international travel experience, worked alongside a local team to deliver workshops at schools focused on gender equality and empowerment, and engage in other community development initiatives.
According to Rivers, the Pre-ETW program will hopefully expand in future years, just like Notre Dame seeks to expand and build on all of its partnerships in Africa.
"The Kellogg Institute is committed to facilitating Notre Dame connections with Africa in many ways – by supporting the Pamoja Initiative, by funding faculty and student research, by providing opportunities for our undergraduates to learn about the region, and by hosting visiting fellows from African universities," said Aníbal Pérez-Liñán, the Institute's director. "Africa is central to our mission."