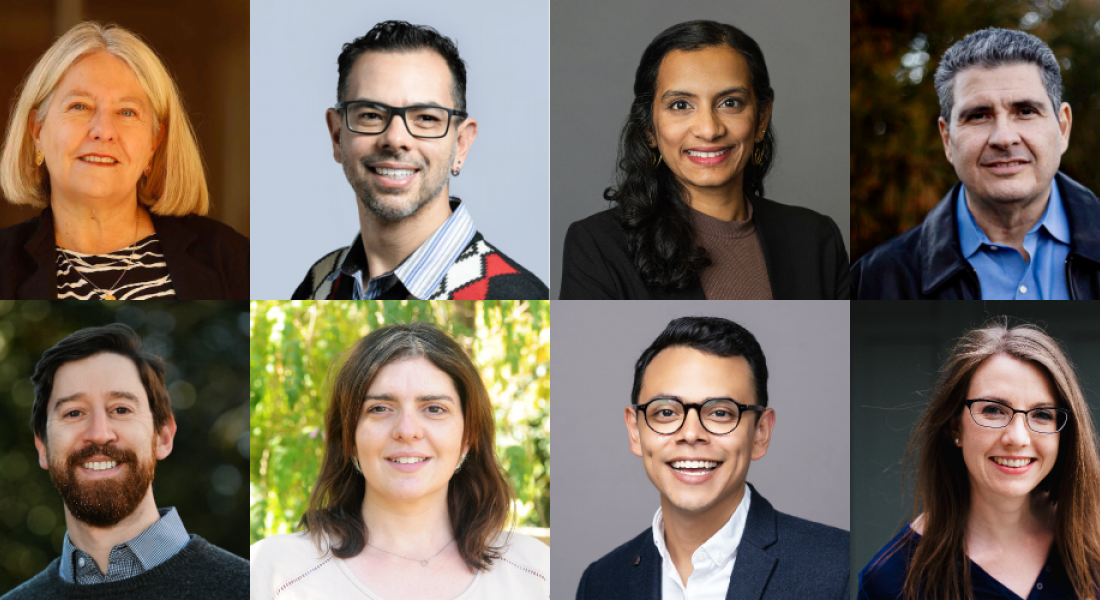 The Kellogg Institute for International Studies announces its new cohort of visiting fellows for the 2023-24 academic year. The group includes a new Chilean Fulbright Visiting Fellow in Democracy and Human Development and Hewlett Visiting Fellow for Public Policy, as well as the continuation of a Ukrainian scholar's 2023 calendar-year fellowship.
In a highly selective process, six additional scholars representing the disciplines of economics, history, international development, and political science have been named 2023-2024 visiting fellows out of a large pool of applicants. Together, the nine visiting fellows are conducting research on Argentia, Brazil, Nicaragua, Chile, and elsewhere in Latin America, as well as India.
"Our new class of visiting fellows will continue our tradition of bringing great expertise and a broad-spectrum of experiences to campus," said Denise Wright, Assistant Director of the Kellogg institute, who manages the Visiting Fellowship Program. "We are excited to welcome them and to see the impact they will have on our community at Kellogg, the Keough School, and the wider University. "
The fellows are:
Edward Brudney (Spring)
Assistant Professor of History
University of Tennessee at Chattanooga
"Changing the Rules of the Game: Labor, Law, and Citizenship in Argentina, 1973-1983"
 
Gabriel Cepaluni (Academic Year)
Associate Professor, Department of International Relations and Public Policy
São Paulo State University (UNESP), Brazil
"How Political Competition Fuels Conditional Cash Transfer Programs: The Case of Brazil's Bolsa Famılia Program"
 
Juan Sebastián Chamorro García (Academic Year)
Hewlett Visiting Fellow for Public Policy
Economist, businessman, and politician
"Violation of Every Right in Nicaragua: A Personal and Collective Perspective"
 
Rithika Kumar (Academic Year)
Postdoctoral Fellow, Political Science
"Left-Behind or Left-Ahead? Implications of Male Migration on Female Political Engagement in India"
 
Gabriela Lucía Marzonetto (Academic Year)
Faculty of Political and Social Sciences
CONICET, National University of Cuyo
"The Politics of Childcare Policy Expansion in Central America"
 
Jana Morgan (Academic Year)
Professor of Political Science
University of Tennessee
"Exclusionary Democracy: How Ethnoracial Hierarchies Threaten Democratic Citizenship"
 
Pelusa Orellana (Spring)
Chilean Fulbright Visiting Fellow in Democracy and Human Development
Professor and Associate Dean of Research
University of the Andes, Chile
"Examining Public Policy to Guarantee Access to High Quality Literacy Education"
 
Javier Perez Sandoval (Fall)
Departmental Lecturer in Latin American Studies
University of Oxford, UK
"Subnational Drivers of Regime Change: How Subnational Regimes Influence National Democratization and Autocratization Dynamics"
 
Nazarii Stetsyk (Fall) 
Associate Professor, Department of Theory and Philosophy of Law
Ivan Franko National University of Lviv (Ukraine)
"Consistency and Development of Human Rights Case Law: Strengthening Dialogue Between Constitutional Courts"
 
Since 1983, the Kellogg Institute for International Studies has offered visiting fellowships to promote interdisciplinary international research on democracy and human development in a supportive community of scholars. This widely respected residential program offers fellows time and resources to pursue scholarly inquiry, advance personal research, and collaborate with other scholars and practitioners from across the US and around the globe.
Click here to see all scholars who have been Kellogg visiting fellows throughout the years.