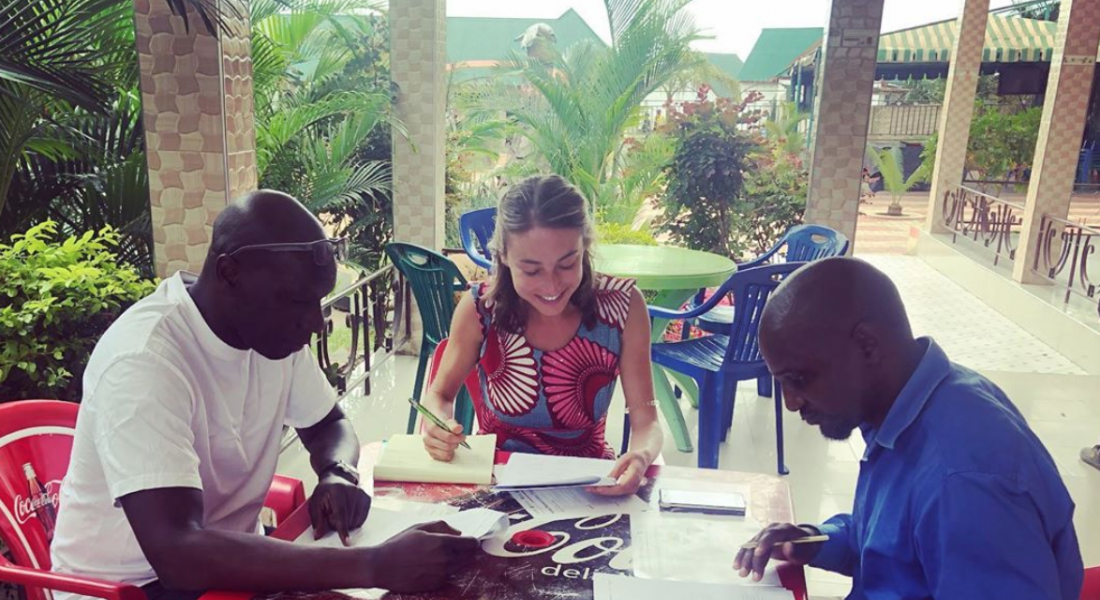 A former Kellogg International Scholar has received private funding to expand the pilot project she began while at the University of Notre Dame.
Annelise Gill-Wiehl '19, an engineering major and International Development Studies minor, developed a plan to help villagers in Shirati, Tanzania, transition from using traditional charcoal stoves to cleaner-burning – and healthier – gas stoves. The project was so successful that she was able to convince a local gas distributor that it would be profitable to continue testing her model.
Now a doctoral student studying energy and resources at the University of California at Berkeley, Gill-Wiehl continues to oversee the project, which employs locally-hired community technology workers (CTWs) who teach participants to use the gas stoves and conduct follow-up visits. 
She presented an overview of her work at the Kellogg Institute Advisory Board's annual meeting on Nov. 8 and credited the financial backing and guidance she received through Kellogg with the project's success.
"None of this would be possible without the Kellogg Institute," said Gill-Wiehl, the Class of 2019 salutatorian and the recipient of the John. W. Gardner Student Leadership Award.
She first learned about the health risks posed by charcoal stoves while living with a Ugandan family the summer after her freshman year during a Kellogg-funded internship with the Foundation for Sustainable Development.
The following summer, she surveyed 200 village households in Shirati through an Experiencing the World Fellowship and found most families preferred gas stoves over other cooking methods. In 2018, she returned to Shirati on a Kellogg/Kroc Undergraduate Research Grant to launch a pilot program to distribute and train families to use gas stoves, which were provided through the grant.
After one year, she found that 76 percent of households were constantly refilling the cylinders that powered their gas stoves, and 90 percent were refilling with only a few days' lag time.
The high usage rate indicated that the pilot was successful – and it suggested Gill-Wiehl's plan could be profitable for gas companies.
With the help of Faculty Fellows Sara Sievers, an associate professor of the practice in the Keough School of Global Affairs and her ISP advisor, and Viva Bartkus, an associate professor of management, Gill-Wiehl began to pursue private funding to continue the pilot at the end of her senior year.
They advised Gill-Wiehl as she developed a 10-page business proposal for the regional gas company.
"The engineer in me became a business woman," she joked.
A Kellogg grant funded her travel to Tanzania in the summer of 2019 so she could present her proposal to Mihan Gas Company. A regional dealer in the company's distribution network agreed to invest in the model, funding the work of one CTW and subsidizing gas stoves for 33 of 100 families. A D-Prize grant that Gill-Wiehl received in June 2019 funded two more CTWs and 67 stoves.
"They were a little bit worried about the risk involved," Gill-Wiehl said of Mihan. She added: "We're really interested in maintaining the relationship with the dealers and showing how they can make money and provide for their families."  
Gill-Wiehl's project – and in particular, its use of CTWs – is unique because it borrows from the community health worker concept, in which trained locals provide basic health services and education to rural patients in developing countries.
Sievers noted that the key to the success of both the community health and tech workers is their ability to establish relationships with participants.
"It works because you need to build a foundation of trust with others in the community," she said.  
The project will form the basis of Gill-Wiehl's master's project at Berkeley. A National Science Foundation grant is now funding her research on the project.
She told the Advisory Board that Kellogg's investment in her as an undergraduate had prepared for "extremely well" for her fieldwork in East Africa and that her experiences enabled her to enter a doctoral program immediately after graduation.
"I think out of all the institutions at Notre Dame, the Kellogg Institute prepares you best for international contexts," she added.