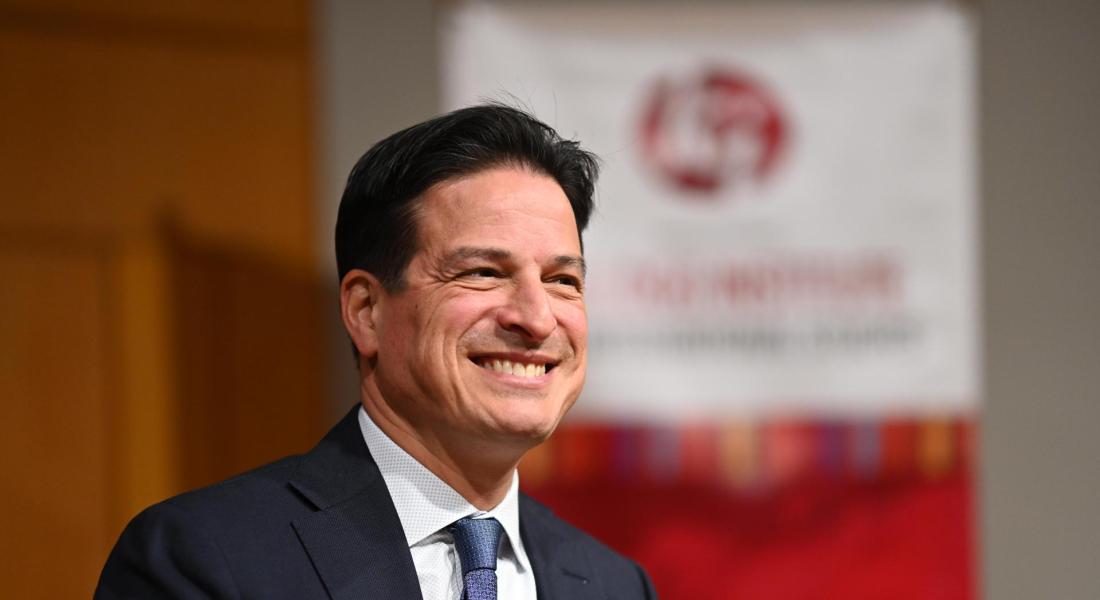 Challenges and Highlights: Reflecting on Ten Years as Kellogg Director
After serving two five-years terms, Kellogg Director Paolo Carozza will pass the baton to incoming Institute director Aníbal Pérez-Liñan on July 1.
"I am deeply grateful for Paolo's dynamic presence, intellectual leadership, and collegial collaboration over the past decade," says Scott Appleby, Marilyn Keough Dean of the Keough School of Global Affairs. "I join hundreds of colleagues in celebrating his many achievements and enduring contributions to the Kellogg Institute, the Keough School, and Notre Dame."
"Paolo has provided tremendous leadership to Kellogg," agrees Kellogg Faculty Fellow and Faculty Committee member Joe Kaboski. "The Institute is a first and foremost a community of scholars, and Paolo fosters that sense of community by bringing people together, balancing interests, and doing so with the highest of character." 
Supporting Creativity to Address the World's Problems
Carozza, previously director of the Center for Civil and Human Rights, is a professor of law and concurrent professor of political science specializing in human rights law. While serving on the Inter-American Commission on Human Rights (2006-10), he had become convinced that a multidisciplinary approach was essential to solving serious human rights issues around the world.
"A merely juridical approach was wildly insufficient to the gravity of the problems I was seeing," he recalls. Working with indigenous peoples, for example, it was clear that structural issues of development were intertwined with lack of meaningful access to political participation.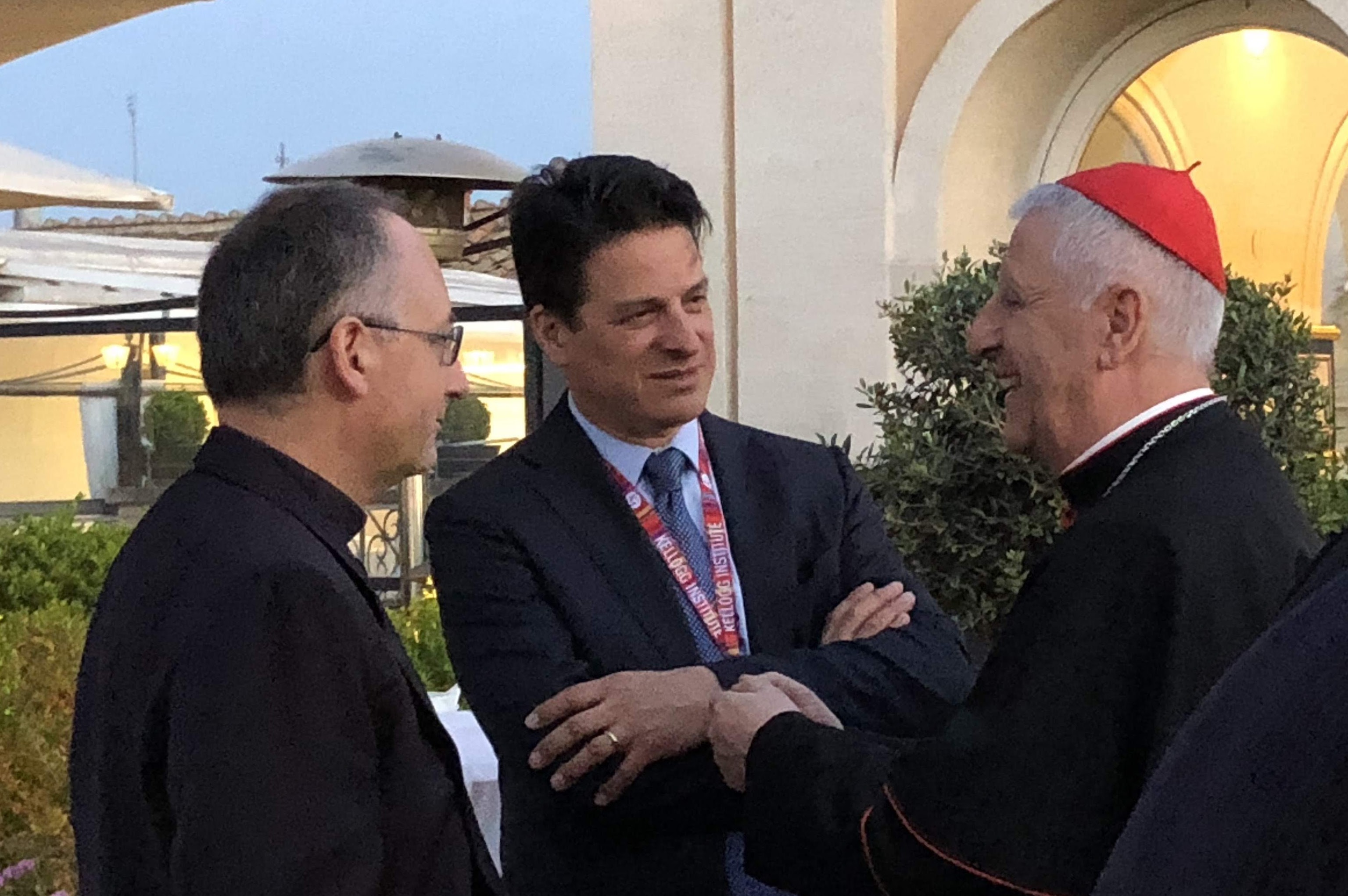 "I had a desire to engage and integrate a whole range of disciplines in addressing some of these big global problems. Kellogg had been doing that." A long-time faculty fellow, he saw at the time of his appointment that the Institute had the "huge potential" to do even more, building on its resources and outstanding faculty.
"Kellogg had a high degree of autonomy and flexibility and the ability to experiment and be creative," he says.
As director, he has been eager to support and encourage that creativity in the Kellogg community. Over the past decade, the Institute has welcomed new faculty fellows from across Notre Dame, enriched both graduate and undergraduate student programs, and created new possibilities for enhancing scholarly work.
The research clusters established on his watch, for example, have encouraged faculty members from the University and beyond to come together around a common set of research questions.
Joining the Keough School
Foremost among the challenges of Carozza's directorship was the advent of the Keough School of Global Affairs.
"Establishing a new school of global affairs required strong, capable leadership from our Institute directors, not least in making the daunting adjustments called for in becoming part of a larger whole dedicated to a common mission," says Appleby.
"As the head of one of our flagship institutes, and an eloquent and compelling advocate of Catholic teaching and integral human development, Paolo has been crucial to the successful launching and growth of the Keough School."
That is not to say it was easy. Quite the opposite, Carozza says, recalling that the Institute's Advisory Board first likened the plan to a "hostile takeover." A sustained commitment to collaboration was needed to navigate the interrelationships of Kellogg and its sister institutes within a new policy school.
"I think that working with others, we were able to smooth those years of transition," he says. "We have contributed in very important ways to the creation and success of the School, while maintaining and even strengthening the profile and activity of the Kellogg Institute. The result has been an infusion of new intellectual energy.
"The Keough School has given us new horizons and opportunities, significantly increasing not just the number but the range of affiliated faculty."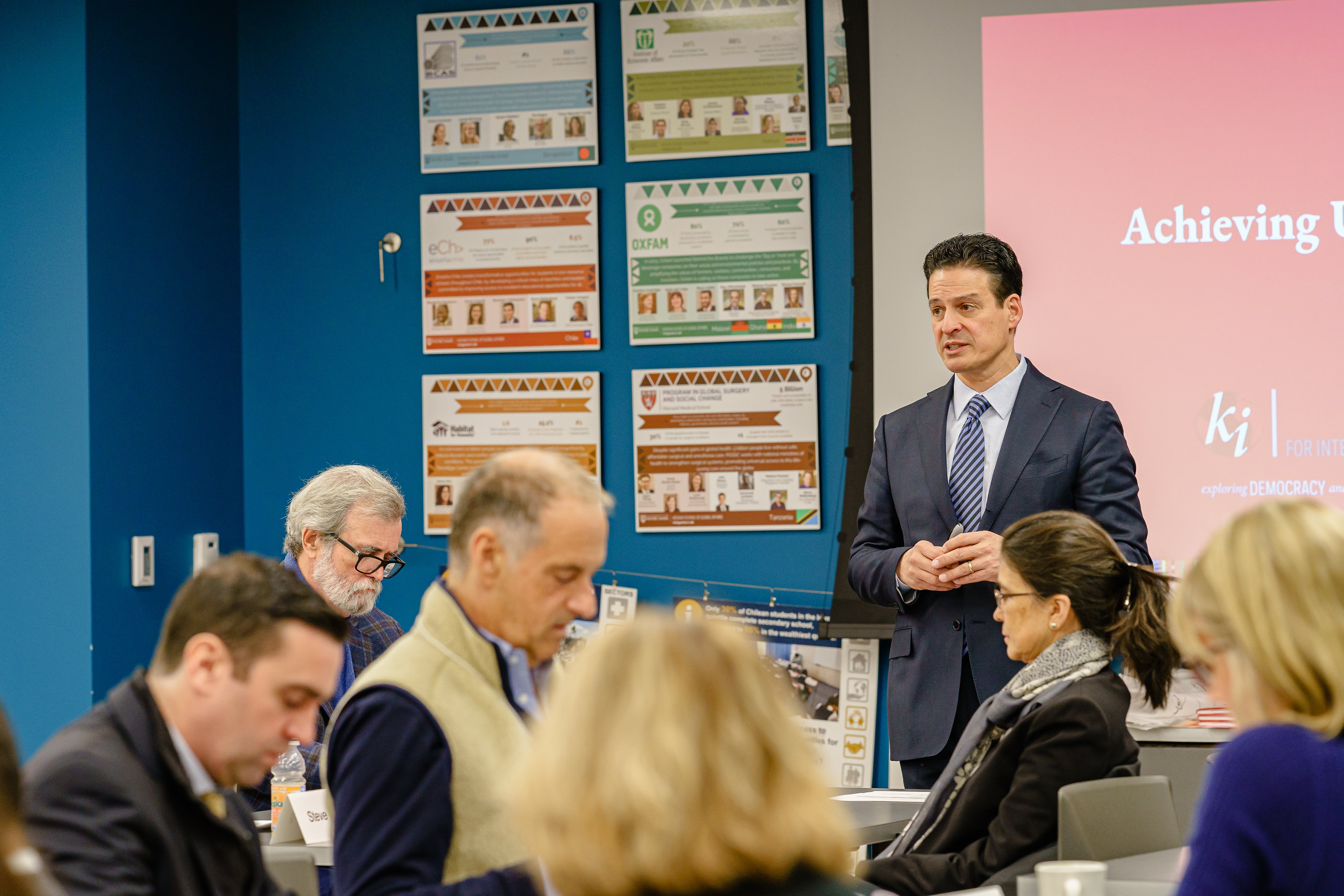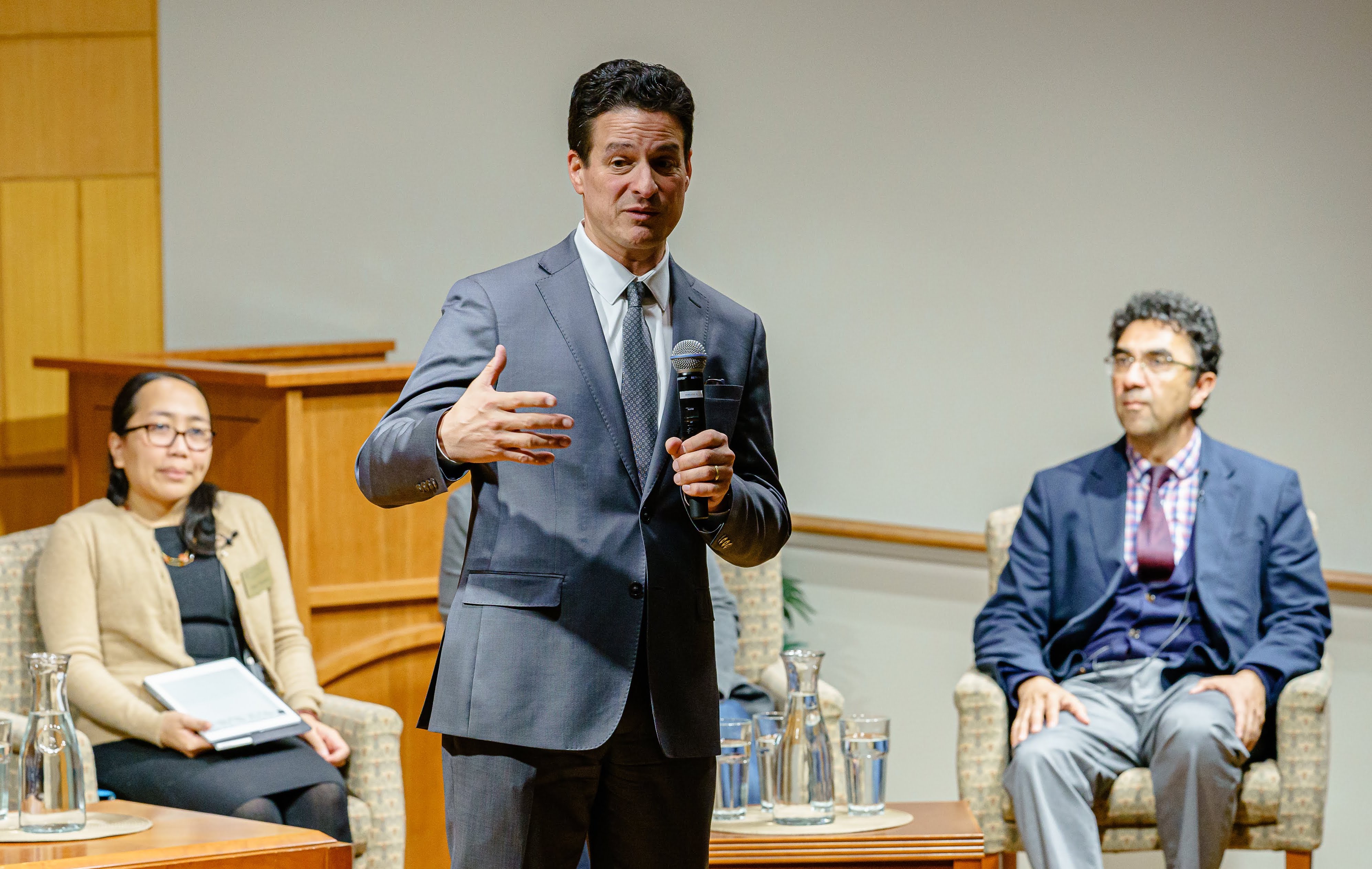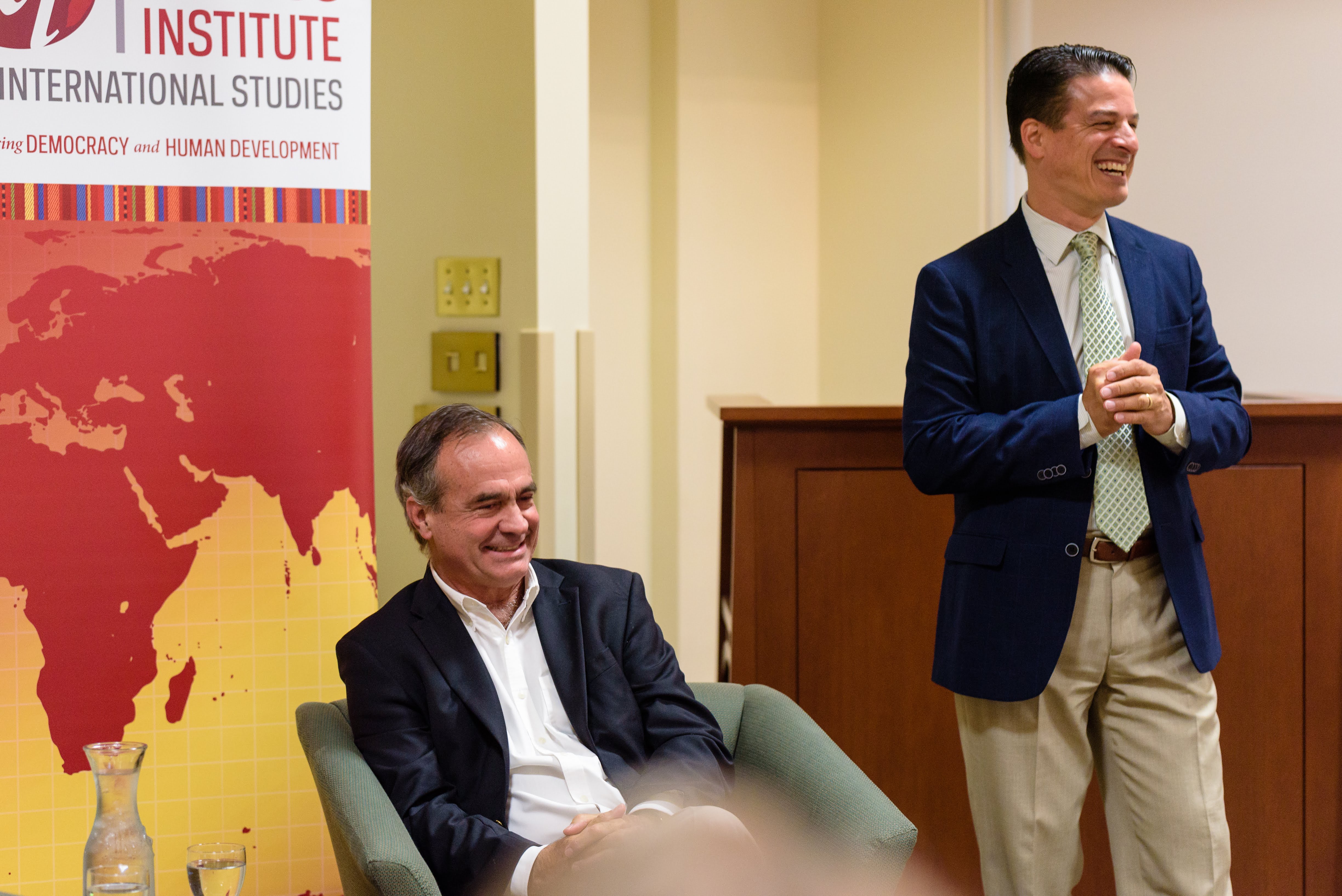 With its interdisciplinary nature and geographic breadth, the School has expanded the issues the Institute addresses, and the Keough policy focus has stimulated Kellogg to think more about the policy implications of its basic research.
Affirming that Kellogg remains "a fundamentally research-oriented place and not a think tank," Carozza has focused on "how can we better bring that research to bear on more immediately practical matters."
The Institute's new policy and practice research labs, "which wouldn't have happened without the Keough School," are an innovative bridge to the policy world. The labs support high-impact research intended to have a tangible influence on policies and practices affecting democracy and human development.
Raising the Profile of Human Development
Another big challenge – and point of pride – is how Carozza has been able to carry out his commitment to make the study of human development "more serious and credible," and comparable to the Institute's expertise in democratization and comparative politics.
Right from the start, he was determined to fully integrate the Ford Program in Human Development and Solidarity, which had functioned fairly independently, into the mainstream of Institute activity and scholarship.
 "I also tried take more seriously our connection to and our presence with and in Africa," Carozza says. This focus entailed drawing University faculty with Africa expertise into the Kellogg community and supporting their work, with the goal of making it a more prominent part of the Institute's research portfolio.
Kaboski, an economist who has conducted research in Uganda facilitated by the Ford Program, lauds the larger focus of the effort.
"Over Paolo's tenure, he has done a great deal to expand our activities in human development, and he's done it by bringing a wide set of scholars together, funding traditional development economists, sociologists, and political scientists, but also expanding conversations to thinking about the importance of human dignity in development."
Carozza himself identifies the Institute's growing focus in development studies as one of the highlights of his tenure as director.
"It is a broad and deep profile, but with a distinctive identity and orientation," he says. "Outside scholars are struck by how the Kellogg Institute can combine high-level work from a traditional academic point of view with a set of normative commitments that are strong and unifying and important."
"Kellogg combines scholarly achievement with a real commitment to serving the good of people, especially where there are acute needs for integral development and good governance.  I'm proud of how that has characterized the Institute's work over the last ten years."
Continuing Efforts to Advocate for the Rule of Law
As director, Carozza has needed to balance the demands of teaching, student mentorship, and scholarship with administrative duties and myriad outside commitments, including appointments to the Pontifical Academy of Social Sciences and the State Department's Commission on Unalienable Rights.
"They've all been great opportunities to bring new dimensions into the Kellogg community," he says, noting the benefits to students and faculty of extending the Kellogg network into other institutions.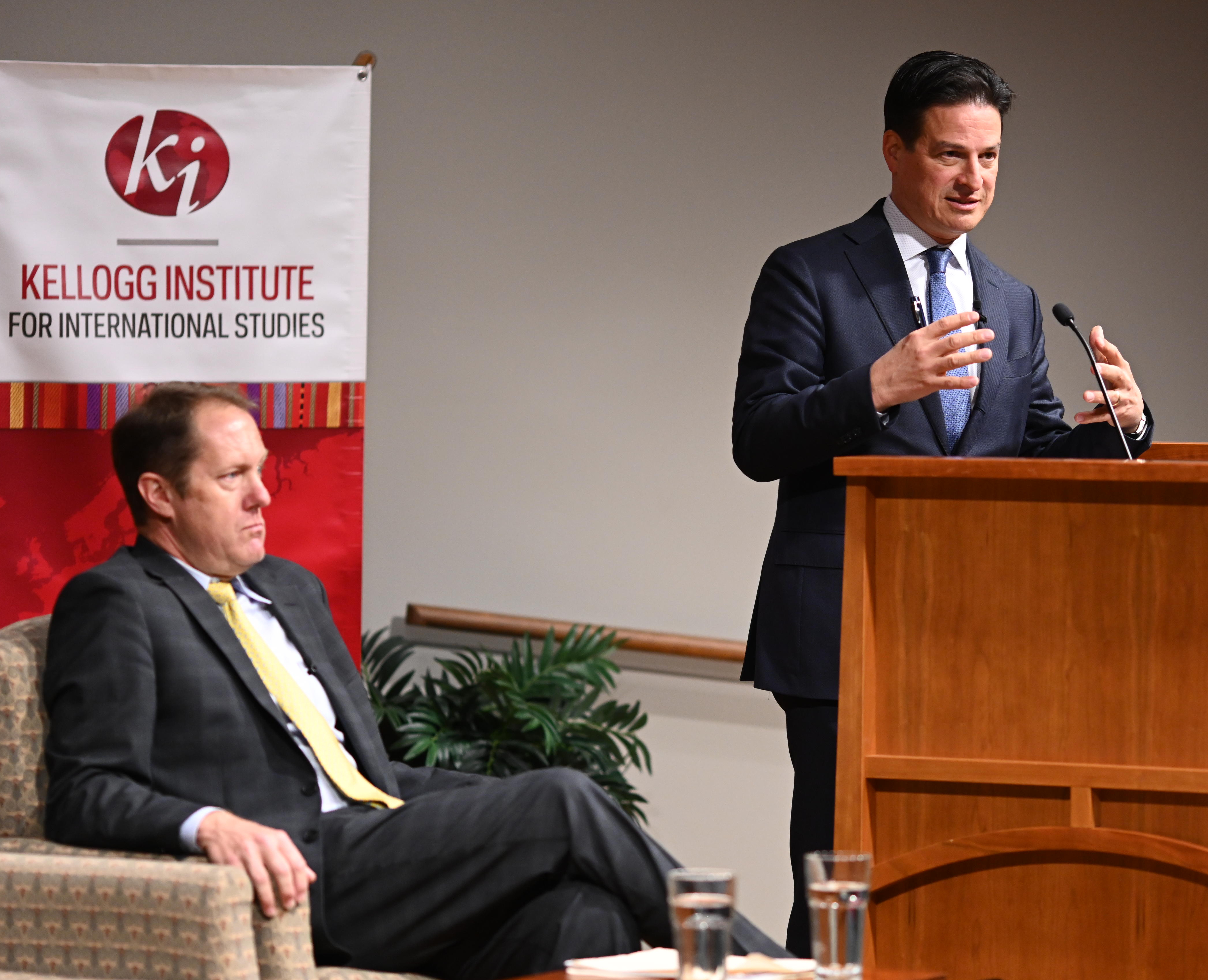 Although he has continued to publish during his tenure, as he steps down he is looking forward to having the time to focus more on his scholarship – and on several major initiatives.
He will continue to serve as the US member of the Council of Europe's Venice Commission, otherwise known as the European Commission for Democracy through Law, whose work on issues of constitutional reform and rule of law he deeply respects.
He also plans to expand the Institute's CAROL Policy and Practice Lab that he started to bridge scholarly inquiry and sound policy for the common good. The lab's mission is to exert a tangible influence on the practice of constitutional democracy and the rule of law around the world. 
Finally, he has most recently been appointed to the Meta Oversight Board, an independent external body that people can appeal to if they disagree with Meta's content moderation decisions on Facebook or Instagram.
"I'm excited about this innovative effort," Carozza says. "Participating in the work of the Oversight Board will allow me to focus attention on the impact of technology on democracy and human rights, and freedom of expression in particular, in a globalized information environment."