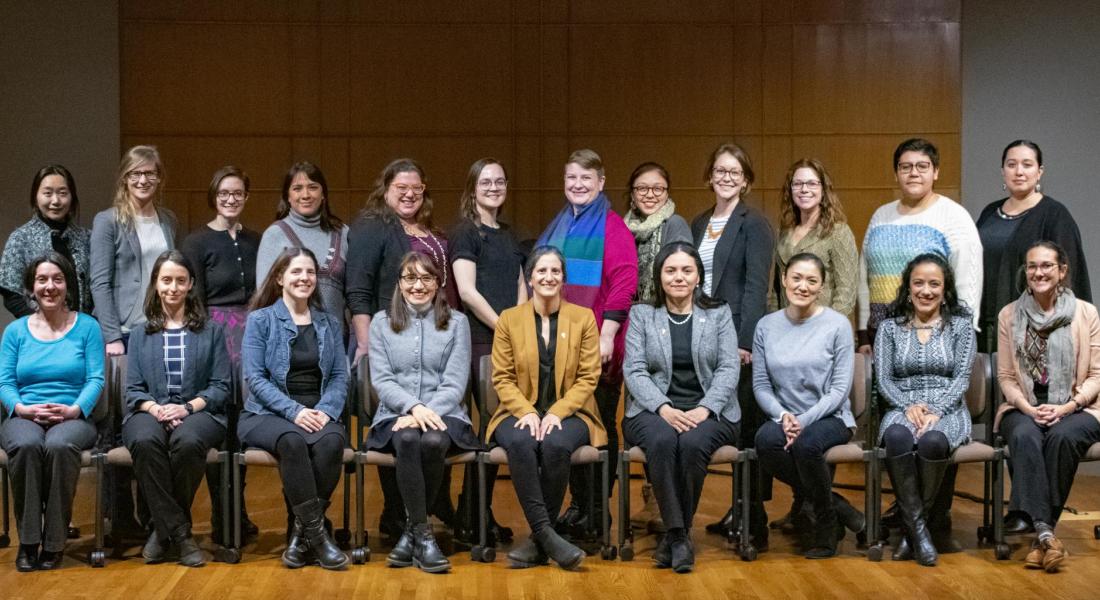 Nearly two dozen female scholars who study violence gathered last month at a workshop at the University of Notre Dame to talk about the challenges they face – both in terms of conducting research in often-dangerous situations, and in getting recognition and funding for their work in the male-dominated world of academia.
"New Research by Women Studying Violence," held Dec. 6 and 7, was funded by the Kellogg Institute for International Studies and was the second in what organizers expect will be a continuing series of workshops on the topic.
Former dissertation year fellow Lucía Tiscornia organized the first Women Studying Violence workshop in 2018 in response to concerns female colleagues had shared about risks in the field and potential roadblocks in their careers.
"Women scholars face specific challenges as they advance through their careers, and the visibility and impact of female-led research is lower," she said.
Last month's workshop focused on networking and learning how to craft stronger applications for research grants. Participants presented and discussed their work in a series of invitation-only panels, and a representative from the National Science Foundation gave the keynote address on strategies for preparing and submitting research proposals.
Tiscornia, who is now an assistant professor in international studies at Centro de Investgación y Docencia Económicas (CIDE), said attendance at the December event roughly doubled over the previous year and a number of other scholars have expressed interest in future workshops.
"It's a sign of the need to connect on this issue with other people," said Tiscornia, who studies police and criminal violence.
Co-organizer and Fall 2019 Visiting Fellow Abby Córdova, who also attended the previous workshop, said females are at a disadvantage not only in applying for grants, but in actually getting them.
"Some of the constraints are precisely that we don't have rich networks to get the kind of feedback we need in our fields," she said.

She noted the increase in size in this year's workshop: "We have new members that bring different expertise and make the group even more diverse. That allows us to think about possible collaborations, how to make better proposals, and how to come together and apply for grants."
Doctoral student affiliate Leslie MacColman described the workshop as "innovative" because of its cross-disciplinary conversations on the causes, consequences, and dynamics of criminal and political violence.
"I came away from the workshop with new insights about where my research fits within the wider field, as well as a stronger sense of community," said MacColman, who studies sociology and peace studies. "Both of these are invaluable, particularly as a young female scholar in a traditionally male-dominated field of scholarship."
Former Visiting Fellow Gema Kloppe-Santamaría, an assistant professor of history at Loyola University in Chicago, attended with her toddler daughter in tow – and her husband, who came along to care for her. She described a feeling of collegiality at the 2018 workshop that drew her back a year later: "It was a space where you could share new work that needed feedback with colleagues who were supportive. It was both safe and productive."
She found the same sense of community at this year's workshop, and noted that females who study violence – even if they have not been victims of aggression themselves – often have unique perspectives on the ethical and moral dimensions of violence.
"There is a very distinct sensibility to our work," she said.   
The workshop was cosponsored by the Kroc Institute for International Peace Studies, the Keough School of Global Affairs, the Institute for Scholarship in the Liberal Arts (ISLA), the Department of Political Science, and the Gender Studies program. Karrie Koesel was the faculty fellow sponsor for the event.