Cosponsored with the Notre Dame Initiative for Global Development
Interview videos with the conference participants
What gives you hope that inequality can be beaten?
"Awareness of inequality as a distortion that has to addressed." - Luis Felipe López-Calva, United Nations Development Programme Director for Latin America and the Caribbean
What gives you hope that inequality can be beaten?
"People are organizing to challenge power."  - Winnie Byanyima, Oxfam International Executive Director
What gives you hope that inequality can be beaten?
"A broad-based coalition so that we don't have groups that can be played off against each other." - Thea Lee, Economic Policy Institute President
What gives you hope that inequality can be beaten?
"People in the streets" - Hector Castanon, Fight Inequality Alliance Latin America Convenor
What gives you hope that inequality can be beaten?
"That there is a movement growing that is led by those who are most impacted" - Rev. D.r Liz Theoharis, Poor People's Campaign National Co-Chair
Income and wealth inequality have become common problems across the Americas. In the USA, the share of pre-tax income in the hands of the top 1% almost doubled between the early 1980s and the present, going from 11% to 20%. In Brazil, the six richest men control as much wealth as the bottom half of the population; even more staggering, the richest 0.1% makes in a month the same as a worker receiving the minimum wage earns in 19 years. What are the causes and consequences of income inequality? Are the challenges and opportunities the same in the United States and in Latin America? This conference will gather a variety of academics and practitioners who will explore the political economy of inequality: its historical origins and evolution, the policies required to revert income concentration, and the role of key political actors in this process.
Special Sessions
(open to the public)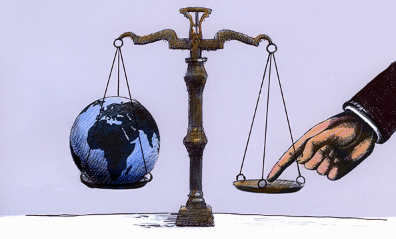 Monday, April 8, 8:30 - 10:15 am
"Introduction: How Can We Achieve More Equal Societies?"
Speakers: 
Luis Felipe López Calva, UN Development Programme
Thea Lee, Economic Policy Institute
Winnie Byanyima, Oxfam International
Tuesday, April 9, 9:00 - 11:00 am
"Organizing From Below: What Can We Learn From Social Movements?"
Speakers: 
Liz Theoharis, Kairos Center
Héctor Castañon, Mexico Fight Inequality Alliance
CJ Grimes, Service Employees International Union
Choose tab above to view full schedule
Organized by:
Ray Offenheiser, Director of Notre Dame Initiative for Global Development and Keough School Distinguished Professor of the Practice
Victoria Paniagua, Kellogg Institute Visiting Fellow 
Ben Phillips, Kellogg Institute Hewlett Fellow for Public Policy
Diego Sánchez-Ancochea, Kellogg Institute Visiting Fellow 
Speakers:
Pablo Beramendi, Duke University
Winnie Byanyima, Oxfam International
Héctor Castañón, Fight Inequality Alliance Mexico
Federico Fuchs, UNC-Chapel Hill & Kellogg Institute
Daniel Graff, University of Notre Dame
CJ Grimes, Service Employees International Union
Calla Hummel, University of Miami
Thea Lee, Economic Policy Institute
Luis Felipe López Calva, UNDP
Noam Lupu, Vanderbilt University
Didac Queralt, Yale University
Liz Theoharis, Kairos Center & Poor People's Campaign
(click on session title for video)
Monday, April 8
8:00-8:30 am - Light Breakfast
8:30-10:15 am - Session 1: Introduction: How Can we Achieve More Equal Societies?
Luis Felipe López Calva, UNDP
(presentation)
Thea Lee, Economic Policy Institute
Winnie Byanyima, Oxfam International
Presenter: Paolo Carozza, Kellogg Institute for International Studies
10:15-10:30 am - Coffee Break
10:30-12:30 pm - Session 2: Redistributive Policy Responses to Inequality
Progressive Taxation and Redistribution
Pablo Beramendi, Duke University
Fighting Inequality with Social Policy: the Role of Universalism
Diego Sánchez-Ancochea, University of Oxford & Kellogg Institute for International Studies
(presentation)
Chair: Luis Schiumerini, University of Notre Dame
Discussant:Jazmín Sierra, University of Notre Dame
12:30–1:30 pm - Lunch
1:30-3:30 pm - Session 3: Constraints on Redistribution: State Capacity, Elites, and Political Representation
Landowners, Capitalists, and Bankers: Diversification of Assets and the Political Strategies of the Economic Elite
Victoria Paniagua, Kellogg Institute for International Studies
Affluence and Congruence: Unequal Representation Around the World
Noam Lupu, Vanderbilt University
War, International Finance, and State Capacity in the Long-Run
Didac Queralt, Yale University
(presentation)
Chair: Leonard Wantchekon, Princeton University & Kellogg Institute for International Studies
Discussant: Aníbal Pérez Liñán, University of Notre Dame
3:30-3:45 pm - Coffee Break
3:45-5:45 pm - Session 4: Demanding Redistribution: Formal and Informal Workers' Organization and Claim-Making
Informal Workers and Delegated Enforcement in Numbers
Calla Hummel, University of Miami
Shaping or Representing the Popular Will? Collective Action and Policy Preferences Among Informal Workers in Mexico City
Federico Fuchs, UNC-Chapel Hill & Kellogg Institute for International Studies
Profit Splitting, Power Sharing, and Policy Setting: Organized Labor, the Forgotten Fight Against 'Excess Profits,' and Economic Amnesia in the Contemporary USA
Daniel Graff, University of Notre Dame
(presentation)
Chair: Tom Mustillo, University of Notre Dame
Discussant: Abby Córdova, University of Kentucky & Kellogg Institute for International Studies
Tuesday, April 9
8:30-9:00 am - Light Breakfast
9:00-11:00 am - Session 5: Organizing from Below: What Can We Learn from Social Movements?
Liz Theoharis, Kairos Center
(presentation)
Héctor Castañon, Mexico Fight Inequality Alliance
(presentation)
CJ Grimes, Service Employees International Union
Chair: Ray Offenheiser, University of Notre Dame
11:00-11:15 pm - Coffee Break
11:15-12:45 - Session 6: Conclusions: Inequality and its Challenges
Diego Sánchez-Ancochea, University of Oxford & Kellogg Institute for International Studies
Ben Phillips, Fight Inequality Alliance & Kellogg Institute for International Studies
Connie Mick, University of Notre Dame
Chair: Victoria Paniagua, Kellogg Institute for International Studies
12:45-2:00 pm - Lunch