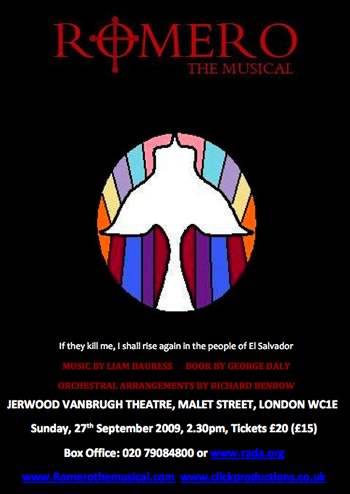 "If they kill me, I will rise again in the people of El Salvador"
ROMERO the Musical by George Daly and Liam Bauress is a heartfelt tribute to 'Monsenor', a once anonymous title which has come to mean only one man. The website aims to provide a complete downloadable package to help any drama group stage the musical and to play its part in theworld-wide commemoration of the
30th Anniversary of Romero's martyrdom.
All musical tracks can be heard at the following links:
ALL PROCEEDS GO TO CAFOD'S EL SALVADOR DEVELOPMENT PROJECTS
LONDON PREMIERE:
Sunday 27th September 2009 2.30p.m. JERWOOD VANBRUGH THEATRE,
MALET STREET, LONDON WC1E.
Tickets £20 (£15 concessions) to book:
http://www.rada.org/events/index.aspx?id=17940
Box Office (044)2079084800 or www.rada.org
Produced by CLICK http://clickproductions.co.uk/Romero.html