Power of the People: Uplifting Global Communities
Within the myriad of disparities dispersed throughout our globe, among them is the notion that certain communities are inherently less capable of being agents in progress. This year's HDC theme,  Power of the People: Uplifting Global Communities, seeks to highlight the importance of localization and ownership agendas within the development sphere. Bountiful agency has always existed within all communities. Our theme emphasizes the idea of practitioners and researchers working to collaborate with communities as opposed to working for communities. It is our strong belief that development goals can be achieved with better success if we engage the power that exists in all people around the globe.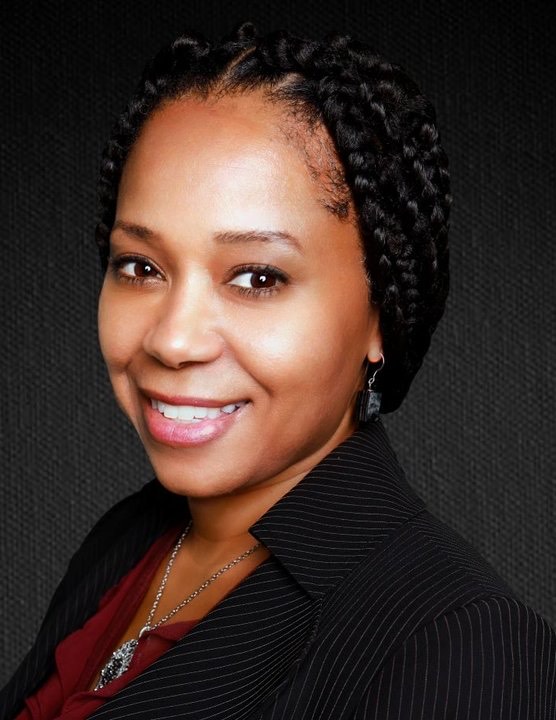 Dr. Mikhiela Sherrod is the Director of US Domestic Programs at Oxfam America. She has over 17 years of experience leading non-profit organizations and working as a community organizer with Black farmers and rural communities of color in the U.S. and developing countries. As the lead coordinator and director of the Southwest Georgia Project for Community Education, Inc., Dr. Sherrod worked with rural communities and coalitions to build capacity and infrastructure to achieve social and economic justice in the local food system and led an organizational revitalization that build capacity to sustain the work. As the executive director of Agricultural Missions, Inc., an ecumenical non-profit organization, she successfully led a decades-long development and capacity restoration project in Liberia and Sierra Leone that resulted in the formation of an association of cooperatives engaged in regenerative agricultural practices and adaptation and mitigation strategies to address climate change. 
Dr. Sherrod has over 10 years of experience leading research and evaluation projects for non-profit and philanthropic organizations, including incorporating and using a racial equity lens to assess work priorities and integrate equitable practices and strategies. She has an undergraduate degree in Mechanical Engineering from Tuskegee University, a PhD in Genetics from the University of Iowa, and completed the first year of an MPH in Epidemiology from Rutgers University. 
HDC Team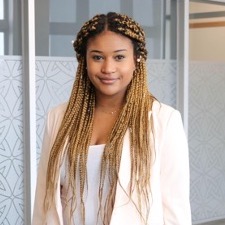 Jessica Ashman, Conference Co-chair
Jessica is a senior at the University of Notre Dame, studying Anthropology and Global Affairs with a concentration in International Development and a minor in Latino Studies. Jessica is passionate about topics having to do with sociocultural identity and its intersections with human development. She strongly believes in the power of social science research to generate informed solutions to complex problems. Jessica's independent fieldwork took place in the Dominican Republic where she examined concepts of colorism, anti-Haitianism, national identity, and education. Over a two month period, she worked with two development NGOs to conduct interviews with Dominican and Haitian young adults. Currently, she works with Dr. Luis Felipe R. Murillo who conducts research on open technologies in Afro-descendent Brazilian populations. After graduation, Jessica plans to pursue her PhD in Socio-cultural Anthropology so she can continue her lifelong exploration of transnational blackness and the barriers to social inclusion. In her freetime, Jessica likes to sing, spend time with friends, and learn about other cultures.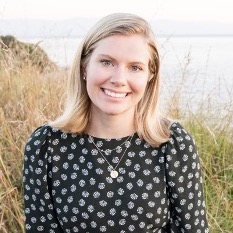 Grace Clinton, Conference Co-chair
Grace is a senior at the University of Notre Dame studying Pre-Professional Studies, Global Affairs, and Anthropology with a concentration in International Development Studies. Her passion and work surround the furtherance of female health and rights on a global scale. For the past three years she has done research with Dr. Joyce Adams on postpartum maternal health in various parts of Ghana.  Her independent research projects work on issues of teen pregnancy rural districts of Botswana. Grace also works for the Harvard School of Global Surgery and Social Change to help with research and development of international maternal surgical care access and legislation. After graduating in 2024, she plans on attending graduate school for Medical Anthropology with a focus on female and maternal health rights for displaced persons throughout sub-Saharan Africa. In her free time, Grace likes to run, cook, and travel often. She has been a part of the Human Development Conference team since her first-year on campus and is very excited to be a co-chair this year!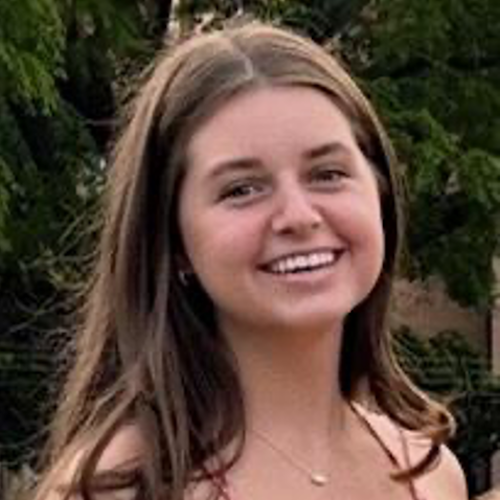 Carolyn Hoagland, Marketing
Carolyn is a freshman at Notre Dame living in Welsh Family Hall. She is a Global Affairs major with an interest in poverty alleviation and international law. As a military child, she has lived all over the world but currently calls Washington, D.C. her home. On campus, she volunteers as a tutor and student ambassador in undergraduate admissions. Carolyn is very excited to be involved with HDC this year!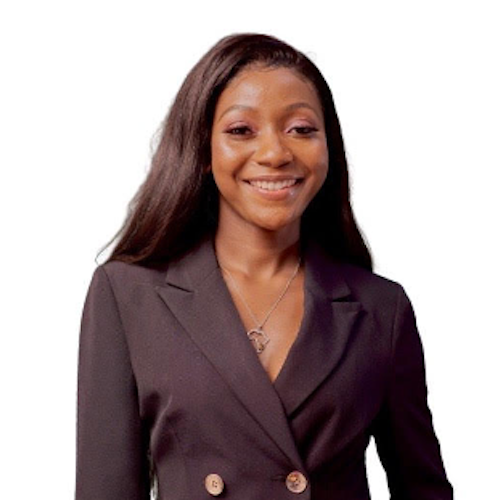 Lugano Kabaghe, Marketing
Lughano is a senior studying Political Science and Global Affairs with a concentration in International Development Studies. She is passionate about  gender equality, governance and international development. Currently, she is researching women's representation and participation in the Zambian National Assembly for her senior thesis and capstone. In the last three years, Lughano has worked on various research and international development projects in Kenya, Zambia, South Africa and Mali. The main themes of her work are youth empowerment, gender equality, civil engagement, elections and African politics. This past summer, she spent her time conducting interviews with elected women MPs and politicians and conducting archival research in Lusaka, Zambia. Kabaghe also attended the Women's Deliver conference in Rwanda where she engaged with high-level women political leaders and activists. This coming December, she will be presenting her research findings as part of a panel on Governance in Africa: Contemporary and Historical Trends at the African Studies Association conference in San Francisco. In her free time Lughano loves to travel, cook, make jewelry and enjoys planning events.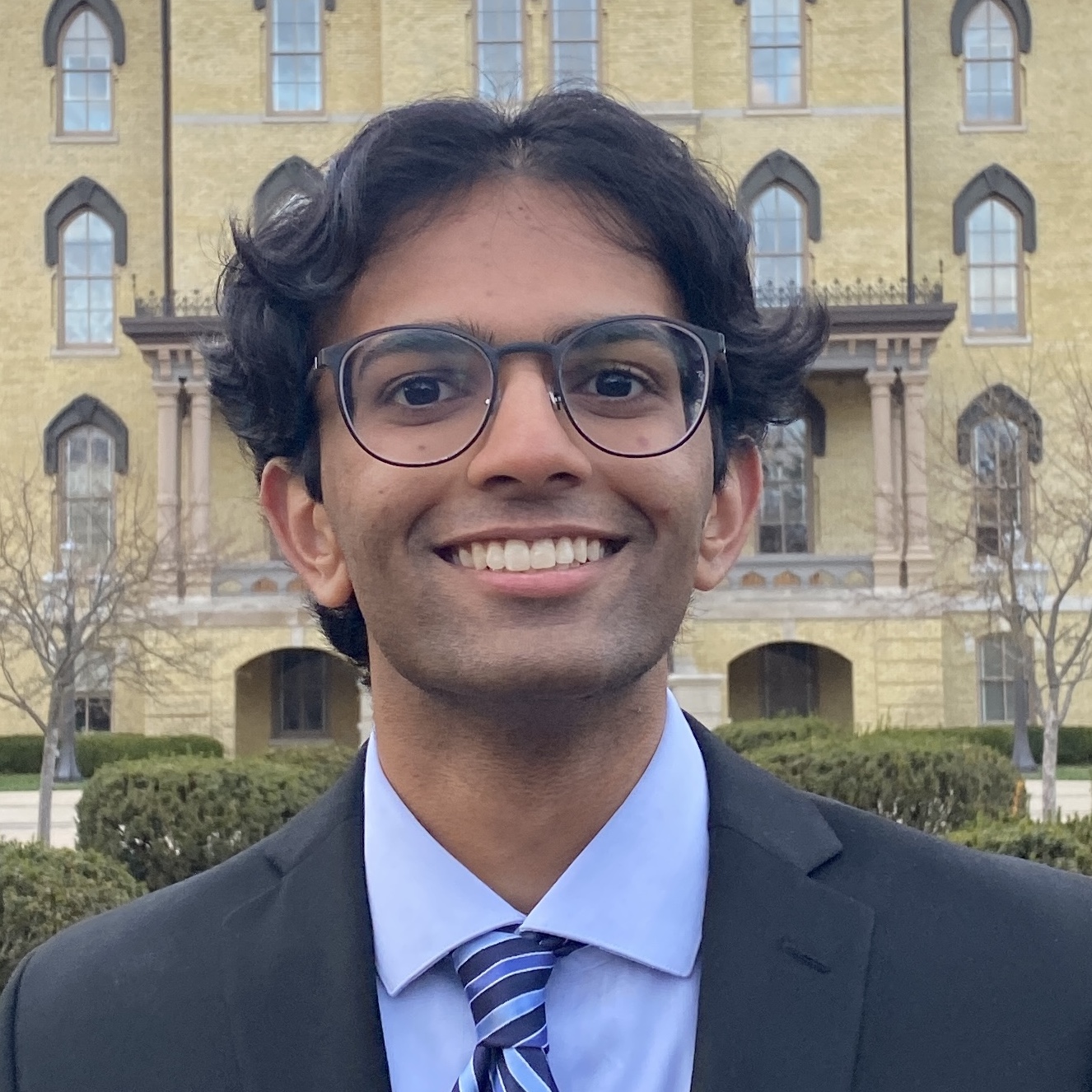 Manvit Adusumilli, Abstracts
Manvit is a senior at Notre Dame from Darien, IL. He is studying Neuroscience & Behavior and Global Affairs with a minor in Poverty Studies. This past summer, Manvit spent eight weeks conducting independent research on community health workers and mental health with Partners in Health in Chiapas, Mexico. At school, Manvit enjoys volunteering with local organizations in South Bend and learning about global health and social justice. In the future, Manvit hopes to pursue medical school. He is excited to be a member of the HDC Committee this year to learn about the amazing research conducted by students around the world.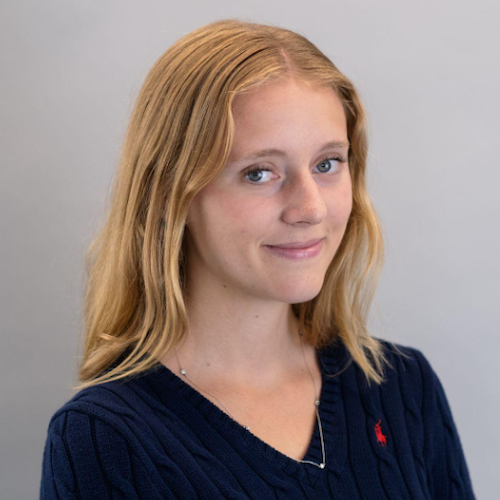 Elizabeth Coleman, Abstracts
Elizabeth is a first year student from Annapolis, Maryland studying Global Affairs and living in Lewis Hall. She is a member of Notre Dame's Committee on the Constitution and the Student Policy Network. She is passionate about languages, female empowerment, and human rights and hopes to go to law school in the future.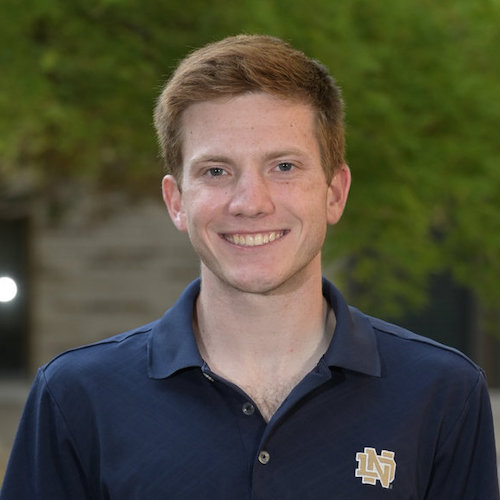 Jack Drey, Abstracts
Jack is a senior at the University of Notre Dame studying Biological Sciences with minors in International Development Studies and Classical Studies Greek and Roman Civilization. Jack is passionate about global health and education and how they can contribute to international development. He currently works with Professor Mark Golitko studying long-term human response to environmental change in northern Papua New Guinea, and in the Blagg Lab, which is part of the Warren Center for Drug Discovery at the University of Notre Dame. Jack's independent research project took place in Kisumu, Kenya, where he worked with the Rusalia Resource Foundation to study barriers and drivers of girls' academic success in rural Kenya, and how mentorship can provide effective support to these students. After graduating in 2024, Jack plans to take a gap year before attending medical school. In his freetime, Jack loves to play tennis, read, and travel.
Tavin Martin, Abstracts
Tavin is a junior from Evansville, Indiana studying global affairs, Latino studies, and ESS. Martin is currently working as a research assistant for Professor Jaimie Bleck in the political science department to study how youth community discussion groups in urban areas can encourage civic engagement and political participation. At the moment, Martin is assisting Professor Bleck by aiding in the process of completing a book that investigates the importance and future of "Grinw", local discussion groups for young men, in Malian society as a means to strengthen civil society and youth roles within it. After the book is finalized, Martin plans to assist Professor Bleck by aiding in a collaborative research project with UC Berkely that is investigating the use of language and activism in four African countries (Nigeria, Cote d'Ivoire, Zambia, and Mali) that have experienced a series of or sustained government instability.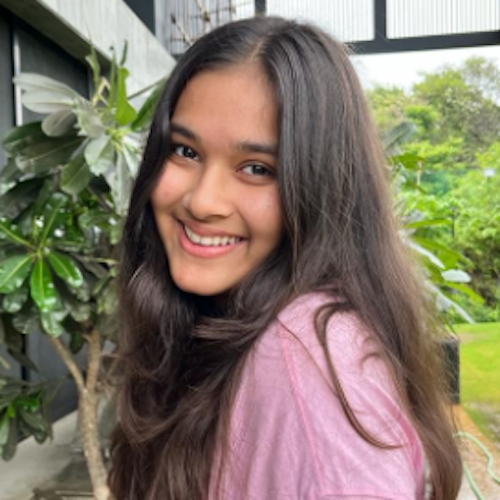 Tia Mittle, Abstracts
Tia is a sophomore from Mumbai, India, majoring in Global Affairs and Political Science, and minoring in International Development Studies at the University of Notre Dame. As a Kellogg International Scholar, Tia is conducting research with Professor Susan Ostermann on the colonial legacies of Hale's doctrine (focused on marital rape) in India and the US. On campus, Tia serves as a God and the Good Life Fellow, the President of FeministND, the Diversity Commissioner and Service Commissioner for Lewis Hall, and was a Diplomacy Scholar at the Nanovic Institute for European Studies last Spring. Tia will be spending her Spring '24 semester in Washington DC, interning and studying in the capital. In her free time, she likes to travel, go on lake walks, visit cafés, and spend time with her friends & family. Tia is interested in learning about global development and is excited to align her passion with the HDC this year!
Emma Ryan, Abstracts
Emma is a Senior studying Political Science and Global Affairs from the St. Louis metro area. She is passionate about advocacy work and co-lead a student effort to pass legislation to help immigrants in Indiana. She enjoys travel, having studied abroad in Chile and India and returning to Chile to teach in a youth organization. She is interested in interdisciplinary topics like education and human development, and it currently writing her senior thesis on transformational education involving psychology, social sciences and education. She plans to explore these topics further after graduation before graduate school.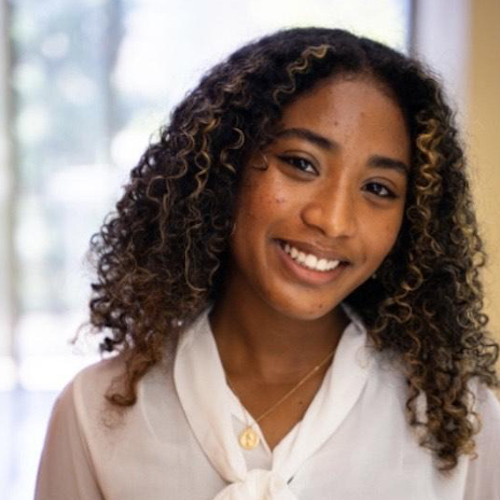 Veronica Bofah, Logistics
Veronica is a first-year at the University of Notre Dame, studying Global Affairs and Spanish. She has always been interested in all matters of social justice, however, she is particularly passionate about grassroots organizing and its effects on solving global issues. Given her experience with social justice organizing, Veronica is eager to learn more through the Human Development Conference, and help bring this wonderful event to life!
Leticia Cardoso Quieroz, Logistics
Leticia is a sophomore at the University of Notre Dame majoring in Business Analytics and Global Affairs. Hailing from São Paulo, Brazil, she proudly identifies as a first-generation college student. Leticia's passion lies in the exploration of the intersection between technology and quality of life on a large scale. Driven by her dedication to understanding the critical role of global business in reducing poverty and inequality, Leticia actively participates in the South Bend Entrepreneurship and Adversity Program (SBEAP). In this capacity, she engages in social consulting for local entrepreneurs in South Bend, contributing to positive change within the community. Additionally, Leticia is an International Business Scholar, where she engages with a select group of students to explore the ethical and professional dimensions of pursuing business as a force for good on an international scale. Outside of her academic pursuits, Leticia enjoys her free time by traveling, playing dominoes, and hanging out with friends.
Kristin J. Park, Logistics
I am a first-year University of Notre Dame student studying Global Affairs. I plan to go to law school after my undergraduate studies and find fields in political science and international relations interesting. I am passionate about seeking justice for victims of any form of injustice – as this comes to me as very personal – and I believe this explains my past experiences in trying to understand the justice system in roles ranging from being a scholars' network ambassador to serving as a volunteer teaching assistant for those with outstanding academic abilities despite their financial challenges. I characterize myself as a futuristic harmonizer, a goal-oriented relator, and a responsible developer.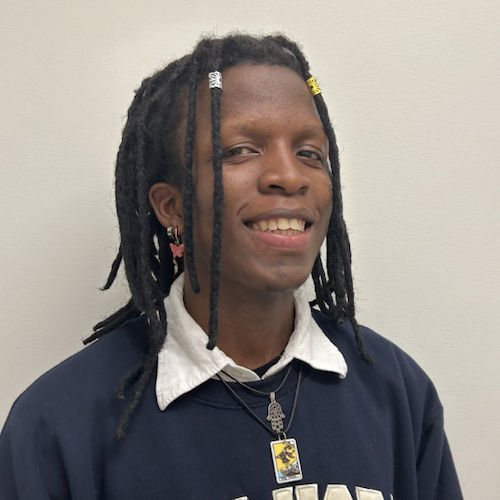 Fabrice Uwihirwe, Logistics
Fabrice is a senior studying Economics and Global Affairs. He is part of the Kellogg International Scholars Program and is currently conducting research with Professor Cordova on effective interventions looking to reduce violence against women. Uwihirwe traveled back to his home country of Rwanda this past summer on a Kellogg/Kroc Undergraduate Research Grant to conduct research on the role parents and teachers play in the retention of students. Education is one of the most important drivers of upward mobility, and Uwihirwe's project examined effective strategies in keeping students in school so they can reap the long-term benefits of an education. He is particularly interested in research and advocacy on education, housing, and food security for people of color, particularly Black people.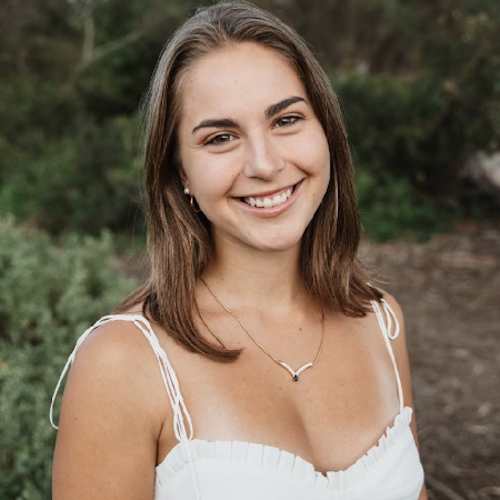 Julianna Forry, Liaisons
Julianna is a sophomore from Santa Barbara, California studying Medical Anthropology and International Development Studies. She is currently a part of the Eck Institute Undergraduate Research Team investigating maternal mortality outcomes in the South Bend community, and is also assisting Professor Joyce Adams with her implementation of the Pop Up Pregnancy Village in St Joseph County. Julianna serves as GHU Coordinator and Advocacy Coordinator on the GlobeMed Board at Notre Dame, which focuses on education about global health crises and outreach with local partners- like the AIDS Assist organization in South Bend. Julianna is passionate about maternal and child healthcare policy, as well as infectious disease biology. Outside of academics, Julianna enjoys playing tennis, indoor cycling, hanging out with friends, dinners with family, and watching documentaries. 
Molly Griffith, Liaisons
Molly is a sophomore from Columbus, Ohio studying Economics and Political Science with a minor in Constitutional Studies. She is a Kellogg International Scholar and assists Professor Susanne Wengle with her research investigating how the 2022 Russian invasion of Ukraine has affected the Ukrainian agricultural sector and the global food system more broadly. On-campus, Molly is also involved with the Notre Dame Journal of Political Science and EuroSecND. She is looking forward to working with the HDC team in planning an engaging and informative conference this spring!
 Bartell Prize
The Rev. Ernest J. Bartell, CSC, Prize for Undergraduate Research on Poverty and Development is conferred annually at the University of Notre Dame's Human Development Conference. Two $1,000 prizes recognize outstanding undergraduate student research on poverty and development. Each year one prize will be given to a student at the University of Notre Dame and one to a student from another university.

Undergraduate students invited to present at the 2024 Human Development Conference are eligible to apply for this award. Information regarding how to apply is included in the conference invitation. Students who wish to be considered must apply by Monday, January 15, 2024. Additional information and/or an interview may be required. Finalists will be notified in the beginning of  February.

Student research should address a specific aspect of poverty and development, whether in the United States or abroad. Research may be submitted from any field of study, including the social sciences, natural sciences, and humanities. Students are encouraged to conduct original research and to consider programs and policies that could help reduce poverty.  A faculty committee will determine the award recipients, and prizes will be conferred during the Human Development Conference, February 23-24, 2024.
Call for Papers
The Ford Program in Human Development Studies and Solidarity and the Kellogg Institute for International Studies, part of the Keough School of Global Affairs at the University of Notre Dame, announce the 16th annual Human Development Conference.
For sixteen years, the Human Development Conference has provided a forum for undergraduate students from a wide range of backgrounds and disciplines who are passionate about development to engage in dialogue about development research.
The 2024 Human Development Conference, themed Power of the People: Uplifting Global Communities. This year's conference seeks to highlight the importance of localization and ownership agendas within the development sphere. Bountiful agency has always existed within all communities. Our theme emphasizes the idea of practitioners and researchers working to collaborate with communities as opposed to working for communities.
We welcome and invite all undergraduate students to share their research experiences from a broad spectrum of topics in human development, including but not limited to:
Agriculture
Architecture
Anthropology
Business
Economics
Education
Engineering
Environment

Foreign Aid
Gender
Governance
Global Health
Human Dignity
Human Rights
Infrastructure
Migration 

Peace/Conflict
Poverty
Public Policy
Religion
Sociology
Sustainability
Technology
Urbanization


Undergraduate students interested in presenting should submit a max 350-word abstract of their research projects: click here. The final submission deadline has been extended to Monday, November 13, at 11:59 PM.
In line with this year's theme of global communities, there will be both in-person and virtual presentation opportunities, as well as panels conducted in English, French and Spanish, to increase conference accessibility and include the many perspectives that deserve a place in important conversations of human development.
Invitations for participation will be extended in early December. Selected presenters will also be eligible for the Rev. Ernest J. Bartell, CSC, Prize for Undergraduate Research on Poverty and Development, a $1,000 award conferred to two outstanding undergraduate researchers presenting at the Human Development Conference. (see tab)
We hope that you will join us in participating in this important conversation!
Deadline Extended: Monday, November 13, 2023