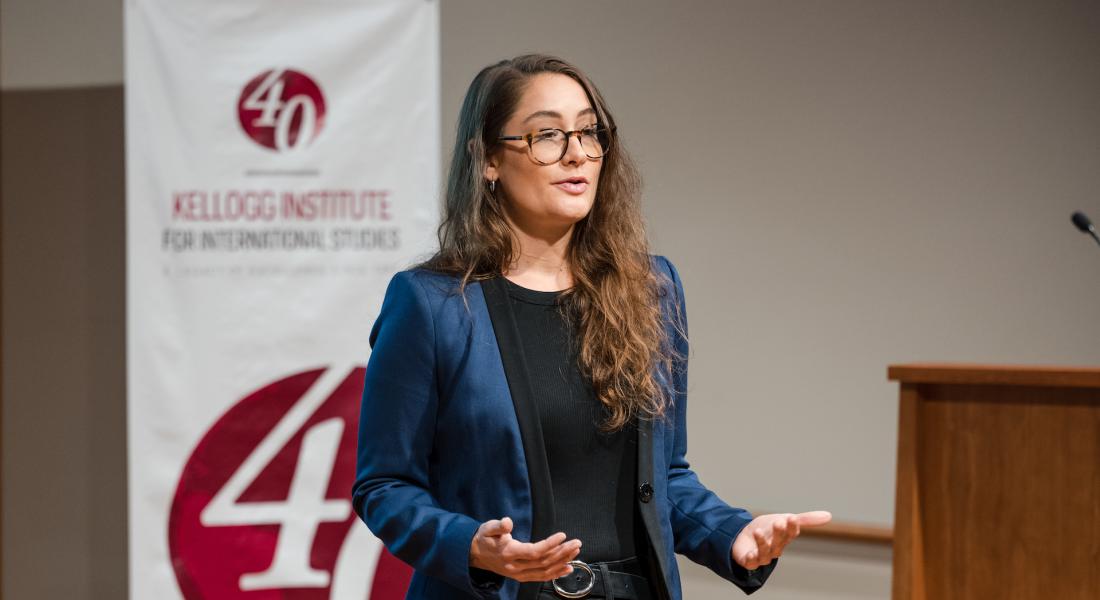 There's been heightened global interest in Brazil's 2022 elections because of far-reaching implications on climate change, as well as former president Jair Bolsonaro's authoritarian leadership and what to expect during a political transition. That's kept Malu Gatto, associate professor of Latin American politics at University College London (UCL) and a Kellogg Institute visiting fellow, immersed in research on Brazilian politics and engaged in sharing her knowledge with the public.
Gatto studies political behavior, representation, policy-making, and gender in Latin America, with a specific focus on her native Brazil. Currently, her primary interest is in descriptive representation, one of four specific definitions or types of political representation. "Most of the work that I do has to do with obstacles and opportunities for women as well as certain other marginalized groups to access political office," Gatto said.
"I've been providing analysis for ongoing events, using my expertise to provide interpretation," she added. News outlets including the Financial Times, the BBC, El Pais and O Globo seek insights from Malu to better understand the elections and – in some cases – her specific research findings.
At times, that involves communicating her ideas through podcasts on gender, politics and Brazil's elections. It's also meant publishing extensively, including a paper on conservatism, co-authored with Kellogg Guest Scholar Victor Araújo and published in the journal Comparative Political Studies, which garnered media interest.
"I've been more actively seeking to embed my research into things that are going on outside academia, collaborating with civil society organizations and working with programs that train candidates from marginalized groups to run for office," Gatto said. This effort requires direct engagement and visibility while working strategically with women candidates, Afro-Brazilian and indigenous leaders, and LGBTQ+ communities.
Ultimately, Gatto is using Instagram and other online platforms, such as YouTube, to communicate the research to political parties and voters, too. For example, studies show that voters want to choose women but they can't vote for people who still aren't on the ballot.
"There is something about the process through which candidates are selected and supported that is not giving equal opportunity to everyone," Gatto said. Whether the barriers are due to political gatekeepers, access to campaign funding, or a lack of access to experienced campaign teams, candidates from marginalized groups don't achieve visibility and that leaves voters without the full spectrum of options.
"Voters don't want to waste their votes on candidates who have no chance of winning," she said, and the perception that a candidate can't win tends to be racialized and influenced by gender stereotypes – so one of the efforts of the research project has been to understand how to increase the visibility of marginalized groups.
Through her visiting fellowship, Gatto has connected with various scholars on campus. She appreciates having the opportunity of receiving feedback from Christina Wolbrecht, a University of Notre Dame professor of political science who also studies the political representation of women and candidate training programs within the Western cultural context.
"The organizations in the United States are professionalized; that's not so in Brazil. They're led by volunteers with full-time jobs and for some it's their first time dealing with elections," said Gatto, who knew Wolbrecht only on social media before Kellogg brought her to South Bend.
She's also connected with fellow Brazil expert Scott Mainwaring, a Kellogg faculty fellow and the Eugene P. and Helen Conley Professor of Political Science at Notre Dame, as well as Faculty Fellow Abby Córdova, an associate professor of global affairs in the Keough School with whom she shares some research interests on gender-based violence in Latin America.
As she returns to London, Gatto plans to expand the research data on Brazil's electoral politics and the emerging role of marginalized groups. In February 2023, she'll conduct research interviews with political parties, as she has with candidates, voters, and the civil society groups that are becoming an influential anti-system force in reshaping the Brazilian political landscape.
"I will keep on trying to understand the role of this new electoral player in Brazilian elections and specifically their role in promoting the election of women and marginalized groups," Gatto said. "It's a very gradual process, coming from the outside to do what internal actors have not been able to do. I want to know how it is that they're innovating."