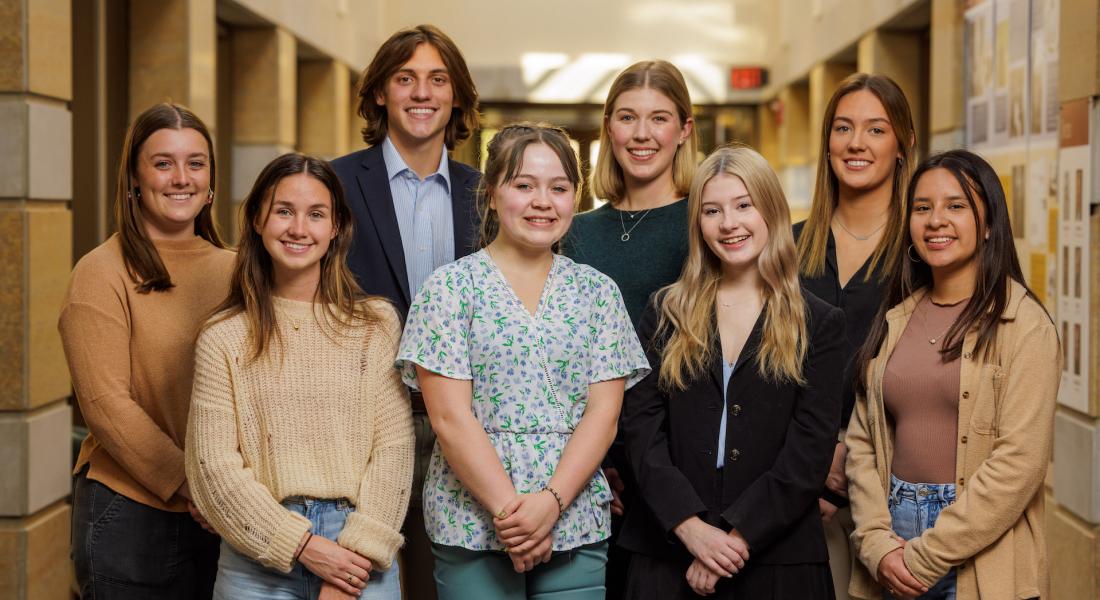 One of the ways the University of Notre Dame has worked to increase diversity in its student body over the past decade is by enrolling more first-generation college students. To ensure that these students have the support and guidance they need as they begin their undergraduate studies, Notre Dame and the Kellogg Institute for International Studies have developed several programs especially for them. The newest of these programs, the pilot Pre-Experiencing the World Fellowship Program (Pre-ETW), just launched this spring.
Pre-ETW will take a group of 8 first-year and sophomore students chosen through an application process to Livingston, Zambia, from May 22-June 18. These are students who have demonstrated an interest in international development, yet have no previous travel experience in the developing world. For 4 weeks alongside a local team, the students will deliver workshops at Catholic schools focused on gender equality and empowerment, and engage in other community development initiatives.
"We noticed that some of the students interested in our longstanding Experiencing the World Fellowships weren't quite ready to develop their own projects and travel by themselves," says Kellogg Associate Director Holly Rivers, who will travel to Zambia with the group and developed the program with input from colleagues across campus, alumni, and students. "We created the Pre-ETW program to bridge that gap – to introduce promising students to what it's like to travel and spend time in developing countries, to help them grow an appreciation for international development, and to prepare them to, hopefully, do research in the future."
One Notre Dame senior with international travel experience, Madeline Johns, was selected to accompany and help lead the group. As a biology major with an international development minor, Johns traveled to Ghana to conduct malaria research during her junior year funded by a Kellogg/Kroc Undergraduate Research Grant. In addition to having access to this senior mentor for support, the Pre-ETW students have attended a series of orientations to prepare them for the trip, which was organized in partnership with Kaya Responsible Travel, an organization that provides meaningful and ethical international experiences for university groups.
"I have never been out of the country – I've never even been on a plane," says freshman Peyton Shrader, a Pre-ETW fellow who recently declared majors in global affairs and education, schooling, and society; and minors in digital marketing and TESL, teaching English to non-native speakers. "Going into this year with global affairs, I didn't have that much exposure to the world at all, and I think it is so important to get that exposure."
As a first-generation college student, Shrader is also a member of the Transitional Leaders Program (TLP), which serves students' academic, social, and spiritual development, paying particular attention to students' different levels of preparedness and resource needs. Shrader says her TLP advisor helped her make a gameplan to apply for the Pre-ETW program.
"TLP helps me navigate and pursue these opportunities," she says. "I have so much curiosity and a love for learning, so to have that ability to go for 4 weeks to another country, to work with elementary and high school students, which is my passion – having all those opportunities combined into one is like the perfect fit for me."
While in Livingstone, the present capital of the Southern Province of Zambia, students will present workshops on gender-based violence, mental health, and women's health and self-esteem for Catholic students grades 8-12.
"I'm passionate about human rights and gender equality and accessible education for women, so working toward that within Africa is something that I'm very excited about," says freshman Jane Palmer, another Pre-ETW fellow and international student from Cobh, Ireland, who is studying political science and global affairs. "As a first-gen college student, I sometimes have imposter syndrome and feel like these opportunities are not necessarily for me, but with the Kellogg Institute pushing me forward and lifting me up in every aspect of my personal development, I feel so welcome and ready."
Pre-ETW students also will work with students in grades 5 and 6 in other subjects and engage in and learn about community development initiatives, some educational, others environmental, including a project making eco-bricks out of recycled plastic bottles. The students can also take Nyanja language lessons and will engage in reflection and discussions about what they are learning and participate in weekend excursions, including one to Victoria Falls, the largest waterfall in the world.
Orientations have included presentations on travel logistics, international development, and Zambian culture from Kaya Responsible Travel; Clark Gibson, a Notre Dame alum and Kellogg advisory board member who studies the politics of African development, democracy, and environment; and Notre Dame junior and Kellogg International Scholar Bupe Lughano Kabaghe, a native of Kitwe, Zambia.
"I'm really excited to be talking to the students about the culture in Zambia because I really love my home country, and I really like the work that Kellogg does," says Kabaghe, who has conducted research in Zambia in partnership with former Kellogg Visiting Fellow Elizabeth Sperber, assistant professor of political science at the University of Denver. "I believe in their mission of human development and the ways that they do it. Kellogg is very intentional about how they let students go into these places."
During orientations, the students were presented with thoughtful guidance on travel paperwork, vaccinations, what to pack and wear, safety, culturally appropriate behavior, and so much more, including opportunities to ask questions and share concerns.
"I think this program will be beneficial for my own country and for the students traveling there," adds Kabaghe, who recently won a Kellogg Undergraduate Research Grant to research women's political representation in the National Assembly of Zambia with her senior thesis advisor Kellogg Faculty Fellow Jaimie Bleck, an associate professor of political science. "Going to a place like Zambia, it's not as developed as here, they don't have as many resources, so just going there and seeing how people live will give these students a different perspective, and they'll be able to learn so much about life in general and learn how to live with people of different social economic backgrounds, different educational levels – and that will be very impactful."
The students will have ample opportunities to reflect and discuss what they are learning during their 4 weeks in Zambia, and they will also participate in a reentry retreat in the fall to help them process their experiences and apply what they've learned to their future studies, research projects, and careers.
"This program will give me exposure and show that I'm capable," says Shrader. "I'm going to a developing country that's completely different from the United States. If I want to apply for the Fulbright English Teaching Assistant Program, this experience will show that I'm capable of working with students outside the US. Not only will Pre-ETW open up opportunities like that, like resume building, but I think it will also build my self-confidence and grow my passions even more."
Palmer echoes Shrader's sentiment that the program will help build her confidence and give her the experience she needs to further pursue her passions through her undergraduate studies and beyond.
"I'm hoping to grow as a person and to develop my self-esteem, my self-confidence and be able to apply that to my future research and study. The opportunities are infinite," says Palmer. "I want to be a champion of human rights, so I'm hoping it will allow me to head into areas of research that will help women and girls get access to quality education. I hope to have an impact on the people in Zambia and not just on myself."
The Pre-ETW program was made possible by the very generous support of Mary and Jamie O'Connell and, according to Rivers, will hopefully expand in future years to include trips to other regions of the world, including Latin America and Asia.