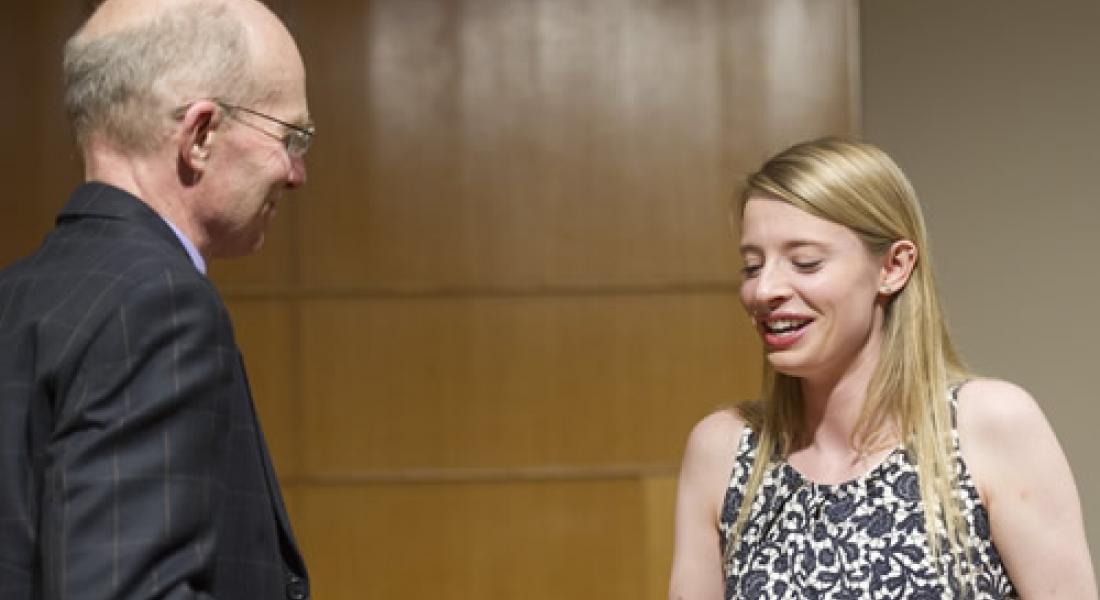 Long-time Faculty Fellow Scott Mainwaring, the Eugene P. and Helen Conley Professor of Political Science, is the recipient of the Kellogg Institute's 2016 Undergraduate Mentoring Award, which recognizes one faculty fellow each year for excellence in mentoring undergraduate student research.
Selected from nominations made by students, the honor is presented to a faculty member who has demonstrated an exceptional commitment to advising undergraduates in the Institute's undergraduate programs.
Kellogg International Scholars Lauran Feist '17 and Jinggang Ng '17  independently nominated Mainwaring for the award, which Feist presented to him at the Institute's Senior Ceremony in May.
"My relationship with Professor Mainwaring—and the unending guidance and support he has shown me—will arguably be the defining factor of my undergraduate experience at Notre Dame," she said.
Through the International Scholars Program (ISP), Feist worked with Mainwaring as a research assistant on his work on Latin American party systems. She also took three courses with him, including one at the graduate level, and worked with him on a senior thesis on federalism and Argentine democracy, for which he served as her advisor.
She called him an "exemplary academic advisor and teacher," saying: "Professor Mainwaring is more than deserving of this award for his ability to challenge and inspire students, the generosity he shows his students both in formal and informal contexts, and the incredible commitment he shows to our wholesome growth."
Finally, Feist spoke to the great value of Mainwaring's modeling of a healthy work/personal balance in academic life.
"Under his guidance, I don't just feel challenged to do my best academically—I know that he expects me to put me before my success and my academics. That is one of the greatest examples of mentorship, and I feel so grateful to have worked with him during my time at Notre Dame."
The exceptional mentoring of the Institute's faculty fellows is a vital component of several of Kellogg undergraduate programs, including ISP, the International Development Studies and Latin American Studies minors, and the Research Grants program.