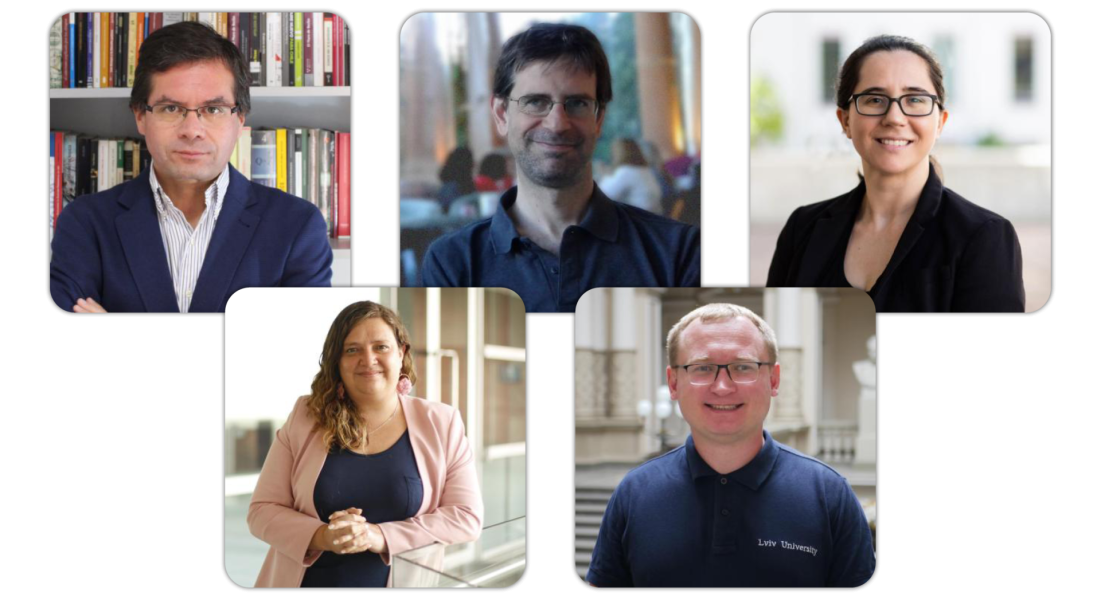 The Kellogg Institute for International Studies welcomes five new visiting fellows this month, including two Chilean Fulbright Chairs in Democracy and Human Development and one scholar from Ukraine, who will spend the calendar year at the University of Notre Dame. 
Alejandro Bonvecchi (Torcuato Di Tella University) and Natália Bueno (Emory University) secured their fellowships through the Kellogg competitive process held in the fall of 2021. Claudio Arqueros (Universidad del Desarrollo) and Marcela Peredo Rojas (Pontificia Universidad Católica de Chile) were each named by the Fulbright Commission in Chile as a Chilean Chair in Democracy and Human Development through a partnership between the commission and the Kellogg Institute. And, through a special arrangement, Nazarii Stetsyk (Ivan Franko National University of Lviv) joins the cohort from war-torn Ukraine and will remain in residence throughout 2023.
These scholars join four academic-year visiting fellows who are continuing their fellowships from the fall: Katherine Bersch (Davidson College), Vladimir Chlouba (The Ohio State University), Vitor Martins Dias (Indiana University Bloomington), and Danielle Terrazas Williams (University of Leeds). 
Please join us in welcoming our new arrivals, whose names, institutional affiliations, and project titles are listed below with links for more information. 
Since 1983, the Kellogg Institute for International Studies has offered visiting fellowships to promote interdisciplinary international research in a supportive community of scholars. In this widely respected residential program, competitively-selected fellows pursue research related to Kellogg Institute themes of democracy and human development, share their research with the Notre Dame scholarly community, and have the opportunity to publish in Kellogg's peer-reviewed Working Paper Series.