Five undergraduates affiliated with the Kellogg Institute have won prestigious national awards for international study, research, and teaching. Three were named Fulbright Finalists and two were awarded Boren Scholarships.
"We could not be more delighted," says Assistant Director Holly Rivers, who manages Kellogg undergraduate programs. "Our students have done exceptional work."
Both award programs are highly selective. The Fulbright US Student Program offers research, study, and teaching opportunities in over 140 countries to recent graduates and graduate students. Boren Scholarships, an initiative of the National Security Education Program, provide funding opportunities for undergraduate students to study less commonly taught languages in world regions critical to US interests.
Fulbright Award Finalists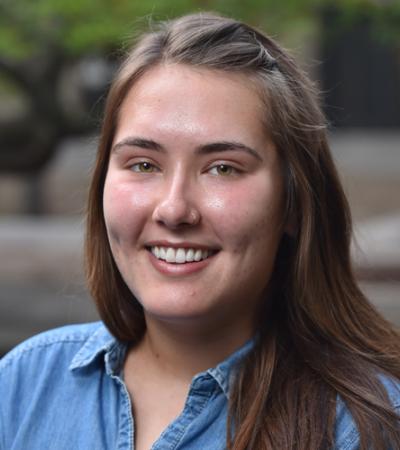 Lauren Antosz '16, an International Development Studies (IDS) minor who majored in Spanish, received a Fulbright Study/Research Grant to work with the Chilean community organization Fundación Cerro Navia Joven to design and implement a youth program. She will also assist her research mentor, Isabel Donoso of Universidad Alberto Hurtado, in teaching a Poverty and Development course for Notre Dame study abroad students.
Antosz worked with Faculty Fellow Vania Smith-Oka on her IDS capstone project, "Sexual and Reproductive Health Education: Narratives of Adolescent Mothers Living in Cerro Navia, Santiago, Chile."
"I am excited that the award allows me to continue my IDS research," she says. "The minor facilitated my understanding of research methodologies and gave me a strong foundation for my Fulbright project. I feel very prepared and cannot wait to return to Chile!"
International Scholar Bridget Galassini '16, an international economics major who minored in peace studies and journalism, ethics, and democracy, was awarded a Fulbright English Teaching Assistantship (ETA) in Spain, where she will also teach in a Model-UN program.
As a member of the International Scholars Program (ISP), Galassini served as a research assistant to Faculty Fellow Debra Javeline, focusing her efforts on climate change adaptation and its political and economic impacts, and spent time in Chile and Ireland.
"The international lens of ISP pushed me to travel, to learn, and to immerse myself in every culture I came in contact with," she said. In the same way, she is looking forward to developing new connections through the Fulbright.
International Scholar Andrew Scruggs '16 is an international economics major with minors in International Development Studies and philosophy, religion, and literature. Awarded a Fulbright to conduct research in Jamaica, he declined the grant to accept a scholarship to the master's program in international development at Sciences-Po in Paris. He plans a concentration in migration studies.
Scruggs served as cochair of the 2016 Human Development Conference and as an ISP research assistant to Faculty Fellow Karen Richman in her migration research. His IDS capstone focused on undocumented Haitian immigration to Guadaloupe.
"Working with Professor Richman studying Caribbean and Latin American migration and then carrying out my own independent research projects on Haitian immigration with Kellogg funding, I have become extremely interested in the intersection between migration, refugee issues, and international development," he says.
"I firmly believe that honest and ethical research will be essential to the process of healing the hateful divisions that have emerged in our global community over the question of migration and refugees, and Paris is the ideal venue for me to conduct such research."
In addition to the three finalists, two Kellogg-affiliated seniors were named alternates in the Fulbright competition and will learn over the summer if their projects are accepted.
Boren Award Winners
International Scholar Lauran Feist '17, a political science and international economics major who has worked with Faculty Fellow Scott Mainwaring, has won a one-year Boren Scholarship to extend her knowledge of the region by studying Portuguese in Brazil. Based in Florianópolis, she will also study political science at Universidade do Estado de Santa Catarina.
Feist has taken advantage of many Kellogg opportunities to work and study in Latin America. She interned with the US embassy in Argentina through the Summer Internship Program and returned to Buenos Aires on an Undergraduate Research Grant to conduct research for her award-winning thesis, "A Battle of Giants: Presidents against Governors in the Argentine Federal System."
Excited by the opportunity to immerse herself in one of the region's largest and most important countries, she plans to earn a PhD in political science, and she is interested in entering the policy arena to work on democracy and governance initiatives. "This experience will contribute to the goal of fostering dialogue, stability, and understanding between the United States and Brazil," she says.
Brittany Ebeling '17, an international economics and peace studies major, declined a Boren Scholarship to study the Wolof language in Senegal since its summer program conflicted with prior academic engagements. In summer 2016 she will intern in the Governing Bodies Division of the International Organization for Migration headquarters in Geneva, Switzerland, where she will also study French.
"I am exceedingly grateful for Kellogg support of my pursuits in migration studies, rigorous field research, and social justice engagement," she says. "Ongoing mentorship from Kellogg staff and faculty has deeply shaped my undergraduate studies."
Ebeling studied refugees' right to work and barriers to asylum on an Experiencing the World Fellowship in Ecuador last summer and served as the communications cochair of the 2016 Human Development Conference.