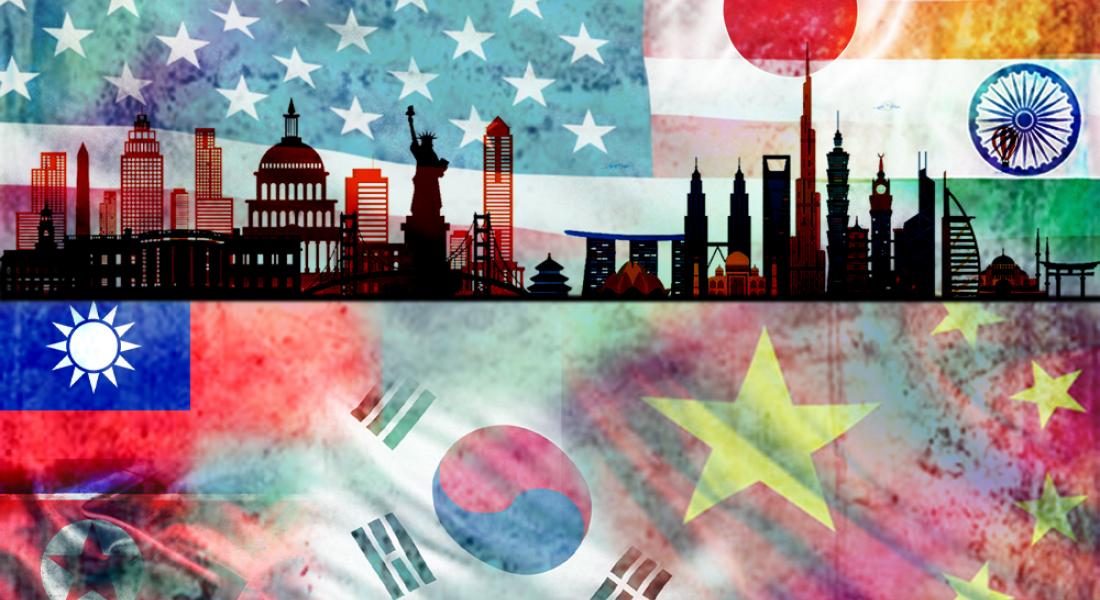 In a turbulent election year, it's a topic that has received far less attention than the coronavirus, race relations, or the makeup of the Supreme Court: How will the winner of the presidential race impact Washington's increasingly troubled relationships with China and other Asian nations?
The Kellogg Institute for International Studies is partnering with two groups in New York City to host a virtual panel later this month on "The US Presidential Election and Asia Policy."
Kellogg is co-sponsoring the Oct. 21 event with New York University's Center for Global Affairs and the Notre Dame Club of New York City, which represents alumni in the greater New York area. The panel will take place at NYU but will be presented virtually; registration is required.  
"Never before have the United States' relations with Asian countries been as important, both in absolute and in relative terms, as they are now," said panelist and Kellogg Faculty Fellow Joshua Eisenman, an associate professor of global affairs at the Keough School of Global Affairs.
Eisenman described the critical US-China relationship as "in a bad way," and said the panel will address the causes of its decline as well as prospects for its recovery under a Biden or Trump presidency. Scholars on the panel will also discuss the trajectory of Washington's ties with other strategically important countries in the region, including Japan, India, South Korea, Australia, and Taiwan.
Other panelists are:
Kevin Chen, chief economist of Horizon Financial and adjunct associate professor at the NYU's Center for Global Affairs;
Rebecca Karl, a professor of history at New York University;
Ankit Panda, editor-at-large at The Diplomat and director of research for Diplomat Risk Intelligence.
East Asia specialist Sean King (MBA '99), an affiliated scholar with the Liu Institute for Asia and Asian Studies and senior vice president for Park Strategies, will serve as moderator.
Kellogg Executive Director Don Stelluto said the event is a major collaboration that brings together academic and non-academic audiences, active Notre Dame students and a large community of alumni, and is focused on a set of compelling issues of great national political importance.
"At this time in history, the importance of Washington's actions within Asia cannot be overstated, and by collaborating with NYU and our Notre Dame alumni in New York City, we're able to develop a new model for sharing scholarly reflection and discussion on issues of great importance in the region with a broader audience," he said.
Marco Zuccarello, president of the Notre Dame Club of New York City, which has a reach of more than 10,000 people, said the panel will help the chapter achieve one of its key goals: providing continued education that enriches and grows the Notre Dame community within the city.
"We look at education and intellectual pursuit as ongoing and ever-growing, and the upcoming Asia panel is a perfect example," he said. "This event will give our members the opportunity to challenge their ideas and uncover new truths in a particularly timely moment in US history."
"We constantly look for opportunities in NYC to bring our members closer to the university, and this is one of those events," he added.
Michelle D'Amico, director of noncredit and professional programs for NYU's Center for Global Affairs, said the Asia policies of the next US president will impact issues ranging from international trade policy to climate change and human rights.
"Further heightening the stakes, all of this is happening while we are in the midst of a global public health crisis and destabilization of the economy and when these global hegemons – specifically the US and China – are facing significant domestic unrest and tensions with their regional neighbors," she said.
The Keough School and the Liu Institute are providing promotional support for the event.