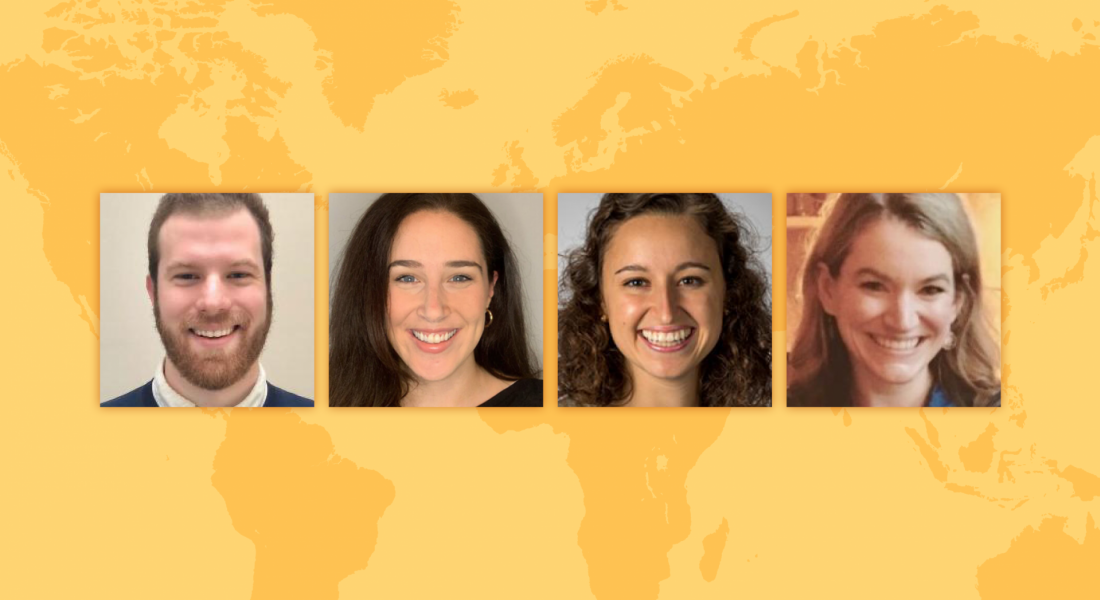 As the Kellogg Institute for International Studies celebrates its 40th year and its International Scholars Program (ISP) celebrates its 20th year, Kellogg is launching a series of career events for undergraduate students in partnership with alumni.
"We have such an incredible set of alumni now with a wealth of knowledge and experience doing important work out in the world who are eager to help undergraduate students navigate those early steps in their careers," says Kellogg Associate Director Holly Rivers, who develops and administers Kellogg's undergraduate programs including ISP. "Our steering committee members feel that their experiences with Kellogg were fundamental in shaping their career paths, and they want to give back by sharing their stories and helpful career resources with students."
The steering committee of alumni, Emily Mediate '15, Stephanie Mulhern Ogorzalek '11, Catherine Reidy Kress '13, Bridget Mullins '11, and Alex Coccia '14, were all part of Kellogg's International Scholars Program as undergraduates, where they were paired with faculty members serving as research assistants.
They have worked closely with Rivers to develop a series of career events during the spring semester for undergraduates, starting with a virtual international career panel on January 28.
During this launch event, undergraduates will have the opportunity to dialogue with ISP alumni about how to start an international career. This event will be followed by virtual alumni talks on March 21-24, and another career panel discussion during Kellogg's 40th anniversary celebration on April 22.
"We have this great group of alumni now who have gone through the program and who are still doing work in the international space," says Mulhern Ogorzalek, who serves as the director for gender-based violence and cross-cutting issues in the Secretary's Office of Global Women's Issues at the US Department of State. "Kellogg was hugely instrumental in my development of an interest in international affairs and an extension into what I do now in foreign policy. Wouldn't it be great to take advantage of that network and even bring that network to a bigger student population as well?"
That's exactly what this series of career events aims to do: connect undergraduates with relevant Kellogg ISP alumni, introduce them to a range of professional career paths, and provide practical employment resources.
"I participated in many of the same Kellogg programs and was passionate about many of the same topics as these students, and here's where my career led me," says Mediate, climate and health program director at Health Care Without Harm, an organization that works with health systems all around the world to address issues related to climate change. She wants to help students "understand what this career field looks like, what opportunities are available, and what hands-on resources they can use to help them understand how to turn their passion and the work they've done at Notre Dame into a career."
Kress, director and chief of staff to the chairman of BlackRock Investment Institute, who also sits on Kellogg's Advisory Board, points out that undergraduates are most often exposed to academic career examples because they tend to work closely with professors in their research, but she emphasizes it's also important to connect students with professionals working outside academia.
"The point is to really give students as much exposure as possible to the full breadth of opportunities that are available to them. Along with Holly, we are trying to more systematically help undergraduates think about that before they get to the point where they're at the end of their undergraduate experience or graduating from a master's program and don't know what to do next," says Kress, who has hired some Notre Dame graduates over the years.
"It's also just an opportunity for me to pay it forward," she says. "I've benefited from some really strong mentorship over the course of my career and undergraduate, so the extent to which I can do that for others brings me a lot of excitement and fulfillment."
Many of the steering committee members have expressed excitement about the opportunity to provide mentorship and advice to undergraduates, connect with a passionate pool of potential employees, and network with a fresh community of like-minded Kellogg alumni.
"Whether it's internships or entry-level positions, we're always looking for connections to students that are interested in the work that we're doing or the work of our partners," says Mediate. "I'm also looking to meet students who inspire me with their ambitious career goals."
In addition to providing excellent networking opportunities and tangible career tools, the series aims to bolster students' confidence as they transition out of their undergraduate studies and start careers or pursue graduate studies.
"They are getting to do so much, getting so much exposure, that it makes them really highly qualified candidates going into the job market," says Kress. "Providing them the resources they need to think creatively about the ways they can have the most impact in the areas that mean the most to them is awesome."