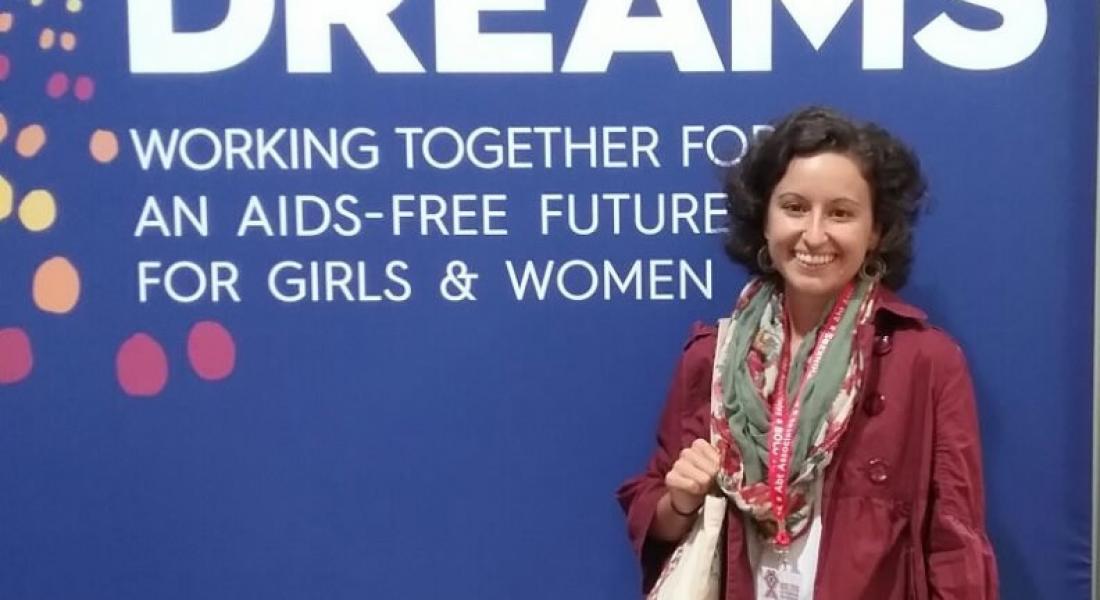 International Scholar Emily Mediate '15 spent her first year out of Notre Dame on a Kellogg Institute postgraduate International Development Fellowship with the Association of Volunteers in International Service (AVSI) in Uganda. Her work evaluating a USAID-funded program that aims to improve the well-being of vulnerable households built directly on her Kellogg-funded research. It culminated in a presentation she gave in July at the 2016 International AIDS Conference in Durban, South Africa. Named a 2016 Rhodes Scholar, Mediate will begin studying global governance and diplomacy at the University of Oxford in the fall. Here she reflects on this latest phase of her advocacy and scholarship as she prepares to leave Africa—at least for the time being.
Tsst, tsst, tsst. Save for the sound of the electric fence enveloping the hotel where I'm staying, there is complete and total quiet. The first thing that struck me after arriving in South Africa from Uganda was the silence at night. I am used to falling asleep to the indiscriminate clicking of insects, the revving of a boda boda on the road, and the occasional hit of a hammer on metal as someone works late into the night. I am used to waking up at dawn to the Muslim call to prayer, a rooster's crow, and the chatter of children on their way to school. Kampala is active, noisy and alive.
In contrast, South Africa felt calm and eerily silent—at least until the 2016 International AIDS Conference started. Twenty thousand delegates from around the world descended on Durban to discuss, debate, and share innovations in HIV/AIDS. I attended nine days of activities, ranging from panel sessions featuring Bill Gates and Elton John and presentations by US Global AIDS Coordinator Deborah Birx to yoga led by an HIV-positive instructor and dance, music, and poetry by children living with HIV/AIDS. The conference, which brought together activists, researchers, policymaker,s and key populations affected by AIDS, was invigorating.
I was thrilled to find that a resounding theme from the conference was the necessity of an integrated, beyond-biomedical approach to preventing and managing HIV. Last year, in writing my senior thesis, I came to this same conclusion about the HIV/AIDS epidemic in Uganda. While there are effective medical interventions for managing the disease, HIV/AIDS also demands a social, political and economic response. As the activist Gregg Gonsalves has said, "we need to re-inscribe the fight against AIDS as part of a larger movement for social and economic justice."
This theme was echoed in a keynote presentation by Steffanie Strathdee, which showed that pre-exposure prophylaxis was a cost effective prevention intervention for men who have sex with men, but not for people who inject drugs (PWID). Needle-exchange programs were a significantly more effective intervention for PWID; this is logical since PWID often receive or spread HIV through infected needles. Strathdee's study showed how "silver-bullet" or "one-size-fits-all" responses to HIV/AIDS will not work. Each key population needs an individualized approach that recognizes the unique needs of that particular group.
A unique, household-specific, integrated approach to development
In Uganda, where I have been working with AVSI, only 45% of people living with HIV are on anti-retroviral treatment. The HIV prevalence rate here has remained relatively constant, but has climbed slowly over the last few years. This situation is part of the impetus behind large USAID investments in Uganda. One project benefitting from this support is the Sustainable Comprehensive Responses for Vulnerable Children and their Households (SCORE) project, managed in part by AVSI.
SCORE was constructed with the same mindset that I have towards development, and the one that emerged from the AIDS conference—it emphasizes a unique, household-specific, integrated approach. Each household participates in a range of activities based on areas of vulnerability within that particular household.
At the AIDS conference, I presented a poster that described this model and its impact on HIV/AIDS: SCORE indirectly leads to increased HIV testing and decreased vulnerability for HIV-affected households.
Among the approximately 37,125 SCORE beneficiaries, the percentage of individuals who did not know their status decreased from 65.1% to 27%. Amazingly, the SCORE project does not even involve a push for HIV testing or a direct campaign to encourage individuals to learn their status. As households become more and more resilient to vulnerability, they seem to embrace the responsibility of ensuring their own well-being beyond the direct interventions of SCORE.
Perhaps even more exciting is the fact that households affected by HIV, households not affected by HIV, and households whose members did not know their status all improved their well-being while participating in the SCORE project. At the conference, I talked about how our interventions in socioeconomic well-being, food security, protection and legal services, and critical service improved a family's ability to care for themselves and their children.
SCORE is an example of an integrated approach to tackling HIV/AIDS—and not just HIV/AIDS, but several other development challenges as well. When households are met where they are, with their own particular drivers of vulnerability, and a development plan is created alongside household members, great improvements in well-being are seen.  
The AIDS conference served as a culmination of all of the various research projects that I had engaged in through SCORE over my last year as a Kellogg fellow. As I move on to studying international affairs at Oxford, I am grateful for a year's worth of conversations with coworkers, time in the field interviewing beneficiaries, and hours spent trying to understand this country and its development challenges. I will miss the energy of Uganda, the excitement of the entire continent, and the thrill of working in a field with such inspiring advocates across the globe, each fighting to create a world free of HIV/AIDS.
—Emily Mediate, August 2016