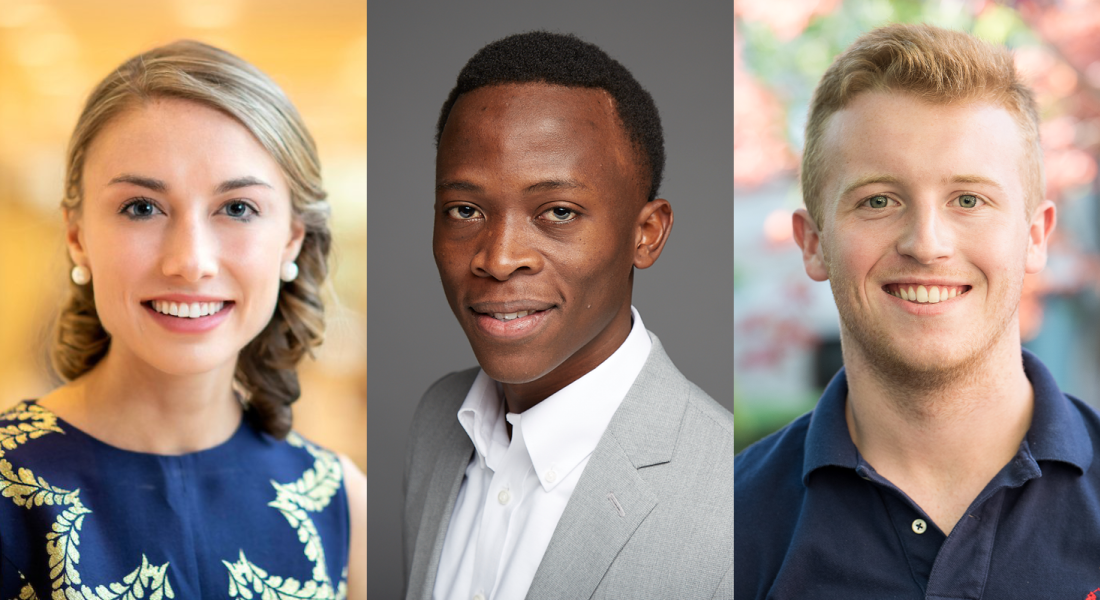 The Tanzanian village of Shirati now feels like home to Annelise Gill-Wiehl, a 2019 Environmental Engineering graduate who became immersed in the Kellogg Institute's International Scholars Program and other programs that supported her four summers of East African field work while completing undergraduate studies at the University of Notre Dame.
She fell in love with East Africa during her first summer in neighboring Uganda, she says, while living with a host family as she completed a Kellogg-funded internship in water conservation. But it was daily life with the family that shifted her career trajectory into energy, beginning with how to replace cooking charcoal and firewood with propane stoves that are cleaner for both health and the climate.
"I'd spend my days in Uganda on water infrastructure and my nights experiencing the lack of energy infrastructure," she explains from her home, now near Lake Victoria. "I realized how horrible that was for health – the coughing, the eyes – so I started looking into that."
Gill-Wiehl, now a National Science Foundation Graduate Student Researcher and doctoral candidate in the Energy & Resources Group at the University of California, Berkeley, continues research inquiry into the adoption of cleaner cooking stoves that began with funding and support through the Kellogg Institute.
And as her own collaborators in the International Scholars Program mark their twentieth year, Gill-Wiehl says, "If it takes a village, they were my village."
She credits Kellogg Institute associate director Holly Rivers, along with her senior research advisor Sara Sievers and others, with helping to build her career on a foundation that's based on being both effective and ethical, while centering development goals within the lives of her local partners. For her dissertation fieldwork, Gill-Wiehl now employs 20 women in Shirati who, in partnership with her, run a 500-household randomized control trial – and who, she says, call the research's village investment in cleaner cooking their own.
To think of the Kellogg Institute as its own kind of village, as Gill-Wiehl does, is to understand that its 40-year history isn't defined entirely by place or limited by campus boundaries. Rather, it's built on the relationships and shared values of committed colleagues, including Kampala native Trevor Lwere.
Lwere headed for Beijing in Fall 2022 to complete a master's degree program in global affairs at Tsinghua University as Notre Dame's first Schwarzman scholar, but not before returning to Uganda with his University of Notre Dame economics degree. Lwere pursued an intentional education, he says, one that matched a sense of civic duty with aspirations to become a force for good in the world and return its benefits to the Ugandan people.
The Kellogg Institute was "deliberate about the training and formation and education," he said. His sense that integrity is not negotiable, and that stewardship requires the hard work to build a better world, served to balance against what often becomes short-sighted idealism without long-term impact.
That's also what motivated former Kellogg International Scholar and economics major Kyle Murphy, who graduated in 2020. "It's that sense of working towards a higher goal," said Murphy, the founder and CEO of Chicago-based Enspice. "It's not just about what you do, but how you do it and how it impacts others."
Murphy's social enterprise sells nutrient-enhanced spices, both online and in high-end retail markets, with each purchase contributing to the more than 110,000 meals delivered through Enspice to offset food insecurity in Madagascar and Guatemala.
It's in Latin America and Africa that Murphy's mission began, but as the Enspice concept evolved during his time with Kellogg Institute, it became clear that the initial vision of delivering enhanced spices to nations where the nutrients were needed wasn't going to be cost-effective or logistically sustainable.
"It started out as a disappointment," says Murphy, who had invested his time in research on infant mortality supported by Kellogg faculty fellow Erin McDonnell, Notre Dame du Lac Associate Professor of Sociology. "We spent two years developing it and realized we just weren't going to be able to use it for the severe malnutrition use case."
But, as Lwere notes, Kellogg requires thorough and critical engagement with others, especially at weekly events that build connections across diverse backgrounds, disciplines, and research interests. Murphy's initial disappointment faded as he worked through the barriers and sharpened his thinking on EnSpice, repositioning it as a highly successful commercial product that funds the Enspice Foundation to fight hunger.
Lwere is launching his own business, too, and is currently seeking funding support. His work with senior research advisor and faculty fellow Jaimie Bleck at the Kellogg Institute led to the foundation of VicPigs, an agricultural startup designed to improve pork production and market share in Uganda while boosting economic opportunity for the Ugandan people, particularly women and youth.
As he does, he'll be learning lessons from the Chinese on economic development, an especially relevant issue given Beijing's globally expanding role and China-Africa relationships. "I'm interested in the shifting balance in geopolitics and how countries in the developing world can seize the opportunity," Lwere said.
"I'll be meeting folks from across the world, and it's an opportunity for us from the Global South," he said. "The world is changing. How do we contribute to the conversation in ours and the world's best interest?"