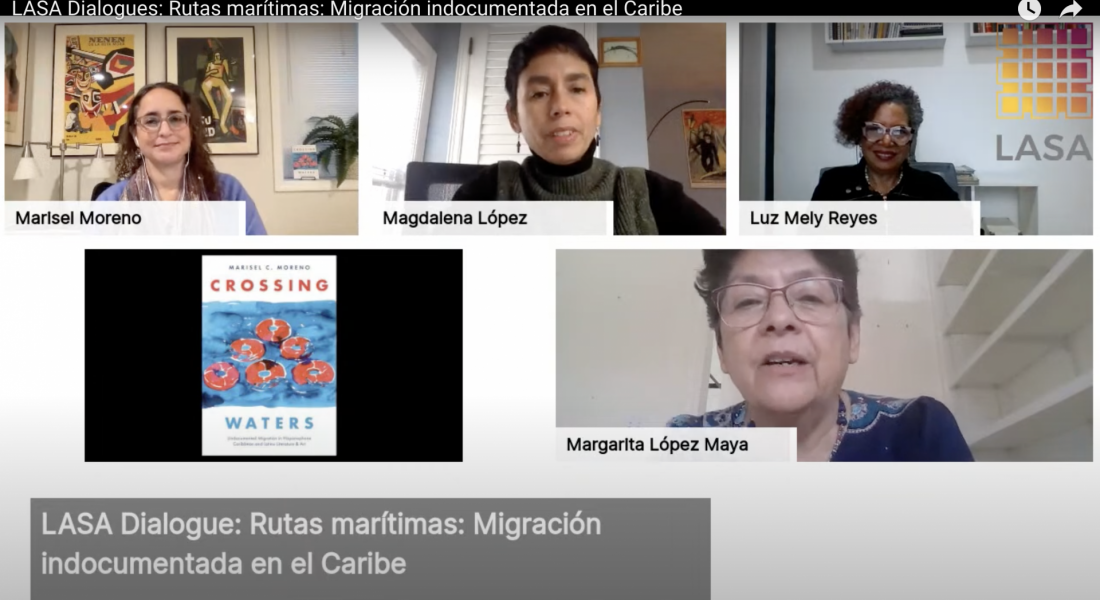 Kellogg Faculty Fellows Magdalena López and Marisel Moreno and former Visiting Fellow Margarita López-Maya participated in a recent LASA Dialogue, through the Latin American Studies Association (LASA), about undocumented immigration in the Hispanophone Caribbean, titled "Rutas marítimas: Migración indocumentada en el Caribe."
López is an adjunct associate professional specialist at the Kellogg Institute and a research fellow at the Centre for Comparative Studies at the University of Lisbon. Moreno is the Rev. John A. O'Brien Associate Professor of Latina/o Literature in the Department of Romance Languages and Literatures. López-Maya is an historian and emeritus professor-researcher with the Center for Development Studies at Universidad Central de Venezuela (CENDES-UCV) and serves as president of LASA. Joining them for the discussion was Venezuelan journalist Luz Mely Reyes, who is a professor of postgraduate studies in political communication at Simón Bolívar University.
Much of the discussion surrounded Moreno's book Crossing Waters: Undocumented Migration in Hispanophone Caribbean and Latinx Literature & Art (University of Texas Press, 2022), which delves into the experiences of the often-ignored migrants crossing into the United States by water. Analyzing works by novelists, short-story writers, poets, and visual artists, the book shines a spotlight on the extraordinary plights these migrants face. 
LASA Dialogues builds on the expertise of more than 12,000 members of LASA and their vibrant academic exchanges in their international congresses. The initiative seeks to create an online space where invited experts from different disciplines analyze pressing current issues of the region. Using an open-access online platform that allows connection with experts from different parts of the world, LASA Dialogues fosters discussions that encourage different points of view and promote social justice, inclusion, and diversity.
See the recording of this LASA Dialogue below.