The democratic government in Ukraine is under military attack from a Russian invasion, while the democracy in Nicaragua was undermined from within by an elected but autocratic leader.
Representatives from both countries—Nazarii Stetsyk and Juan Sebastián Chamorro—are among the nine visiting fellows currently participating in a program the Kellogg Institute for International Studies has run since 1983. This residential program offers visiting faculty the time to pursue scholarly inquiry wherever it takes them, advance their personal research, and collaborate with other scholars from across the U.S. and world.
In the spirit of this year's Notre Dame Forum focusing on "The Future of Democracy," here are their stories, which illustrate two of the ways that democracy can be threatened or dissolved. In a world where democracies are measurably losing ground, their experiences offer profound lessons in the ongoing fight for freedom, justice and a government that is responsive to the needs of its people.
Nazarii Stetsyk
Nazarii Stetsyk only returned to his native Ukraine from a Fulbright Fellowship in the Notre Dame Law School in late 2021. He didn't think Russia would really invade.
Stetsyk was preparing for a competition for the position of attorney at the European Court of Human Rights when Russia attacked on February 24, 2022. In those first months, air raid sirens continually went off as Russia launched missiles at targets across Ukraine. Stetsyk's law classes at Ivan Franko National University of Lviv were suspended at first before going remote.
"My first instinct, the emotion, was to get some things and go to the front to defend my country," Stetsyk said.
He recalled earlier uprisings in Ukraine—the Revolution of Dignity in 2014 and the Orange Revolution in 2004—and the spirit of cooperation that united the citizens in the face of joint challenges. He took goods and clothes to refugee donation centers, and his brother used a bus to transport fleeing women and children to the Polish border.
But he also knew the best way to contribute was to use his specialized legal knowledge, which would be crucial in a post-war Ukraine.
"My actual experience is in European standards of human rights and the right to a fair trial," he said. "I try to use this knowledge in reforming Ukraine, especially the judiciary."
To expand that expertise, Stetsyk accepted a second fellowship at Notre Dame, this time through the Kellogg Institute for International Studies with a comparative study of constitutional courts to see how the Constitutional Court of Ukraine can rely on comparative materials and arguments in other countries to improve its decisions in human rights cases. In late September, he previewed a working paper about how different supreme and constitutional courts engage with comparative materials in complicated cases, focusing on cases involving assisted suicide.
"We are not yet an established democracy, but a transitional one, and we need to get experience from abroad," he said. "To get such experience, the best way is to study foreign jurisprudence and consider it appropriately. That's why I have been doing that."
Stetsyk grew up in the small city of Stebnyk near Lviv and remembers the fall of the Soviet Union in the 1990s as a very difficult time. A large potassium fertilizer factory collapsed, sending the city into decline. His mother, a violin teacher, had to move to Italy to find work even though his father was a doctor.
He attended Ivan Franko National University of Lviv and earned his master's and doctoral degrees in law, and later taught classes there. He chose the academic route over legal practice even though it pays less, deciding that was a better way to improve his country. After Ukrainians were allowed to visit Europe without a visa starting in 2017, he undertook research and fellowships in Latvia, Germany, Italy and Poland.
In 2019 he applied for a Fulbright fellowship. He was accepted for a visiting scholar position at the University of Baltimore School of Law when the pandemic hit before his arrival. An important condition of the program was that the university must operate in-person, so Stetsyk changed his appointment to Notre Dame Law School, where he conducted his research project and studied international human rights law, especially with Kellogg Faculty Fellow Paolo Carozza.
After his return to Ukraine, Stetsyk reached out for a recommendation to another program from Carozza, who informed him of the fellowship opportunity at the Kellogg Institute. Stetsyk was accepted and arrived in January. He expressed gratitude for the opportunity and especially for the support of Denise Wright, the assistant director.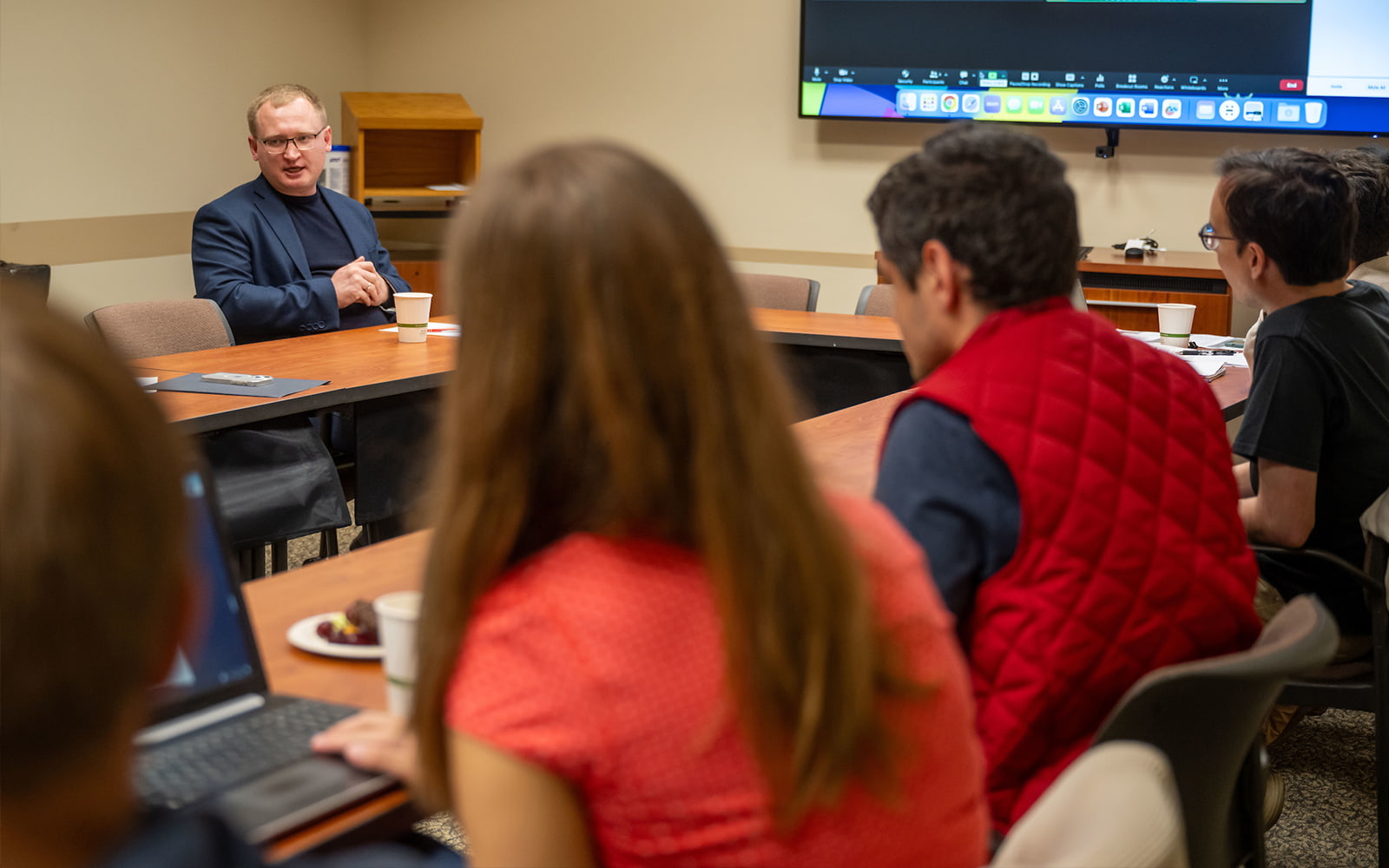 His project this year has been to study how to strengthen the judicial branch in Ukraine by increasing dialogue between different courts and by ensuring consistency in human rights cases. In his current human rights case study, for example, he said Ukrainian courts may be able to draw upon the legal reasoning and positions used in similar cases abroad.
While some countries are reluctant to rely on foreign views and the experience of other countries for fear of a nationalist backlash, countries like his own can benefit from the use of comparative materials and dialogue between courts. He said many Ukrainian court cases have focused more on resolving institutional issues than on addressing substantive human rights issues. He aims to write studies that will provide knowledge about how other courts have handled these issues.
"A democratic majority cannot decide any issue in restricting, for example, the rights of minorities," he said.
Strengthening the court system in Ukraine is foundational to improving human rights, Stetsyk said, because only the courts can guarantee equal rights. Courts must be independent and strong to stand up to the other branches of government, especially an autocrat.
"Democracy is a challenging issue because we have this populism movement," he said. "The problem in the U.S. and Europe is that populist leaders get power in a relatively free and fair election. But when they get power, they want to conserve it, to concentrate it. The first thing autocratical regimes want to do is what happened in some Eastern European countries—they capture the judicial system and make it dependent."
Ukraine since the fall of the Soviet Union in late 1991 has struggled with problems of corruption at all levels of government. Democratic traditions were not fully established and corrupt oligarchs gained power. Those who became newly rich through unfettered capitalism sought to buy more influence.
While he does not specifically study corruption laws, Stetsyk said he must speak up for the judiciary because politicians regularly accuse the judicial system of corruption in the media. Since judges refrain from trading accusations, Stetsyk hopes to step in the breach.
"We need a political culture of respect, one branch to another," he said. "I'm not very confident about that in the current wartime situation, but still, in post-war reconstruction, I hope so and I will keep trying."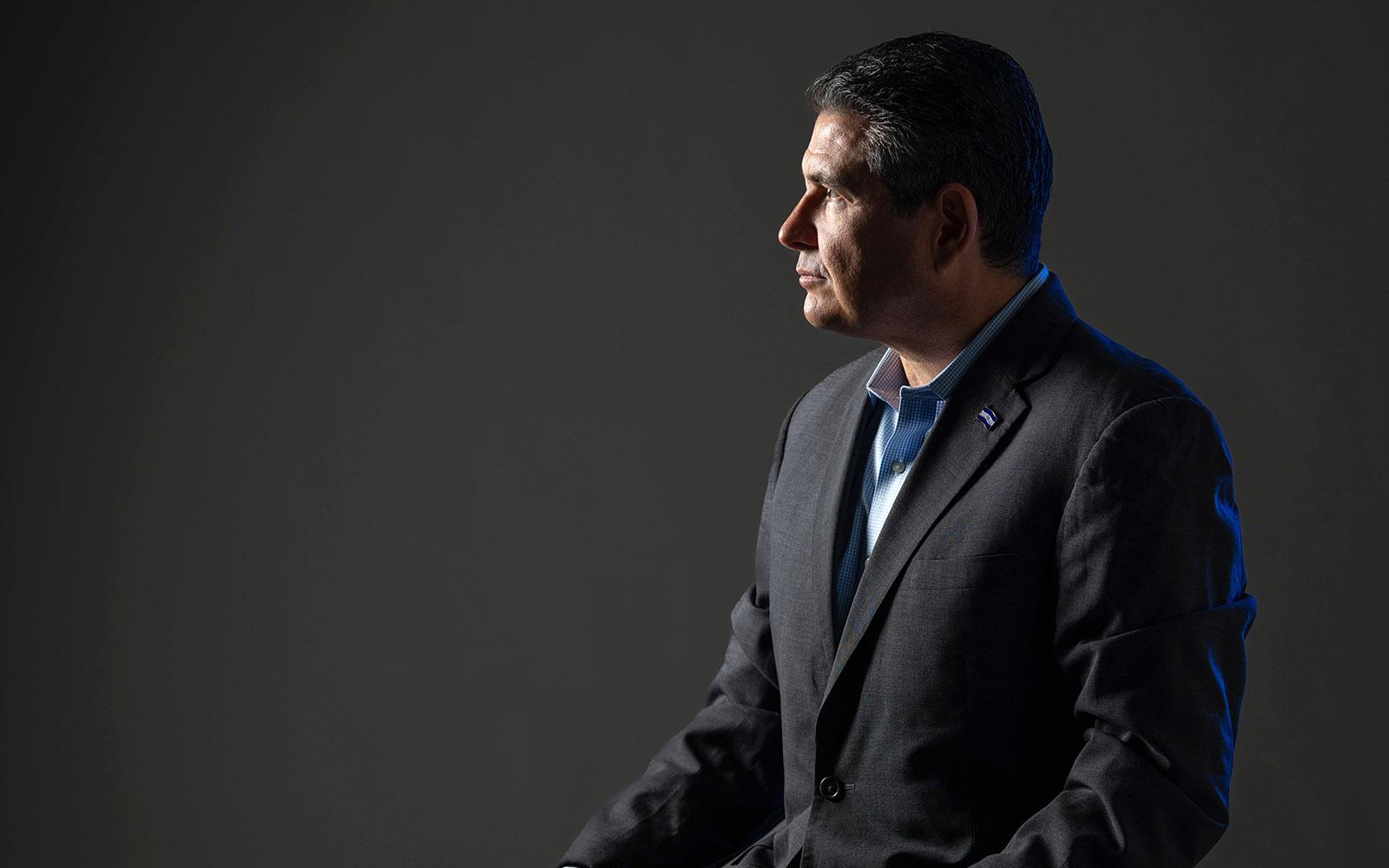 Juan Sebastián Chamorro
They showed up in the night and took him to a special jail, making him another of the "disappeared" in Nicaragua.
For the first three months, Juan Sebastián Chamorro was not able to talk to anyone at all. Not his family, not a lawyer, not even the other political prisoners. The bed was cement, and food and light were scarce. But he was questioned for hours each day, part of a "soft torture" that included not knowing if his wife and daughter, now an architecture student at Notre Dame, had escaped the country. Before his June 2021 arrest, Chamorro had been a presidential candidate.
"One of the interrogators said, 'You should feel lucky because the comandante has ordered us not to beat you,'" he said. "I responded, 'Well, that's a nice confession that you admit you were beating the other guys before.'"
Chamorro, an economist and businessman from a prominent Nicaraguan political family, spent 611 days as a political prisoner before being released and deported in February 2023. Now, he is a visiting fellow in the Kellogg Institute for International Studies, writing a book about his harrowing experience in jail in the broad context of Nicaraguan history.
"The book has basically two objectives," he said. "One is to bring memory, something that is extremely important in the fight for human rights. Those written words can be used as a proof of violation of rights in the international court system to bring perpetrators to justice.
"The second objective is to talk about more how this dictatorship came into being. How Daniel Ortega, after losing the president election in 1990, then regained power and became a dictator in 2006. So my personal story will be in parallel with the story of the country."
Born in 1971 as the last of five children, Chamorro had an uncle who was a newspaper editor and opposition leader who was killed by the Somoza regime in 1978. This assassination helped spark the Sandinista Revolution that ended the 43-year dictatorship of the Somoza family.
"I grew up in a family where politics, freedom, democracy has always been the topic at the table," Chamorro said. "And after my uncle was assassinated, that was the end of Somoza."
His uncle's widow, Violeta Barrios de Chamorro, successfully ran for president in 1990, defeating Sandinista leader Daniel Ortega, and served until 1997. Meanwhile, Chamorro went to the Jesuit high school in Managua and registered for the National University there to study economics.
Noting that the curriculum at the time consisted entirely of the Marxist philosophy of the Sandinista government, Chamorro chose instead to study economics at the University of San Francisco as an undergraduate and then Georgetown University for a master's degree program based in Santiago, Chile. He took a government job in 1997 in the Ministry of Agriculture before returning to his studies, earning a doctoral degree in economics from the University of Wisconsin in 2002.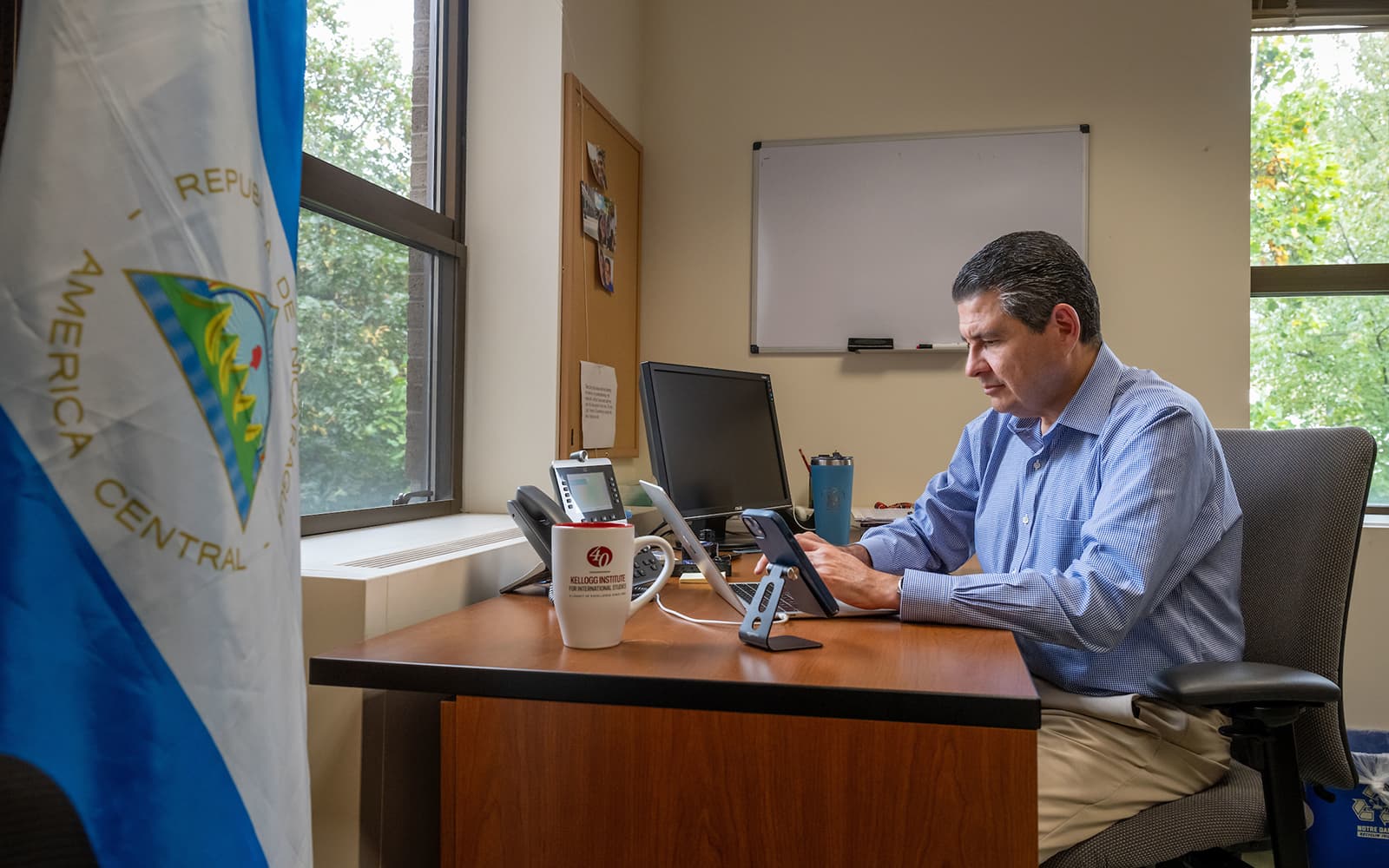 He returned to government service in Nicaragua, serving in roles such as the Minister of Planning and Vice Minister of Finance, as well as the Nicaraguan director of the Millennium Challenge Corporation, a U.S.-funded development program that spent millions on boosting rural development, building roads, and settling property rights. After Ortega won the 2006 presidential election, Chamorro spent a handful of years running an agro-industrial company.
"The company was making money but it wasn't my thing," he said. "I wanted to work on policy development, so I applied and became the director of FUNIDES, the main economic think tank of the country."
He said FUNIDES analyzes and studies the impact of government programs, focusing on policies more than politics, and gained credibility as a serious organization. When students began protesting the Ortega government in 2018 and violence erupted, Chamorro was chosen as a business representative in a National Dialogue initiated by the Catholic Church.
Those opposing Ortega formed the Civic Alliance, called for Ortega's resignation, and invited the Inter-American Commission on Human Rights to document abuses. The protests and blockades continued, and Ortega responded with a military crackdown that resulted in hundreds of killings. Marches organized by students and mothers of those killed ended in more shootings. Ortega arrested about 800 people who were identified as protest leaders.
Chamorro was among the leaders chosen to negotiate an end to the crisis. The political prisoners were eventually released, reporting that they had been physically tortured.
"What we wanted was early elections and democratization of the country, but we never got to that point," he said. "We knew the dictatorship was not giving concessions, and we're just wasting time."
By 2021, Chamorro decided to challenge Ortega in the presidential election that year even though the process would not be free and fair. When the opposition candidates agreed to hold a primary and all support the winner, Ortega recognized a threat and began arresting the leaders and about 40 others in June.
The government had already changed the law from requiring those arrested to appear in front of a judge within 48 hours to a new standard—90 days. Ortega had been in prison in his youth, and Chamorro said he learned from that experience to prohibit communication there in order to stop friendship and organized opposition.
"Jail in general is very noisy, but this jail in particular for the two years was extremely quiet, because there was an officer in the hall keeping us from speaking to each other," Chamorro said. "Even criminals in the penitentiary system have the right to have material to read. But we were never allowed to have something to read or write. Not even Nelson Mandela had that. It was a very tough time."
The prisoners learned sign language to communicate. They were also not allowed visits from family, lawyers, or news of the outside world. "There's a lot of trauma that you develop with the anxiety of not knowing," he said.
Meanwhile, Chamorro's wife, Victoria Cárdenas, left the country and his daughter, an American citizen, started college at Notre Dame, where Chamorro's father had attended as well. He said his business-oriented wife did not like politics and public speaking, but transformed herself to become the leader of an international pressure campaign to release the political prisoners.
Sporadic visits began after the first three months. In early 2022, a series of sham trials were held to convict the prisoners of various offenses. Chamorro was condemned to 13 years in prison for treason and barred from running for office.
By the end of that year, Chamorro began to notice changes inside the prison. After having lost more than 30 pounds, he was suddenly allowed meals brought by visitors, who were able to come more regularly. The prisoners ate voraciously, suspecting that Ortega wanted them to appear healthier for the media. They were allowed to pray the Rosary.
On February 8, a police officer showed up at Chamorro's cell with his former clothes. He was herded into a larger cell with others, then put on one of three buses with the windows covered in blankets. Not told where they were going, the prisoners traded rumors about going to another court show or the violent regular prison outside the capital city.
"We went all the way to this road that leads to two places: one is the international airport, and the second one about 10 miles further is the Modelo Prison," Chamorro said.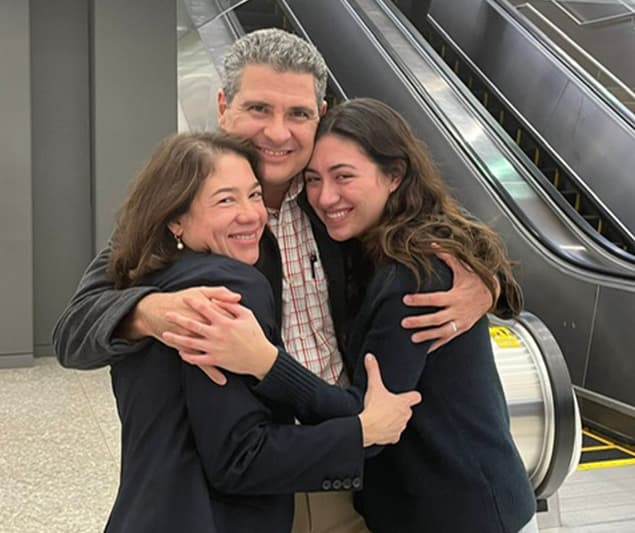 He breathed a sigh of relief when the bus turned onto the tarmac. A police officer announced that all 222 prisoners would have to sign a document agreeing to be exiled to the United States. All agreed but one, Bishop Rolando Álvarez, who was then sentenced to 26 years in prison.
Chamorro said Ortega made a mistake out of spite. "When we were flying, they confiscated our properties and we were stripped of our nationality, which is considered a crime against humanity, and he left evidence," Chamorro said.
As a stateless citizen, he was admitted to the U.S. on humanitarian parole and is applying for political asylum. He first became aware of the Kellogg Institute fellowship from a Kroc Institute adviser who had come to help in the fruitless peace negotiations.
"I had that connection with Notre Dame through my daughter and my dad, and Kellogg works on issues of economic development and democracy," he said. "The generosity provided to me is a great opportunity to sit at a table and write about my experience."
After finishing his book, Chamorro said he hopes to campaign for justice in Nicaragua and eventually return home. His native country suffered about 70 years of dictatorship in the last century, but the brief experience of democracy in the 1990s provides some hope.
Chamorro noted that democracy itself is not the end goal; a sustainable democracy must provide freedom and justice for its citizens. "People are tired of governments that don't provide answers and solve people's problems," he said.
For an example, Chamorro pointed to Latin American governments suspending civil liberties in their fight against organized crime, in itself a good cause. Extremist and populist methods may seem preferable if they put criminals in jail, even if these processes weaken the rule of law.
"The number of people being killed by crime in Latin America each day is amazing" he said. "So if you're a poor individual living in a dangerous neighborhood, and you have a guy who solved the problem, who are you going to vote for? A regular voter says, 'Why should I care about due process when they kill my family?' It is dangerous for democracy that people do not care about due process."
"It's a tough time for democracy right now."