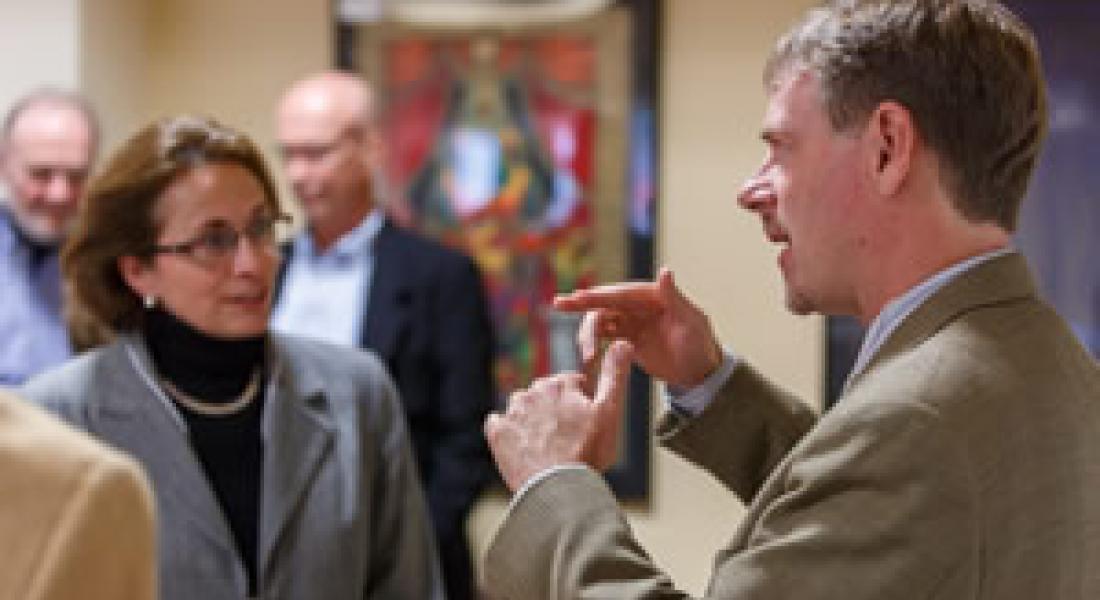 An international conference held at the Kellogg Institute in October brought together social scientists, philosophers, and development practitioners to deepen an ongoing investigation of the role of human dignity in human development theory and practice begun at a 2014 conference.
"Approaching human development from the perspective of human dignity serves as a locus for dialogue across differences that might otherwise be intractable in the global environment," said Kellogg Director Paolo Carozza, who leads the multiyear research initiative.
Rather than crafting a new "dignity approach" to development, the project aims both to identify principles and methods that enable practitioners to value human dignity in their work, and also to enhance scholarly understanding of human dignity through the experience of development practice.
Key themes running through the conference were the relational as well as individual nature of human dignity and the centrality of agency to people realizing their inherent dignity in a variety of cultural contexts.
In her opening plenary, international development specialist Séverine Deneulin (University of Bath) spoke on the value of accompaniment and solidarity in the development process. "One becomes an agent through interaction with others," she said, noting that there is no single method for accompaniment. "It takes an infinite variety of forms."
Findings from the Kellogg community
Among the highlights of the conference were short dives into specific contexts of development by a variety of social scientists and practitioners, many of them Kellogg faculty fellows.
Psychologist and management expert Matt Bloom uses a variety of methods to explore what makes work life enhancing. Giving primacy to subjective experience, he focuses on the real-life, lived experience of human flourishing and dignity in various international contexts. "Dignity and flourishing are not static states," he said, noting that he is cautious about the idea of measuring dignity. 
Anthropologist Catherine Bolton described the concept of human dignity in post-conflict Sierra Leone, where the efforts of international organizations to help children by applying universal rights, such as mandatory education, have upended childrearing practices.

"Sierra Leonean personhood is bound up in relationality," she said. Traditionally, parents teach children to be "for" someone else by doing chores and caring for others. Agency is collective and people are "human doings, not human beings."

"Dignity is not a quality but an action," she explained. "People understand their self-worth in terms of usefulness to others." Teaching kids to be "for" themselves—neglecting family work for school, for example—has undermined traditional concepts of being human. 
 
Economists Wyatt Brooks and Terry Johnson described the Kellogg-funded field experiment they are conducting in Dandora, Kenya. Studying the path to success for young entrepreneurs in a very poor community, they have found remarkable benefits to mentoring, a simple, agency-based intervention, which they compare to more typical but less effective business skills training.

Mentorship is cheap and easily scalable, they pointed out, generating and leveraging community relationships and resulting in improvements in both material and integral development.
 
Anthropologist Rahul Oka described his ongoing research in the Kakuma Refugee Camp in Kenya, where he is studying markets as mechanism of development and working with the UN High Commission on Refugees and the World Bank on a new template for refugee resettlement.

"People in the camp continually brought up dignity," often identifying it by its absence, he said. Both dignity and indignity are culture and context specific, as well as relational, he has found. Indifference has a particular bite, making people invisible and voiceless.

"Markets are a forum that can enable or disable dignity through inclusion or exclusion," Oka said. Markets inside the camps allow people to gain dignity by purchasing normalcy. 
 
Economist Bruce Wydick (University of San Francisco), a Kellogg distinguished research affiliate, presented early results from a field experiment in Oaxaca, Mexico conducted in collaboration with political scientist Rev. Robert Dowd, CSC. Working with women microfinance participants, they are investigating if boosting aspirational hope can also boost economic development.
"Hope is both a means and an end in the promotion of human dignity," said Wydick, who maintains that variables closely related to dignity can be rigorously measured. 
Engineer Tracy Kijewski-Correa, identifying herself as practitioner, described a co-creative approach Engineering2Empower has recently taken in Haiti that exemplifies the power of agency-focused development.

After asking, "shouldn't people the closest to the problem be the architects of the solution?" the group conducted "innovation incubators," a transparent, community-wide competition to solve community challenges. Incorporating a training component and evolving in response to participant suggestions, it was "wildly successful" at tapping into the value of self-engagement.

"The answer was always inside us, but no one bothered to show us," Kijewski-Correa quoted one participant as saying. Incubator graduates have gone on to start innovation clubs to help solve other community problems. 
 
Political scientist Michael Coppedge discussed how Varieties of Democracy (V-Dem) measures the complex nature of democracy;
 
Dowd outlined the Nnindye, Uganda community engagement undertaken by the Ford Family Program in Human Development Studies and Solidarity; and 
 
Economist Joseph Kaboski explored the narrow but important role economics plays in integral human development. 
 
Contributions by social scientists, practitioners, and philosophers
Social scientists from other institutions, including a trio of economists, added to the dialogue.
Development practitioners from Kellogg partner organizations AVSI and Catholic Relief Services (CRS) discussed how an emphasis on human dignity plays out in the field.
"We envision a world where persons are aware of their infinite human dignity and are protagonists in their lives," said Jackie Aldrette, who with Chiara Nava described AVSI projects in Ecuador, Haiti, Mexico, Rwanda, and the Democratic Republic of Congo. Rooted in Catholic social teaching, their work aims to build agency among participants. 
Paul Perrin focused on measurement as an integral part of CRS development practice. "We need to think about process," he said. CRS is piloting a new way of measuring dignity by using a feedback loop to learn from aid recipients in a way that respects their dignity.
Philosophers were a new and welcome addition to the project's dialogue between practitioners and social scientists.
David Crocker (School of Public Policy, University of Maryland) discussed dignity as the foundation for participatory or collective agency;
Jay Drydyk (Carleton University) stressed the importance of "equal dignity"—that everyone's striving to live well matters, and matters equally; and
Lori Keleher (New Mexico State University) suggested that the incorporation of human dignity into development is an ongoing process, special in that it makes practitioners more conscious of their own humanity.
Already underway is an edited volume that will gather selected papers from this year's conference as well as the 2014 conference. A June book workshop is planned to discuss the manuscript.