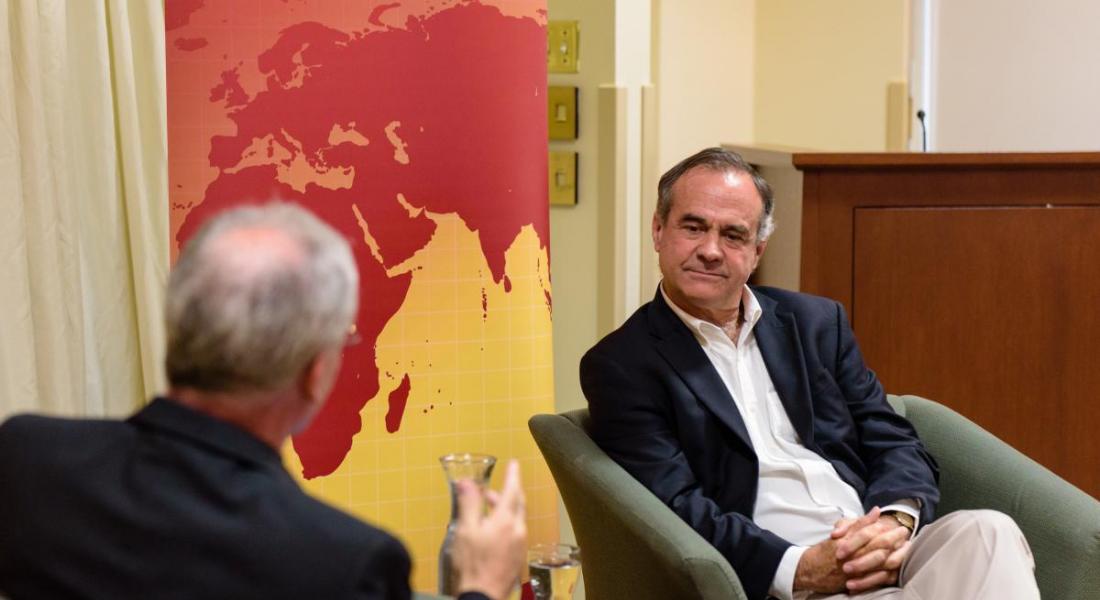 Ignacio Walker has been involved in the world of politics since as a 17-year-old he experienced Chile's military coup. With a long and distinguished career as a politician and scholar, he was also an early Kellogg visiting fellow, and he has been a long-time friend of the Institute. In 2013, he published Democracy in Latin America: Between Hope and Despair in the Institute's series with the University of Notre Dame Press.
Now a Chilean senator, Walker recently spent three days on the eve of his re-election campaign launch talking about political leadership with a variety of Kellogg audiences. 
"Over the last 40 years," says Kellogg Director Paolo Carozza, "Ignacio has been involved in the political fate of democracy in the Americas in each of its stages—through the dictatorship in Chile, the region's transition to democracy, and now working through the challenge of social inclusion in the consolidation of democracy." 
"Very few people can bring this perspective to us at Kellogg. He is so deeply realistic, without being ideological. He really listens to people, and he recognizes that politics is the art of what is possible and requires compromise."
In his Kellogg visit, Walker shared his experiences with leadership in an event and private conversations with undergraduate, doctoral, and MGA students, and with a wider audience in a public Institute lecture. 
"The cornerstone of my creed is the intrinsic value of human rights and democracy," he said. "Studying law under the dictatorship, we realized the contradiction of what we learned in the classroom and what we saw in our country, region, and the world. We learned the hard way."
"Democracy is the political regime of freedom. Having seen the true face of tyranny under the dictatorship, my life is dedicated to human rights."
Since 1990, Walker has served Chile in a variety of capacities, including as secretary of state (2004–06) and president of the Christian Democratic Party (2010–15). He has been a member of parliament twice, most after being elected senator in 2010. 
He has had ample opportunity to think about the responsibilities of political leadership.
"As politicians we deal with human beings in their complete reality," he told students. "Politics has to be a dialogue, not a monologue." 
Is there a "crisis of leadership" in Chile today?  On that question Walker took the long view.
"On balance," he says, "I am positive about Chile. Chile is not falling apart." But in spite of a stable political system, there is "a kind of malaise," he said. "What is happening is a crisis of politics—of alienation, of trust, of representation."
He emphasized impressive advancements in education, poverty reduction, and infrastructure development under democratic governments.
However, in Chile's current government, "we have not delivered," he said. Economic growth is low. The emerging middle class—the heirs of an earlier generation that benefited from strong economic growth—rejects the country's turn to the left. 
The coming election cycle will benefit from a change in the country's electoral system, which "will allow parties to put their cards on the table," he said. His Christian Democratic Party will leave its coalition to go out on its own.
Walker regrets current revisionist views about the merits of the country's transition to democracy.
"I am willing to defend the transition," he said. "I think it was very successful. I feel that the 20 years that followed were the best years of the last century in Chile. The paradox is that this revisionism will most likely cause people to elect a right-wing government."
He made it clear that it is the job of political leaders to respond to the needs of the citizens they serve. "You can deal with new demands and aspirations," he said. "That's what the democratic process is about."
In addition to public talks and meetings with students and faculty, Walker spent time at Kellogg serving as a consultant to the Institute's nascent Global Leadership Program, which plans to focus on curricula, case studies, and networking related to ethical, reflective leadership.
Program director Rev. Daniel Groody, CSC, said the input was invaluable. "Ignacio's experience and vision will be critical in helping us think through how to help form transformational leaders for these critical times."
 
The Kellogg Institute for International Studies, part of the University of Notre Dame's new Keough School of Global Affairs, is an interdisciplinary community of scholars and students from across the University and around the world that promotes research, provides educational opportunities, and builds linkages related to two topics critical to our world—democracy and human development.