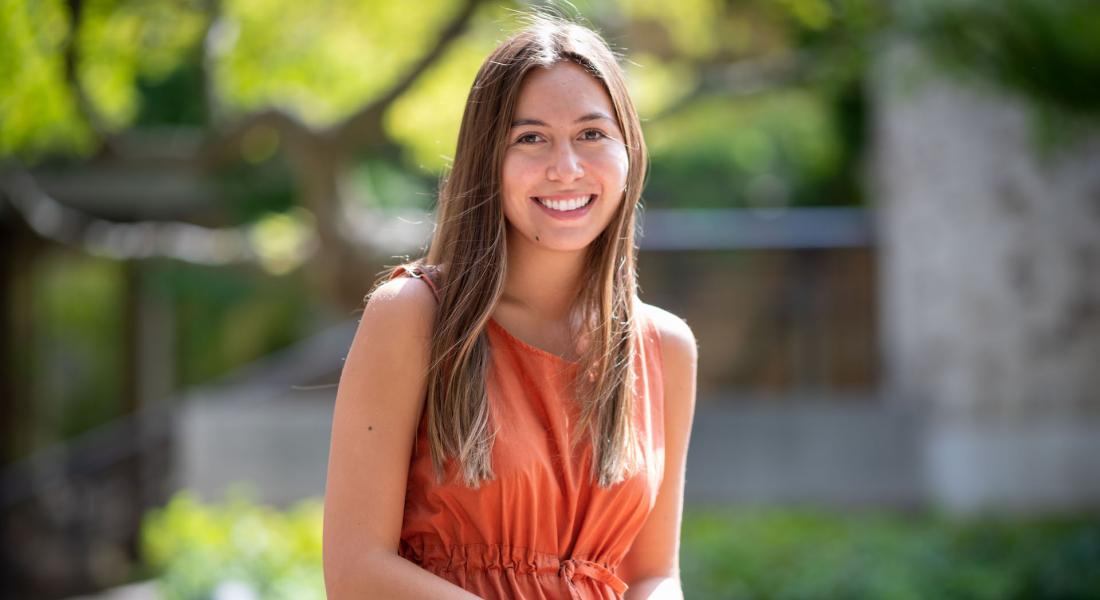 The summer after her freshman year at the University of Notre Dame, Tatiana Silva '21 started volunteering at South Bend's St. Joseph Regional Medical Center. There, while taking patients' vital signs and asking routine questions about their medical histories, she often worked with pregnant women and observed how doctors were able to quickly detect and monitor any complications they had, like gestational diabetes or high blood pressure.
As an aspiring obstetrician, Silva was passionate about maternal health. But her broader interests in global health and gender led the Kellogg International Development Studies (IDS) minor to wonder how women in developing countries dealt with similar pregnancy complications.
"People face those same complications in developing countries and their medical facilities may not be equipped to deal with it," the science business major said.
Through IDS, Silva has combined her interests in development and medicine to study the quality of obstetric care in Latin America, as well as a topic of emerging interest worldwide: the mistreatment of women during childbirth.
Through an Experiencing the World Fellowship, Silva traveled to rural Peru the summer after her sophomore year to study the barriers at-risk women face in getting adequate prenatal and postnatal care.
And in the summer of 2020, she began working on an ambitious IDS capstone project that involved surveying hundreds of Argentine women about their experiences with obstetric violence – the violation of a woman's rights, including physical or verbal abuse, while receiving medical care during pregnancy, childbirth, and postpartum.
Obstetric violence can take the form of bullying, humiliation, or forcing a woman to undergo a medical procedure – for instance, a vaginal exam, Cesarean section, induction, or episiotomy – without her consent. It also includes sexual comments or sexual assault, as well as the use of physical restraint during birth.
"Obstetric violence is something that's happening across the world," Silva said, "and Argentina has been one of the pioneers in bringing attention to it."
Silva's research examines the effectiveness of a relatively new law in Argentina that seeks to protect women from obstetric violence, guaranteeing "a woman the right to be treated as a healthy, informed decision-making participant in her own labor, delivery, and postpartum period."
Argentina enacted the law in 2004 but didn't put regulations behind it until 2015. Today,
Argentina, Venezuela, Mexico, Uruguay, and Brazil are the only countries in Latin America with such laws, even though obstetric violence is recognized as a problem worldwide. A 2019 survey led by the World Health Organization found that nearly 42 percent of women involved in the study experienced obstetric violence. It concluded that "younger, less educated women were at highest risk, highlighting the need for multilevel interventions."
Her advisor, Faculty Fellow Vanesa Miseres, an assistant professor of Spanish who studies obstetric violence in Latin America, said Silva's work is important because it sheds light on the importance of viewing obstetric violence as a form of gender-based violence.
"Although this form of violence occurs worldwide, it remains largely undocumented and unspoken about," she said. "The fact that her project is articulated from the United States but focuses on a Latin American country speaks to the importance of thinking about obstetric violence as a global health issue with very particular local manifestations."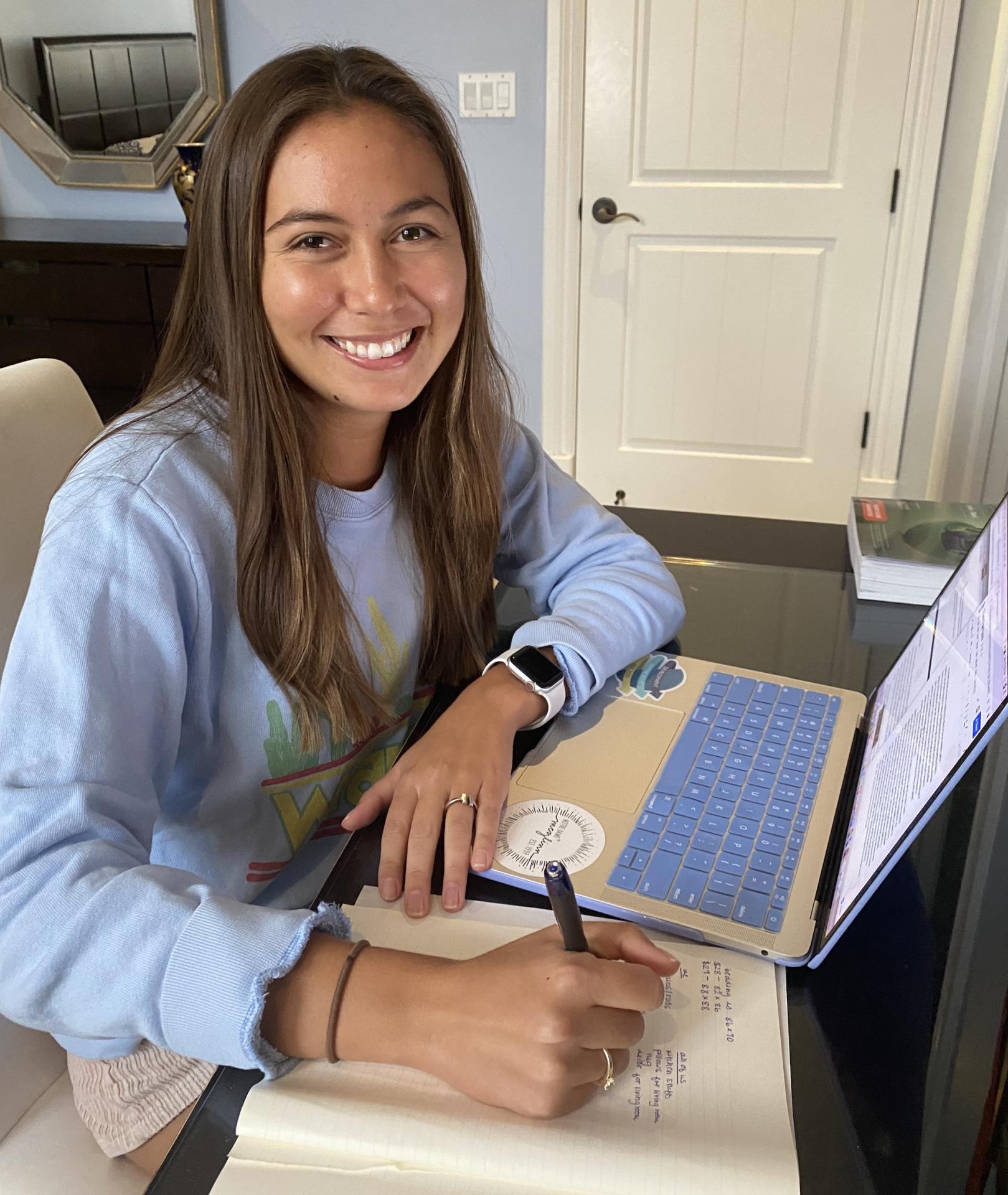 'Alone and vulnerable'
The coronavirus pandemic upended Silva's plans to conduct fieldwork in Buenos Aires, forcing her to develop two different virtual surveys to gather data, rather than rely on in-person interviews.  
It also gave her a new and unexpectedly timely angle for her research: How were protections for pregnant women – including their right to be accompanied by a partner during medical exams and childbirth – altered because of COVID-19?
In one survey, Silva asked approximately 30 pregnant women about their medical care during the pandemic. Many expressed nervousness about not being able to see the doctors behind their masks and about the possibility of contracting COVID during their appointments.
But most concerning was the fact that, because of physical distancing restrictions, the women weren't allowed to bring a partner or someone else with them to their appointments.
"The women were alone in medical situations, and we know women are at an increased risk of facing obstetric violence when they're alone and vulnerable and don't have someone in the room with them," she said.  
Silva's second survey questioned some 200 women, all of whom had been pregnant within the last 10 years, about their treatment during pregnancy. Her goal was to see how women's perceptions of their care had changed in the years after the law was implemented; her preliminary findings indicated that their experiences varied widely depending on the sensitivity of their doctors. To address the disparity, she recommended training for medical providers that encourages them to better take patient needs into account.
She also took part in Zoom calls with nongovernmental organizations in Buenos Aires that allowed her to hear pregnant women describe their concerns about their rights potentially being violated while giving birth during the pandemic.  
Silva said Miseres, who studies cultural representations of obstetric violence in Latin America, played a crucial role in her research by connecting her with colleagues in Argentina who study obstetric violence, and by helping her polish grant proposals and survey questions.
Miseres, meanwhile, described Silva as curious, receptive, and flexible – qualities fundamental to carrying out scholarly work in general, and ones that were particularly useful during a pandemic.
"Over these months, I have also valued her ability to adapt herself to new research circumstances as well as to bring new questions to her project that could engage her interests with the pandemic context," Miseres added.
'Through IDS, my worldview has broadened'
Silva said she became an IDS minor because it gave her the opportunity to do research on maternal health early in her academic career.
"Most of my classes for my major were very science based, very quantitative. There was little discussion and little focus on social issues," she said. "I wanted something related to social issues and something I could get very involved in. With IDS, you can get involved in doing research for your capstone project even after your freshman year." 
Silva hopes to work with a development organization after graduation and plans to attend medical school within a few years. Without IDS, Silva said she wouldn't be on the path to working in the maternal health field.
"IDS has been one of my favorite parts of being at Notre Dame because I've met so many interesting people and been able to travel to some amazing places, like Peru, completely on my own," she said. "Through IDS, my worldview has broadened. You realize that there are so many things that you are passionate about that are bigger than yourself, and it really makes you think more outwardly."