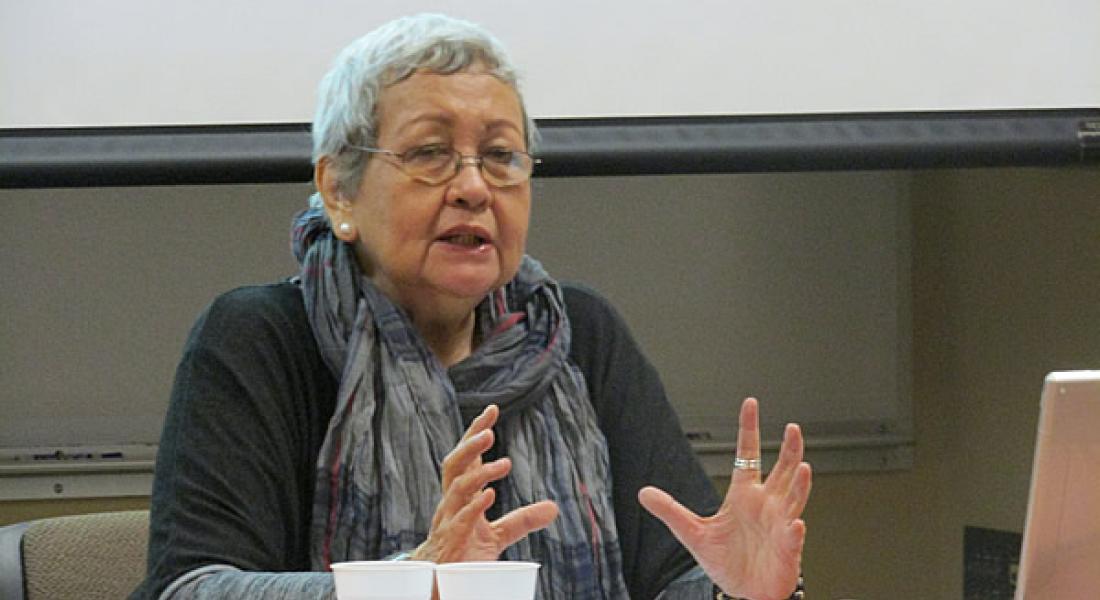 During her visit to the Institute last month, the Kellogg Institute community had the opportunity to engage on several levels with Virginia Dandan, the UN Human Rights Council's independent expert on human rights and international solidarity.
Based in Geneva, Dandan holds a mandate from the UN Human Rights Council to draft and present to the UN a declaration of the international right to solidarity.
At Kellogg, Dandan addressed students and the wider community on the concept of international solidarity, in dialogue with Visiting Fellow Luigi Crema. She also spent time with a group of international legal scholars from the Kellogg Institute and the Notre Dame Law School in order to receive feedback on the draft declaration.
"It was wonderful to have the opportunity to engage in a very direct way the discussions going on in Geneva relating to international solidarity," said Kellogg Director Paolo Carozza, one of the participants in the expert workshop. "We appreciate the chance to help the international system become more oriented toward addressing problems of poverty in the world."
In their time together, the legal scholars offered Dandan a number of suggestions for strengthening the draft declaration and debated such topics as the various definitions of "solidarity" and whether there is indeed a "right" to what is without doubt an important principle for the international community.
Dandan told students that one definition of international solidarity used at the UN is "cooperation in solving international problems of an economic, social, cultural, or humanitarian character." She affirmed that such solidarity among all nations will be key in the drive to accomplish the UN's new Sustainable Development Goals.
"Not a single country in the world can do this on its own, not even the wealthy ones," she said.
In accordance with Dandan's mandate, she will submit the revised declaration to the UN in 2017, after official consultations take place around the world.
The Kellogg Institute for International Studies, part of the University of Notre Dame's new Keough School of Global Affairs, is an interdisciplinary community of scholars and students from across the University and around the world that promotes research, provides educational opportunities, and builds linkages related to two topics critical to our world—democracy and human development.