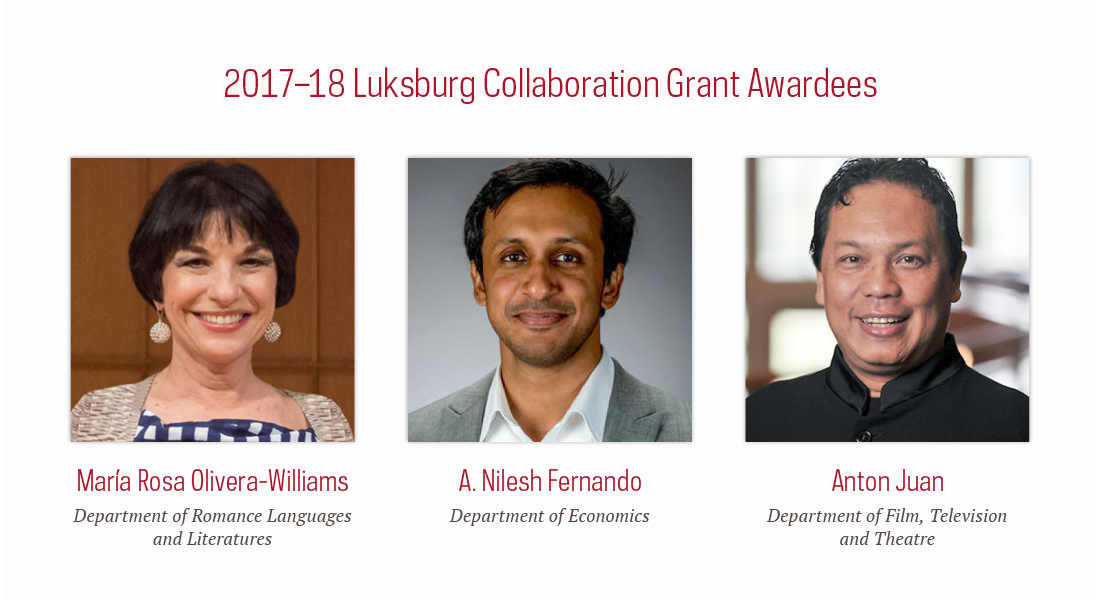 Three Kellogg Faculty Fellows are among the Notre Dame faculty members that have been awarded Luksburg Foundation Collaboration Grants this year for projects with Pontificia Universidad Católica de Chile (PUC) faculty in Santiago, Chile.
María Rosa Olivera-Williams (Romance Languages and Literatures) will partner with PUC scholar Cristián Opazo Retamal on the project "University and Catholicism: Memory Studies as a Project of Cultural Politics," A. Nilesh Fernando (Economics) and PUC partners Jeanne Lafortune and Jose Tessada will plan "The Notre Dame-PUC Luksburg Conference on Development Economics," and  Anton Juan (Film, Television and Theatre) will work with fellow Notre Dame faculty member Anne Garcia-Romero and PUC partner Alexei Vergara on "Devised Theater."
 
Through a generous gift, the Luksburg Foundation began this grant program in 2013 with Notre Dame International and the Kellogg Institute for International Studies to encourage collaboration between Notre Dame and PUC faculty to further their research. Grants have been awarded over the years to more than 40 projects in 20 disciplines.
 
"This is a tremendous program for Notre Dame faculty and staff to engage in collaborative projects ranging from cultural studies to economics, physics to theatre with colleagues at the Catholic University in Chile," said Steve Reifenberg, senior strategic advisor for the Kellogg Insitute and codirector of the Integration Lab of the Keough School of Global Affairs. "The cumulative impact of these investments over the past four years has been remarkable in building long-term relationships and research partnerships."
 
"The strong proposals we received from Notre Dame faculty members from several disciplines across the University is a testament to the quality of our partnership with the Pontificia Universidad Católica de Chile and to Notre Dame's commitment to the region," said Warren von Eschenbach, associate vice president and assistant provost for internationalization.
 
More information about the Luksburg Foundation Collaboration Grants, including details on former recipients, can be found here.
 
Contact: Joya Helmuth, director of operations and communication, Notre Dame International, jhelmuth@nd.edu
Originally published at international.nd.edu.