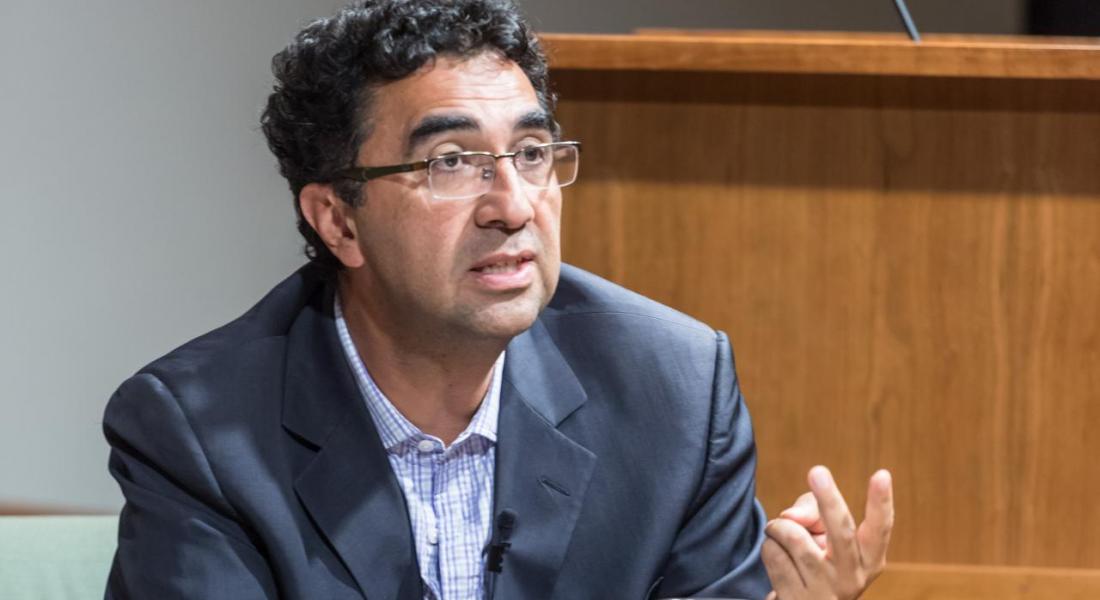 They wear uniforms of jeans and t-shirts and have no formal law enforcement training. Yet the police in this mountainous, isolated region in southwestern Mexico – home to some of Latin America's poorest communities – have repelled the powerful narcos that have taken over a number of towns across the country.
Faculty Fellow Guillermo Trejo is studying how indigenous villages in the state of Guerrero's eastern highlands have banded together to bar drug traffickers from their communities. 
"It's mindboggling," he said of the villages in the Montaña/Costa Chica region, where police are usually subsistence farmers elected by community assemblies to two-year terms. "Everything we believe that works in good policing – high wages, professionalization, tenure – is not present here."
Trejo, a political scientist, is studying how the area has remained one of the most peaceful in Mexico despite being located in one of its most violent states. The initiative is part of his larger work studying criminal networks and transitioning democracies in Latin America, with a focus on his native Mexico. 
He and research partners Sandra Ley, a former visiting fellow now at the Centro de Investigación y Docencia Económicas (CIDE), and Shannan Mattiace of Allegheny College were awarded a Harry Frank Guggenheim Foundation award earlier this year to conduct a major survey of indigenous communities in southern Mexico – both those that have fended off the cartels and those that haven't. 
So far, they've found that a strong sense of accountability between villagers and local police sets the successful communities apart, making it nearly impossible for the narcos to corrupt local law enforcement. 
That bond between villagers and police is reinforced by close networks among neighboring villages, built over years of contact through Catholic ministries, leftist movements, and grassroots mobilizations for land and ethnic rights.  
That means that today, a small village trying to resist a cartel attack can call on its neighbors for help, and within a few hours have thousands of people confronting the drug lords. 
"There's strength in numbers," Trejo explained. "It's the power of trans-local solidarity that has made this region very resilient." 
His research is at times dangerous, taking him through areas with a strong cartel presence. His work is also politically fraught, with the Mexican government vacillating between supporting the indigenous communities' efforts and banning what it sees as illegal self-governance. 
"The government believes they are rebels, guerillas in the making. There's lots of misinformation," Trejo said. His work tries to shift that narrative "so governments don't try to destroy these communities, but help them do their work." 
Much of Trejo's other research, aided by co-authors Juan Albarracín, a former Kellogg PhD fellow (political science), and current PhD Fellow Lucía Tiscornia (political science), examines why some countries transitioning from dictatorship to democracy, such as Brazil, Mexico, or Honduras, experience a rise in criminal violence while others don't. 
They've found that nations that adopt transitional justice measures, such as truth commissions and judicial prosecutions, experience lower homicide rates and lower levels of criminal violence. 
In a dictatorship, Trejo said, organized crime often stems from collusion between authorities who need to silence their opponents and the criminals who carry out political murders in exchange for impunity. 
But those ties can be broken during the transition from authoritarianism to democracy. 
"If a country looks back into those repressive actors and exposes and dismantles their networks of corruption and criminality, the chances that they will play a leading role in the production of criminal violence in a democracy drops dramatically," Trejo said. 
Meanwhile, Trejo has helped develop a groundbreaking proposal for a national truth commission in Mexico – unveiled in July – to investigate alleged human rights atrocities committed by the government or organized criminal groups during Mexico's 12-year war on drugs. 
The proposal is based on the successful experiences of countries including Guatemala, Colombia, and Peru and aims to disrupt networks of collusion and corruption between security officials and drug cartels. 
"It seems to me that Mexican society is fed up after 150,000 murders in the past 12 years, more than 30,000 missing, and more than 300,000 people being displaced," he said.
Trejo said Kellogg is an ideal place to conduct his research because of the support he receives from colleagues and his close collaboration with both graduate and undergraduate students.
"My work fits in well with the main concerns of the Kellogg Institute – promoting peaceful democracy, and helping people improve their wellbeing."
"We don't live in the ivory tower here at Kellogg," he added. "We want to bridge academic research with the social world. Kellogg has always allowed me to do this. I am grateful for that every day."