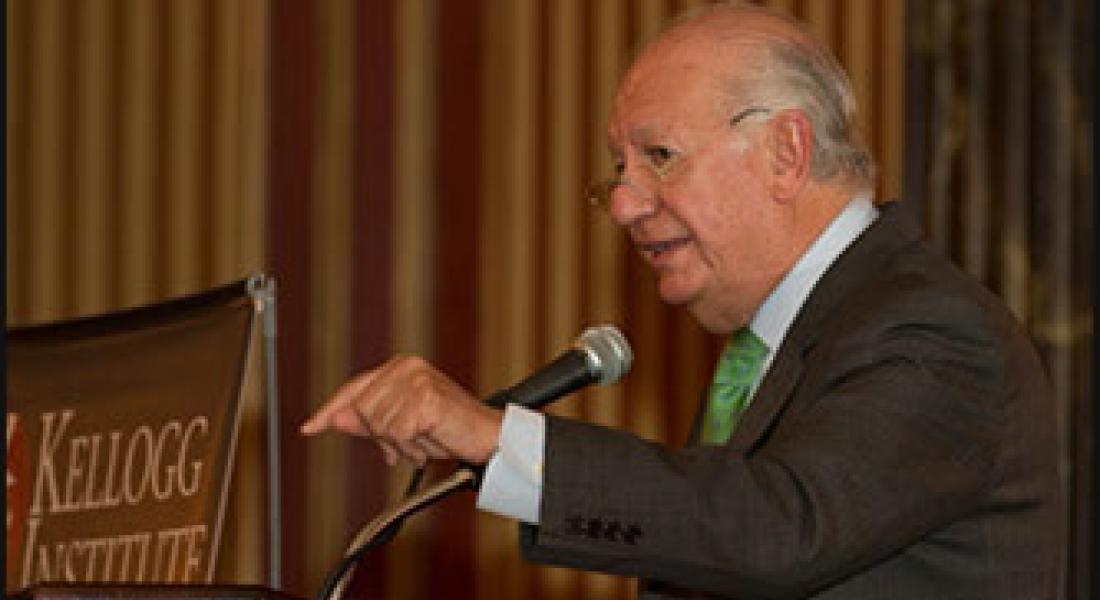 Former President of Chile Ricardo Lagos will deliver the first annual lecture established in honor of Guillermo O'Donnell, who served as founding director of the Kellogg Institute for International Studies.  The Institute will serve as host of the inaugural lecture.
One of Latin America's most prominent political scientists, O'Donnell was known for his visionary work on the nature of the region's authoritarian regimes, the dynamics of transitions from authoritarian rule, and on the imperative to improve the quality of new democracies.
"The legacy of Guillermo's work is an enduring one," said Kellogg Institute Director Paolo Carozza, who announced the lecture this week, two years after O'Donnell's death in November 2011.
"The issues of democracy and human development that Guillermo was most concerned about are very much at the core of the Kellogg Institute's work today. By hosting the Guillermo O'Donnell Memorial Lecture, we hope to draw new attention to those working to promote those twin aspirations of political participation and human welfare, in Latin America and around the world."
Ricardo Lagos is a widely respected economist and politician who established a lifelong friendship with O'Donnell while living in exile in Buenos Aires after Chile's military coup. At the time, Lagos was secretary general of the Latin American Faculty of Social Sciences (FLACSO).
Lagos returned to Chile in 1978 to lead the Democratic Alliance of parties opposing General Pinochet and served as president of Chile from 2000–06. He is currently the president of the Foundation for Democracy and Development, which he founded after leaving office.
The inaugural Guillermo O'Donnell Memorial Lecture will be held at the Latin American Studies Association (LASA) Congress in Chicago in May 2014. Also at the LASA conference, a group of O'Donnell's former Notre Dame PhD students, now professors in their own right, will present the special session "Democracy, Institutions and Agency: The Legacy of Guillermo O'Donnell."
Organized by Rossana Castiglioni (Universidad Diego Portales, Chile) and chaired by Timothy Power (Oxford University), the panel will also include David Altman (Pontificia Universidad Católica de Chile), Daniel Brinks (University of Texas at Austin), Charles Kenney (University of Oklahoma), and Andrés Mejía-Acosta (King's College London).