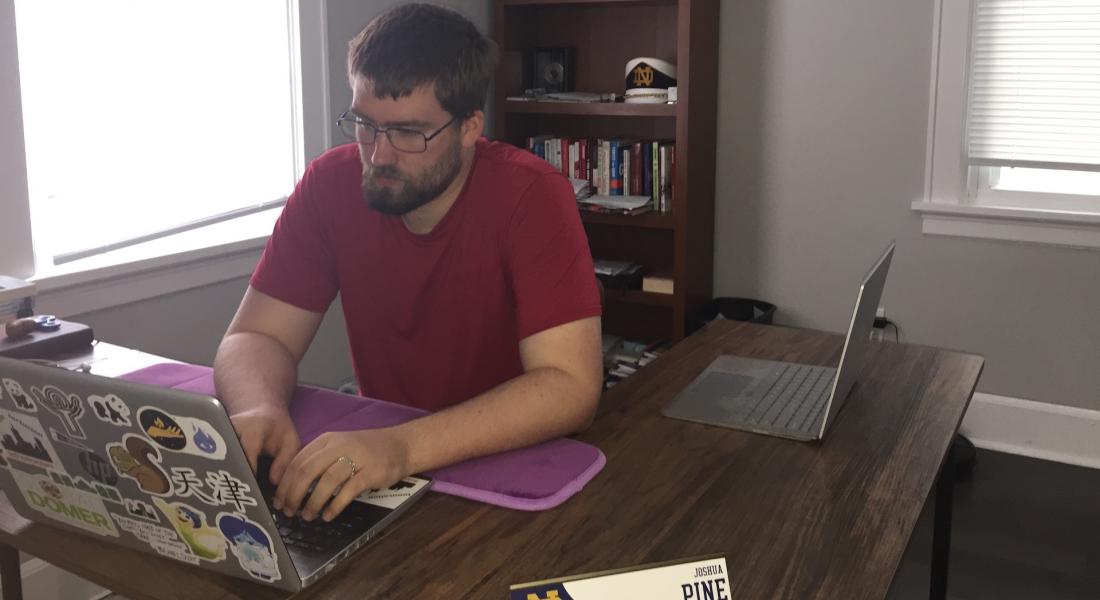 The Kellogg Institute for International Studies' new postgraduate fellowships are helping University of Notre Dame alums gain real-world experience in sustainable development.
Holly Rivers, Kellogg's associate director, said the fellowships help recent graduates gain practical job skills and become more marketable. Fellowship recipients are working at organizations including Catholic Relief Services, the Migration Policy Institute, and the Woodrow Wilson Center.
"They're making professional connections and developing skills that they'll use throughout their careers," Rivers said, adding that Kellogg plans to expand the postgraduate fellowship program in the future.
Samdrup Phurbu, who graduated in the spring from the Keough School of Global Affairs' master of global affairs program, hopes to eventually start an education initiative in his native Tibet. His fellowship took him to Chengdu, China, where he is working with a regional public health consultancy group to educate the public via social media about prevalent diseases and health issues in Tibet.
He said that while his fellowship doesn't directly align with his passion for education, "I am gaining experience in policy analysis, identifying and working with relevant stakeholders, communication strategy – all things I can later transfer to my own professional development."
Due to the coronavirus, most of the first cohort of postgraduate fellows are working virtually. Among them is Joshua Pine, a former Kellogg International Scholar and a 2020 master of global affairs program graduate, who lives in Cincinnati and is working this summer as a remote research fellow for the National League of Cities. He's also partnering with YARD & Company, a Cincinnati-based urban growth firm co-founded by Notre Dame grad Joe Nickol.
The fellowship has enabled him to pursue creative problem-solving on urban issues, both in Cincinnati and by engaging cities nationwide at the national level.
"Working remotely has enabled me to expand my professional engagement with DC-based organizations while still living in the Midwest, which I'm incredibly thankful for," Pine said.
Another former International Scholar, Christian Arega '20, is using her fellowship to study health policy for the Chicago-based Illinois Coalition for Immigrant and Refugee Rights on two projects. One compares the social distributions of disease among the state's immigrant populations and Black communities, while the second assesses charity care laws in different states with the goal of learning how to best help non-profit hospitals in Illinois provide care to uninsured patients.
Arega, who will pursue a master of public health degree at Yale University beginning in the fall, said her summer work aligns with her larger interest in global health.
"This position offers a great opportunity for me to better understand what it means to work in health policy and advocacy for health equity," she said.
To see a full list of postgraduate fellowship recipients and where they are working, click here.