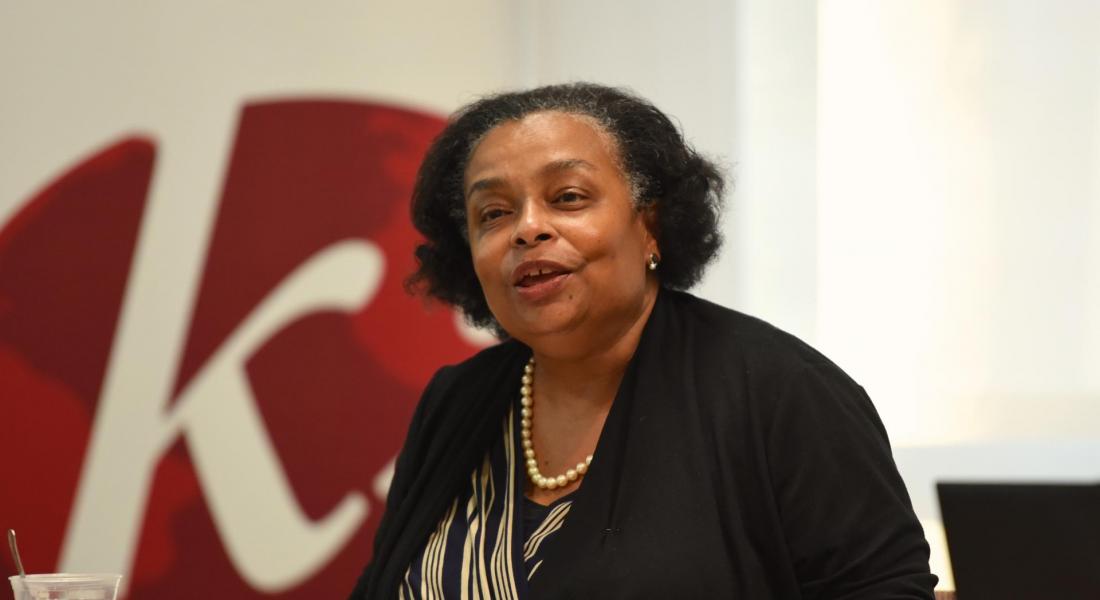 Kellogg Faculty Fellow Dianne Pinderhughes has been elected to the American Academy of Arts and Sciences (AAAS), one of the nation's oldest learned societies and independent policy research centers.
"I am honored to have been elected to membership in the American Academy of Arts and Sciences," she said, "and look forward to engaging in the work of this extraordinary organization."
Pinderhughes is chair of the Department of Africana Studies, a professor in the Department of Political Science, and a research faculty member in the Gender Studies Program. She has served as president of the American Political Science Association, first vice president of the International Political Science Association, and president of the National Conference of Black Political Scientists, an organization that has had an undergraduate mentorship award named for her. 
Her work analyzes racial, ethnic, and gender issues associated with political participation in the American political system and in comparative perspective. 
The author of several books, more than 30 book chapters, and numerous articles and reports, Pinderhughes has completed the second edition of a textbook she co-authored, Uneven Roads: An Introduction to US Racial And Ethnic Politics (CQ Press, 2018).  She is now completing the manuscript for "Black Politics After the Civil Rights Revolution," a book on the American political landscape after the civil rights movement and after Barack Obama's presidency.  In her book Contested Transformation: Race, Gender, and Political Leadership in 21st Century America (Cambridge, 2016), co-authored with Carol Hardy-Fanta, Pei-te Lien and Christine Sierra, Pinderhughes explored the intersection of gender and race among elected officials across the nation.
A  native of Washington, DC, Pinderhughes earned her PhD at the University of Chicago, then taught at Dartmouth College and the University of Illinois, Urbana-Champaign, before joining Notre Dame in 2006.
She and fellow Notre Dame faculty member Declan Kiberd are among more than 200 members of the 239th AAAS class, which includes former first lady Michelle Obama, author Jonathan Franzen, gender theorist Judith Butler, former Indiana governor Mitch Daniels, NPR host Michel Martin, and neuro-oncologist Robert B. Darnell.
Pinderhughes and Kiberd join 25 other AAAS fellows at Notre Dame, including Notre Dame President Rev. John I. Jenkins, CSC; R. Scott Appleby, the Marilyn Keough Dean of the Keough School of Global Affairs; and Kellogg Faculty Fellow Scott Mainwaring, who will be returning to Notre Dame's Political Science Department in the fall.
Since its founding during the American Revolution by John Adams, James Bowdoin, John Hancock, and other scholar-patriots, the academy has elected leading "thinkers and doers" from each generation, including George Washington and Benjamin Franklin in the 18th century, Daniel Webster and Ralph Waldo Emerson in the 19th, and Albert Einstein and Winston Churchill in the 20th.
Kiberd, the Donald and Marilyn Keough Professor of Irish Studies and professor of English at Notre Dame, is a major figure in the field of Irish studies. He is an Irish language speaker and a scholar of ancient Celtic culture and Irish literature and history and is a faculty fellow in the Keough-Naughton Institute for Irish Studies.