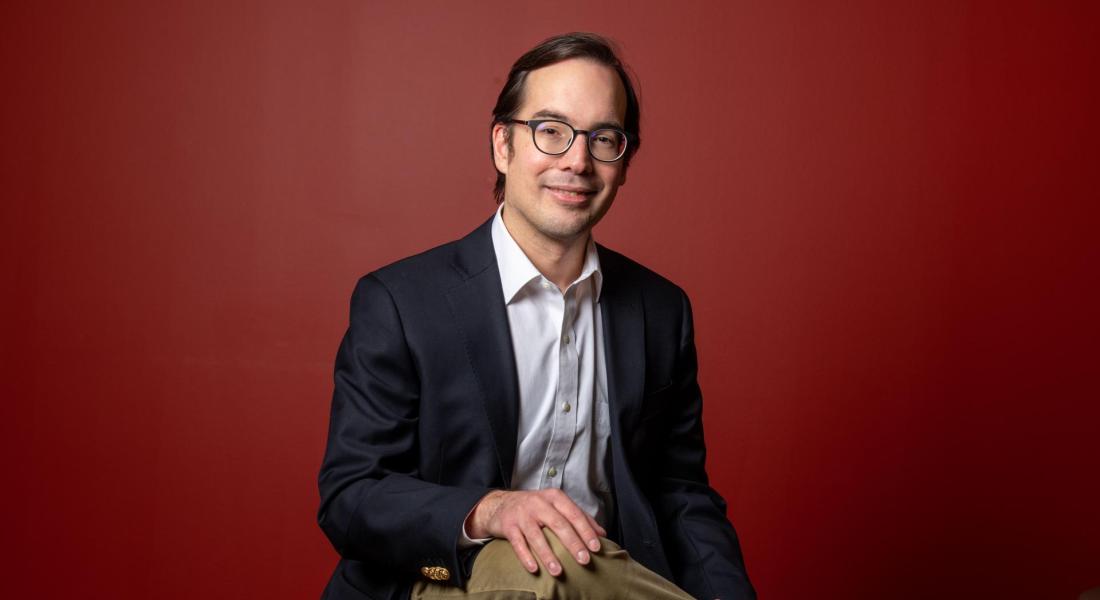 Francisco Urbina had long known about the visiting fellowship program at the Kellogg Institute for International Studies.
"Kellogg's reputation as a forum for discussions of human rights and democracy is well known throughout Latin America," the Chile native says, sharing the excitement he felt in learning he was accepted into the program for the current semester.
More than a typical fellowship elsewhere, with solitude and time to work on a project, his experience as a Kellogg visiting fellow has exceeded his expectations, in large part because of a partnership between the Kellogg Institute and the Notre Dame Law School that has defined his Notre Dame experience.
As part of his Kellogg fellowship, Urbina has been teaching the seminar "Regional Protection of Human Rights" in the Law School. The subject is right up his alley: he most recently served for two years as a human rights advisor to the Mission of Chile to the Organization of American States (OAS) and was previously in academia. 
"Francisco brings practitioner expertise and experience, and careful analysis in his leading scholarship, both to bear in teaching the course," says Kellogg Faculty Fellow Diane Desierto, professor of law and global affairs and the faculty director of the LLM in International Human Rights Law at Notre Dame. "He has been a valuable colleague to us at the Law School's Human Rights Program and greatly enriches the human rights teaching, mentoring, and scholarship at the LLM in International Human Rights Law."
"The interdisciplinary Kellogg community is so different from the Law School, and it is extremely enriching"
While this connection to the Law School wasn't on his mind when he originally applied for the fellowship, he has discovered that the twice-a-week seminar exploring regional systems of human rights protection has been a real gift to him.
"There is a great diversity among the students,"Urbina says. "They are from various geographical areas with different backgrounds and they bring with them their distinct knowledge and perspectives." And, he explains, that diversity promotes robust discussions and expands everyone's experience of the seminar.
Teaching in the Law School has also introduced Urbina to other faculty and students with common interests, like Desierto.
"Legal academia is often very solitary, but being here as part of the law school community, at a place that is so strong in international human rights law, is a very different experience," he says. "All around are faculty and students who are drawn to these issues, and many of the students come with experience in the practice of human rights law. Their insights bring a whole new dimension to conversations as well."
"While Francisco's fellowship is unique in some respects, it is not the first time a linkage between Kellogg and another unit at Notre Dame shapes a visiting fellow's experience," says the Institute's director Paolo Carozza. "Our partnerships on campus enable us to connect our visiting fellows in meaningful ways with other scholars and research projects while they are here – and those connections can often extend beyond their time at Kellogg."
"Francisco is really just one example of how a Kellogg fellowship goes beyond opportunities elsewhere," he continues. "We really strive to tailor the visiting fellow experience to a particular scholar's expertise, as well as their scholarly needs and desires."
Two buildings away, Urbina has an office at the Hesburgh Center for International Studies. Here he works on his Kellogg fellowship project "Understanding Democracy in the Inter-American Human Rights System" among his cohort of visiting fellows, as well as other faculty and graduate students connected to the Kellogg Institute.
"The interdisciplinary Kellogg community is so different from the Law School, and it is extremely enriching," says Urbina, who appreciates hearing perspectives from academics in different fields. "I'm impressed with how accomplished and insightful my Kellogg colleagues are."
Both in formal engagements, like the Kellogg's weekly interdisciplinary Work-in-Progress seminars, and in casual conversations, he says he often finds new insights into his own research.
"For example, from some of the fellows' research in Africa, I've come to learn more about the context of human rights law in countries whose politics I didn't know well, and which are very important in regional human rights," he shares. "And others' ideas have raised a number of human rights questions and pointed to social science literature I hadn't thought of previously concerning my research project on human rights and democratic decay, opening the possibility of interdisciplinary collaboration"
"With these two communities, I really have the best of both worlds here," he says.
Learn more about the Kellogg Institute Visiting Fellows program on the Kellogg website.