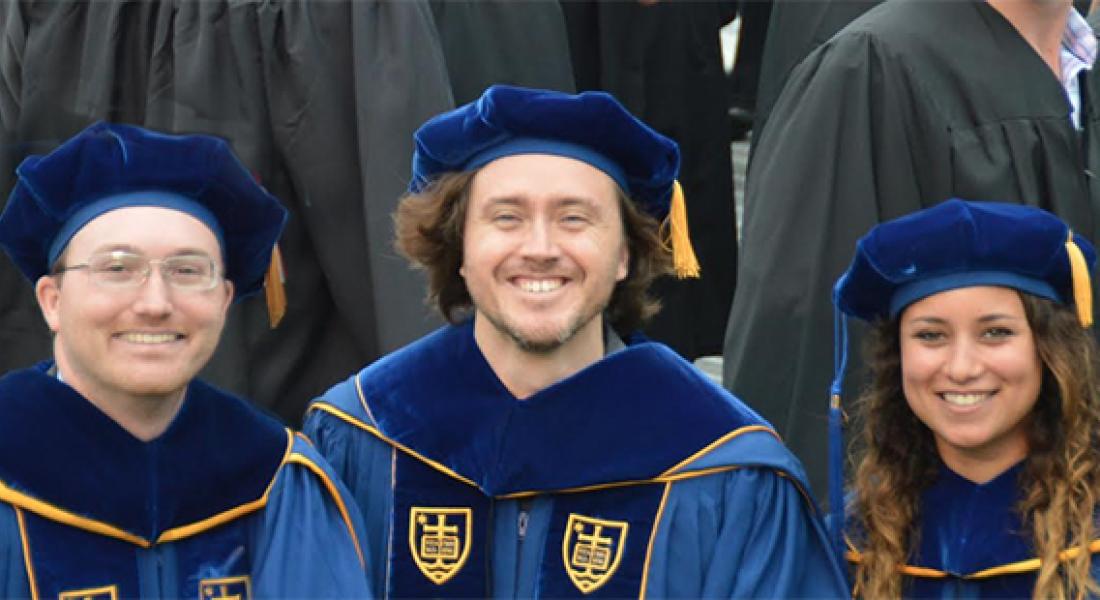 Five members of the Kellogg graduate student community formally received their PhDs during commencement ceremonies held by the University of Notre Dame Graduate School in May.
Hailing from four continents, the four dissertation year fellows and one PhD fellow comprise four economists and one sociologist.  All have accepted—and several have started—new positions in academia and public service.
Nolan Noble (economics), an American who studied the long-term consequences of short-term health shocks as a dissertation year fellow, works as a research analyst for the CNA Corporation, a federally funded research and development center.
At Kellogg, he says, he was struck by "the incredibly kind and supportive people who really helped during the final year of my PhD—and the interactions with a broad range of scholars and perspectives, which helped to prepare me as I went on the job market, and then when I started my job."
Eva Van Leemput (economics), a dissertation year fellow from Belgium, analyzed macroeconomic development and international trade in her dissertation. She will join the Board of Governors of the Federal Reserve System in August 2015.
"What I remember most about Kellogg is the serious commitment in developing students to become well-rounded scholars in all fields of social and economic development," she says.
"Through interactions with prominent academics, conference support to present work and receive valuable feedback, and the broadened perspective enabled by the emphasis on interdisciplinary studies, the Kellogg Institute has been invaluable in my development as an economist."
Meredith Whitnah (sociology) completed her PhD requirements in December and in January began her new job—a tenure-track position in the Department of Sociology and Anthropology at Westmont College in Santa Barbara, CA.
"I'm deeply grateful to have been connected to the Kellogg Institute," she says. "I would not have been able to complete my dissertation the way I did without Kellogg's financial support."
An American, she received both a graduate research grant and a dissertation year fellowship, resulting in the dissertation "Faith and the Fragility of Justice: Religious Responses to Gender-Based Violence in South Africa."
What sticks in her mind about Kellogg are "the interactions I had with visiting scholars, especially as the Institute has been broadening its scope to include more Africanists," she says. "I appreciated the opportunities to not just hear interesting speakers, but also the practical efforts made to connect us with these important scholars."
Tihtina Zenebe Gebre (economics), also a dissertation year fellow, studied the effects of education policy reforms in developing countries.
"I will remember the extensive diversity at Kellogg, both in terms of the nationality of graduate students and fellows and the multidisciplinary topics they are working on," she says.
A native of Ethiopia, Zenebe Gebre will soon begin work as a consultant to the World Bank on the education sector in eastern and southern Africa.
Alejandro Montecinos (economics), a PhD fellow who received his degree in January, is now assistant professor of economics at Universidad de Adolfo Ibáñez in his native Chile.  He has focused his research on "idea/knowledge creation," with the goal of improving the quality of life for the poor. (Read more on his work here.)
"Kellogg is a place where interesting research ideas can be found and developed," he says. "It keeps you grounded and humble because you are reminded that there are different perspectives when viewing the same thing."
After having been away from the University, coming back to attend commencement was special, he says.
"When I left Chile, I though tI had left home. But when I came back to Notre Dame, I realized what coming back home really means and feels."